FAIRFIELD — The St. Xavier defensive pressure was hard to handle for a Hamilton team that prides itself on doing that very thing to it's opponents in Big Blue's 49-39 Division I district semifinal loss at Fairfield.
It was defense that caused havoc and fast-break points — but the Bombers were better at it on Friday night.
St. X jumped out to an early 13-9 first-quarter lead, going 3-for-4 from the floor in the early parts of the quarter. Hamilton senior Trey Robinson started heating up in the latter portions of the first, but the inability to find a consistent second scoring threat early doomed Big Blue late.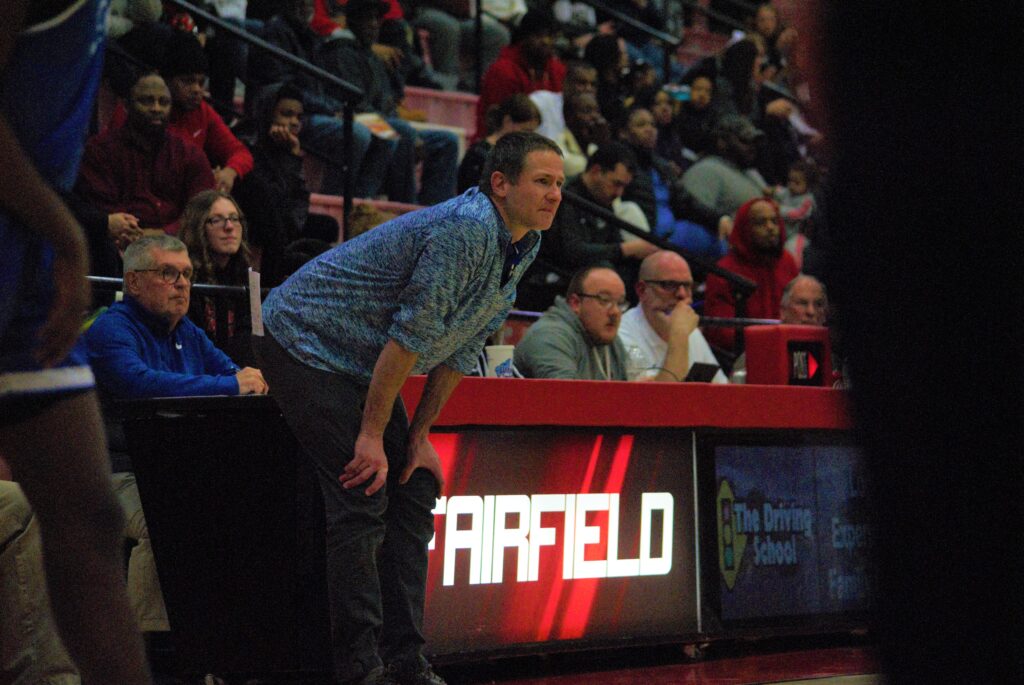 "No. Not really," Hamilton coach Kevin Higgins said about finding that second option. "We just couldn't get other things going. They did a really good job, and we couldn't get things out of our offense. They just did a better job than us."
A duo of double-digit scorers in Kobe Rodgers and Hank Thomas paced the Bombers with 12 and 10 points, respectively, heading into halftime with a St. X 29-22 lead. The Bombers hit mostly contested shots or transition buckets that answered any Big Blue attempt at chipping into the St. Xavier lead.
The second half began with a Big Blue turnover on the initial inbounds, and that was a telling sign of what was to come. Big Blue forced five turnovers yet committed 13 themselves, which led to 18 St. Xavier points.
"We didn't get any tonight," Higgins said. "We got some deflections but we didn't enough. They just did a very good job of controlling the tempo, and we couldn't get them out of it. When they got that lead, they were able to play with it, and we just couldn't get that."
Holding on to the lead in the second half, St. X ran its offense by searching for gaps and weaknesses and exploited them — eating clock as the Bombers built a double-digit lead midway through the third quarter.
"They did a good job. They played better than us on both ends of the floor, so I think that's what it really comes down to. And you can't have that happen and win in the tournament," Higgins said. "They just played better, they deserved it. They did a good job taking care of the ball, and they did a good job pressuring us which we knew they would be an issue. They're one of the best pressuring teams that we've seen all year. I thought that would be an issue in certain stretches."
Robinson led all scorers with 22 points on 7 of 14 shooting with five rebounds and three blocks.
Along with Robinson, Hamilton graduates five seniors — Ke'von Burnett, Kristian Walton, Braedyn Jackson and Jayden Marshall.
"The five seniors did an unbelievable job," Higgins said. "I've known them for two years. They've been great kids for two years. People say, 'How do you replace?' Well, you don't replace a human soul. We told them in there, every place I've been I've never used that word 'replace.' You don't replace people, so we're not replacing them, and it's not something you can do in life.
"We're proud of what they accomplished," Higgins added. "It's going to hurt, but they need to keep their heads up. They have great futures in front of them in everything they do. Our job is to support them. They're always a part of the Big Blue family now, and I'm excited about them. I'm excited about what the future holds for them. But what they did this year, I don't think people understand how much they did. What they did for the school, what they did for the program — to win 18 games. I don't think anyone thought we could do that. That's a testament to what those guys did every day."
Hamilton finished the season at 18-7.
St. Xavier takes on LaSalle for a district title next Sunday at 8 p.m. at Xavier University's Cintas Center.