WEST CHESTER TWP. — The Lakota West High boys basketball team had the green light from behind the arc Friday night.
"That's just how it's going to have to be this season," Firebirds coach Jim Leon said.
Lakota West shot 44 percent from 3-point range (11-of-25), sophomore Nathan Dudukovich led all scorers with 22 points, and the Firebirds knocked off Greater Miami Conference rival Hamilton 72-62 on Senior Night.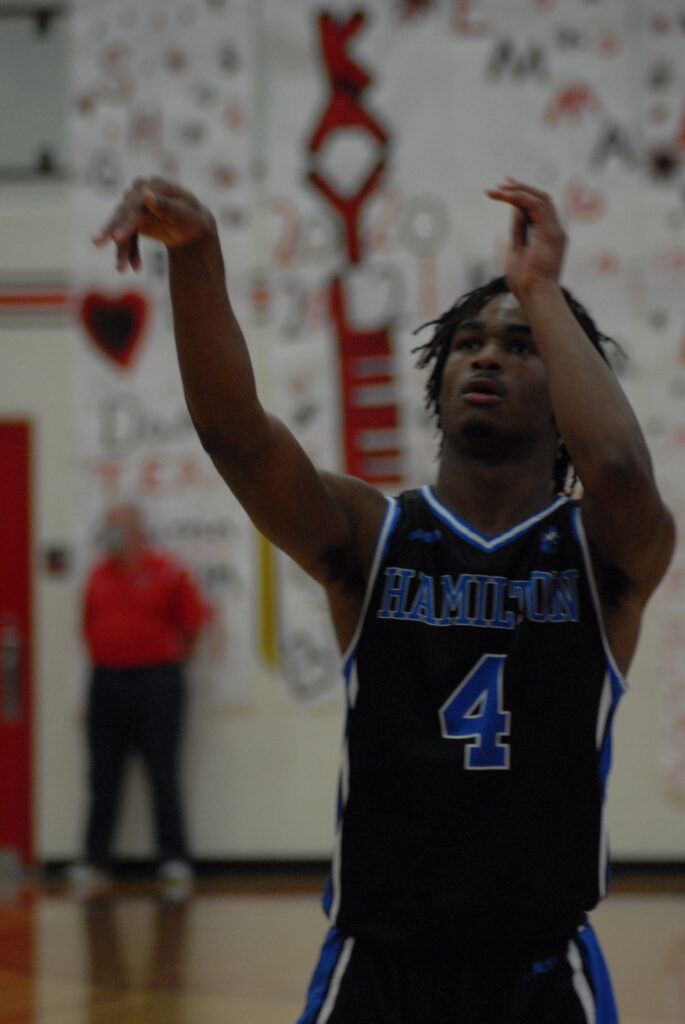 Lakota West seniors Kelvin Turner (20 points) and Brady Weber (15 points, 12 rebounds) provided a leadership spark to boost the hosts to 1-1 overall and in the conference.
"We always have to come into games like this and make our shots because we're undersized," Dudukovich said. "Our biggest thing is defense right now. We've been working on defense, and it's starting to show up."
The Big Blue was led by sophomore Breeon Ismail (21 points, 6 rebounds), senior Jackson Lewis (16 points) and junior EJ Kapihe (14 points, 7 rebounds).
Hamilton coach Kevin Higgins said that while it's nice to see an offensive spark from his program, he's questioning things on the defensive side of the ball at the moment.
The Big Blue (1-3), who have lost three in a row, have a quick turnaround and get an opportunity to redeem themselves tonight at home against Springboro.
"It's real simple, every losing team has a leading scorer, so that's an irrelevant stat," Higgins said. "Every team across America tonight had a leading scorer.
"We will see how we will respond," Higgins added. "We will see how the kids respond and react to another chance. If not, we will lose. It's pretty simple. Right now, we're a terrible defensive team."
Lakota West moved out to a 14-11 first-quarter advantage before Hamilton caught some fire. A Kapihe 3-pointer put the Big Blue up 21-18 with 4:23 left in the second quarter.
The Firebirds went on a 10-2 run to close out the first half with a 33-22 margin. Lakota West held off a couple of Hamilton surges in the second half to close it out.
"We really got after it, especially when we responded to their runs," Leon said. "Our guys are starting to find their rhythm. Starting three sophomores who played most of the game, I'm just really happy they kept their poise.
"Hamilton has got a nice team, and they wouldn't quit," Leon added. "Luckily we're at home, and we're making shots. Our guys were tough. Every time Hamilton would make a run, we'd come right back.
"I'm just really proud of our effort," Leon continued. "We're a work in progress. I'd take this win any night. We're definitely off to a good start to the season."
Lakota West travels to Colerain on Tuesday.
Hamilton 11 12 26 13–62
Lakota West 14 19 22 17–72
Hamilton (1-3) — Lewis 8 0 16, Jett 1 0 2, Ismail 8 5 21, Kapihe 5 1 14, Tolentino 4 0 9. Totals 26 6 62.
Lakota West (1-1) — Turner 6 5 20, Lavender 1 1 3, Dudukovich 7 4 22, Lloyd 2 3 8, Weber 6 0 15, Cotton 2 0 4. Totals 24 13 72.
3-point Goals — H: Kapihe 3, Tolentino 1; LW: Dudukovich 4, Weber 3, Turner 3, Lloyd 1.