MIDDLETOWN — Ethan Rowe put in some AirPods, sat back on the bus ride to Mason Bowl and relaxed. It wasn't the typical pregame ritual for the Middletown High senior bowler.
But, last Wednesday, it turned out to be.
"I zoned out on the way there," Rowe said. "It didn't feel right. That's not how the bus rides to our matches usually go. We're usually getting hyped and rowdy with the team."
The vibe said otherwise, according to Rowe. It didn't feel like the Middies were about to embark on their season opener against Lakota East.
"I don't know what it was," he said. "I was either going to throw nice or completely suck. There was something off. I could tell, for me personally, that something was going to be different."
Preseason preparation had already been a different animal for obvious reasons, Rowe said. However, that prep would soon bring about the pinnacle of results for the four-year varsity bowler.
"When we all stepped foot at Mason Bowl, I first thought to myself, 'Put your head down and don't look anywhere else except at those lanes,'" said Rowe, last year's Greater Miami Conference leader with a 220 average.
"At practice, during the 10-minute warmup, I was throwing nice shots. I felt great. But again, I said, 'Dude, keep your head down and go.'"
Rowe said he couldn't recall much of the beginning part of the first game. And things really didn't hit him until around the final few frames.
"I was like, 'Well, those are a lot of Xs up there on the screen,'" Rowe said. "I don't remember having to hit a spare or anything. I had a feeling I was on to something."
"He was throwing great," chimed in Middletown coach Larry Cupp of Rowe — a stout 6-foot-9, two-handed righty who averages about a 20-mph throw. "I didn't expect anything like this out of the gate."
After rolling his ninth strike in a row, he prepped for the 10th frame.
"I picked up my ball, rolled a strike on the first roll of that 10th and I thought on the next shot, 'OK. Let's do this. Let's put on a show,'" Rowe said.
Rowe let it ride on his 11th throw. Strike. Then on the 12th, the ball didn't hit the pocket perfectly, but he said he felt good about it.
"I think at this point when it was going down there, that was a 300 shot," Rowe said. "You put it anywhere near the pocket, with as hard as I throw it, it should work. I think I lofted it on accident, too. I pulled it like a board or two over, but it somehow hit the pocket, and all the pins fell. It was awesome.
"I'm not going to lie, I was nervous. My legs were shaking," Rowe added.
"Doing that? At a different bowling, away?" Cupp said. "It was just incredible to see to start off the season."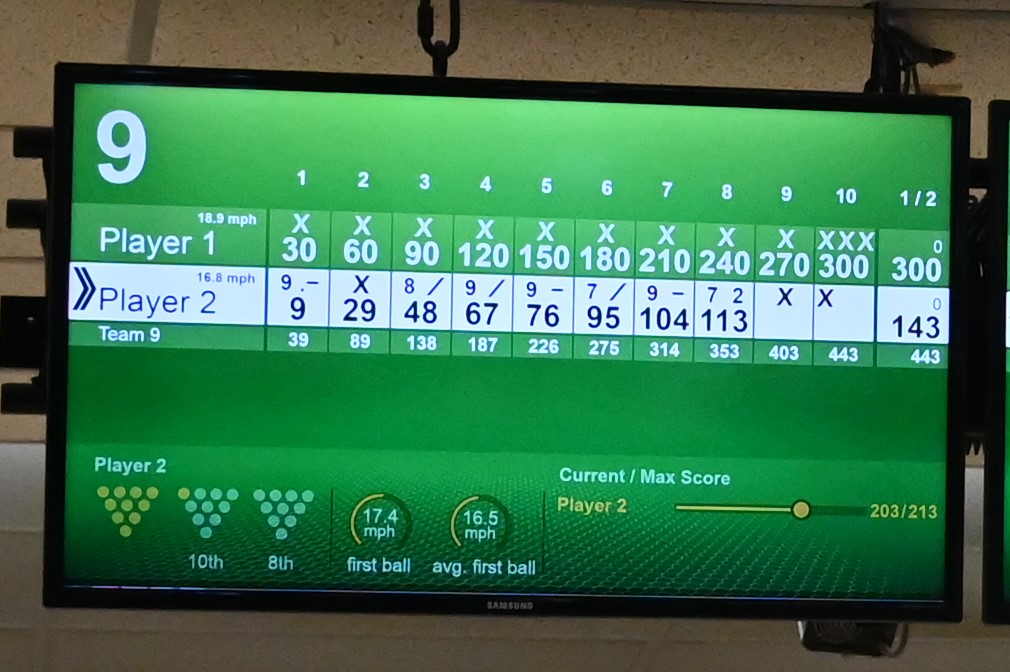 BOWLER FROM THE BEGINNING
"Let's just say that my mom got me into a kids free-bowl thing when I was like 5 years old," Lowe reminisced. "I didn't focus on wanting to really become good until about sixth grade."
AN INSPIRATION
"Around sixth grade, I started watching YouTube videos of Jason Belmonte," Rowe said of the pro bowler. "That's when I started figuring out how to throw a ball accurately and make it hook and develop my style. It inspired me to get a little more competitive. … Since then, I've always been able to bowl with a little bit of a chip on my shoulder. I've always felt like I want to prove something every time I go out there and bowl."
QUOTABLES FROM COACH
"He's a dedicated, hard worker," Cupp said of Lowe. "He's developed a routine with outside consulting and has learned to stay calm and focused. That helps him be more consistent and determined when he throws the ball. He understands his demeanor when he throws the ball, whether it be a good or bad shot."
"You don't see a bowler like him very often. Someone that tall? You'd think he'd hit the football field or the basketball court. But bowling is his passion," Cupp said. "Area bowlers know him now. He travels a lot and practices a lot around here and in Dayton. When we go to matches and tournaments, he stands out, there's no doubt about that."
FAVORITE PLACE TO BOWL?
"There are a lot of great places to bowl around here," Rowe said. "That's a hard one to come up with. But after that 300, Mason Bowl has to be ranked up there. Absolutely. They do a great job of maintaining the lanes. It worked out for me."