ST. CLAIR TWP. — On a rainy Saturday morning at Edgewood High School, the Cougars wrapped up their 46th Annual Edgewood Wrestling Invitational in victory fashion.
Edgewood claimed first overall with a 174.5, followed by Brookville (140) and Miamisburg (101). Talawanda (82) finished fifth, Lakota West (81) took sixth, Madison (49.5) came in 12th and Middletown (29) 13th.
Edgewood administrators didn't know in the preseason if they were going to be able to hold this two-day event, but Cougars athletic director Greg Brown was able to get it together.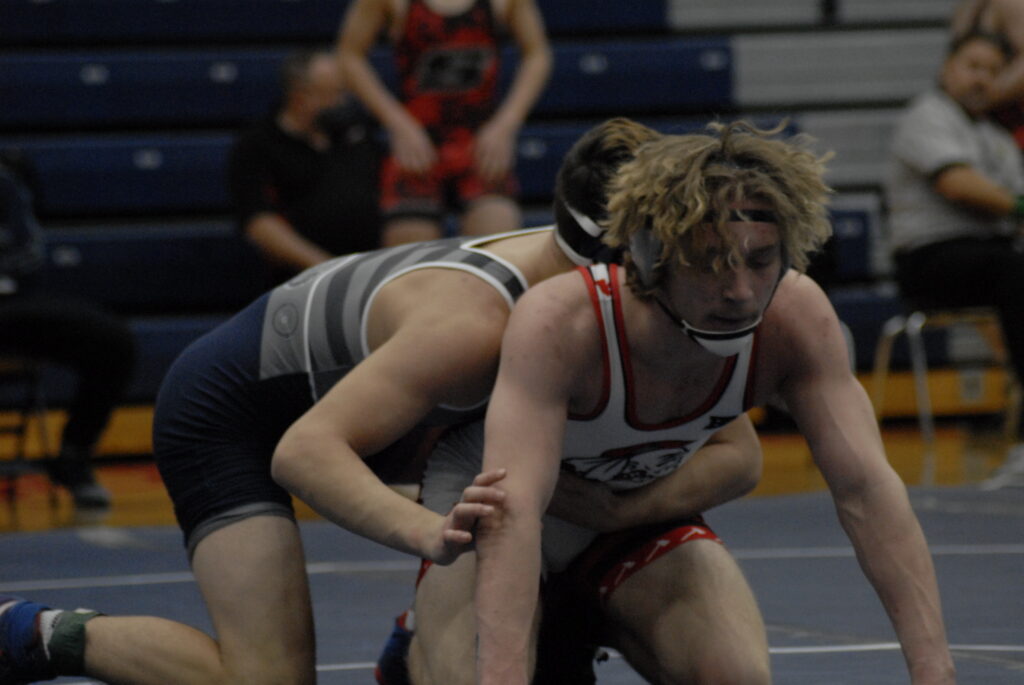 "Due to COVID, we were unsure with all of the uncertainties," Brown said. "We got our plan put into the Butler County health department and we were able to continue this."
Being the 46th annual, this tournament has turned into more than just another competition. Brown spoke on that.
"It means the world, not only to the Edgewood wrestlers, but to Coach Conniff — his father started this a long time ago, so it means a lot," he said.
Jim Conniff, longtime Edgewood coach, pioneered this invitational to showcase wrestling teams all over southwest Ohio.
"With all the hoops we had to jump through, it really reflects how valuable this tournament is to the community and to the team," Edgewood coach James Conniff said.
Edgewood was able to come out on top with the team victory, along with three individual champions. Senior Olathe Siegla (145 lbs), freshman Wyatt Walker (182 lbs) and junior Xander Began (160 lbs) all won for the Cougars.
Began had a particularly convincing victory that he spoke about after the tournament concluded.
"I set up what I was going to do with my coaches after watching his previous matches," Began said. "I went out and rolled through his throw and listened to what my coaches were telling me to do."
Conniff was particularly proud of Siegla after his two-pin day won him the 145 lb title.
"O (Olathe), is a very hard worker, he's been our team captain for the past couple of years," Conniff said. "This is his senior year, and he realizes this is his last shot at trying to get to the state tournament. It's those that can adapt to the chaos that will perform the best, and he's done a great job of that."
Madison got out for its first meet of the season and left with a champion in the 182 lb class. Senior Devin Oligee also had a two-pin day and was able to consistently score in his championship match — taking a 13-0 lead and eventually winning via pin.
"I tried my best to keep the pace," Oligee said. "I didn't want to put myself in a position to get caught. I was kind of wrestling controlled while still trying to push the pace."
In the 138 lb division, Talawanda sent home a champion in junior Davis Williams. In a very tightly contested match, Williams entered the third period down 2-1, but was able to get two points back to take a 3-2 lead. Williams would pin his Middletown foe shortly after.
In the heavy 285 lb division, a hard fought battle between Edgewood's Radical Rothermel and Lakota West's Aneesh Vyas capped off the afternoon.
A back and forth battle saw Rothermel grab two points late in the first period. Vyas would eventually make an unsuccessful bid at a pin in the second, however, he would then overpower Rothermel in the second period and get the pin, claiming the 1st place title. 
Brown was also pleased to see the amount of sportsmanship shown by the wrestlers after their matches and throughout the whole day.
"I think it's awesome," Brown said. "These kids are grateful to be out here under these conditions, and that's really what it's all about. Giving these kids an opportunity to come out and play."
Champions
106 lbs: FR Jayden Cochran (Miamisburg)
113 lbs: JR Brandon Mitchell (Oak Hills)
120 lbs: SO Dylan Pennekamp (Oak Hills)
126 lbs: SO Carson Hibbs (Wilmington)
132 lbs: SR Tyler Woods (Franklin)
138 lbs: JR Davis Williams (Talawanda)
145 lbs: SR Olathe Siegla (Edgewood)
152 lbs: SR Matthew Barge (Miamisburg)
160 lbs: JR Xander Began (Edgewood)
170 lbs: SR Devin Oligee (Madison)
182 lbs: FR Wyatt Walker (Edgewood)
195 lbs: SO Zane Adams (Preble Shawnee)
220 lbs: SR Jayden Sweeney (Carlisle)
285 lbs: SR Aneesh Vyas (Lakota West)