WEST CHESTER TWP. — Tom Bolden stepped back and soaked it all in Wednesday night. His Lakota West High School football team just wrapped up another practice on the Firebird Stadium turf — in the postseason.
"Welcome to Week 13," Bolden said.
Lakota West takes on Elder tonight in a Division I regional semifinal at Princeton, with kickoff slated for 7 p.m.
"Someone asked me the other day. Do I get nervous?" Bolden said. "It's not so much the nervous part. I just get to this point where it's the build-up, the big-time build-up inside of me. Not that the regular season isn't important. Because that gets you to where you want to be, it's a step-by-step process.
"At this point, it's time that we know what works and what doesn't work," Bolden added. "And we're excited to see that again Friday night."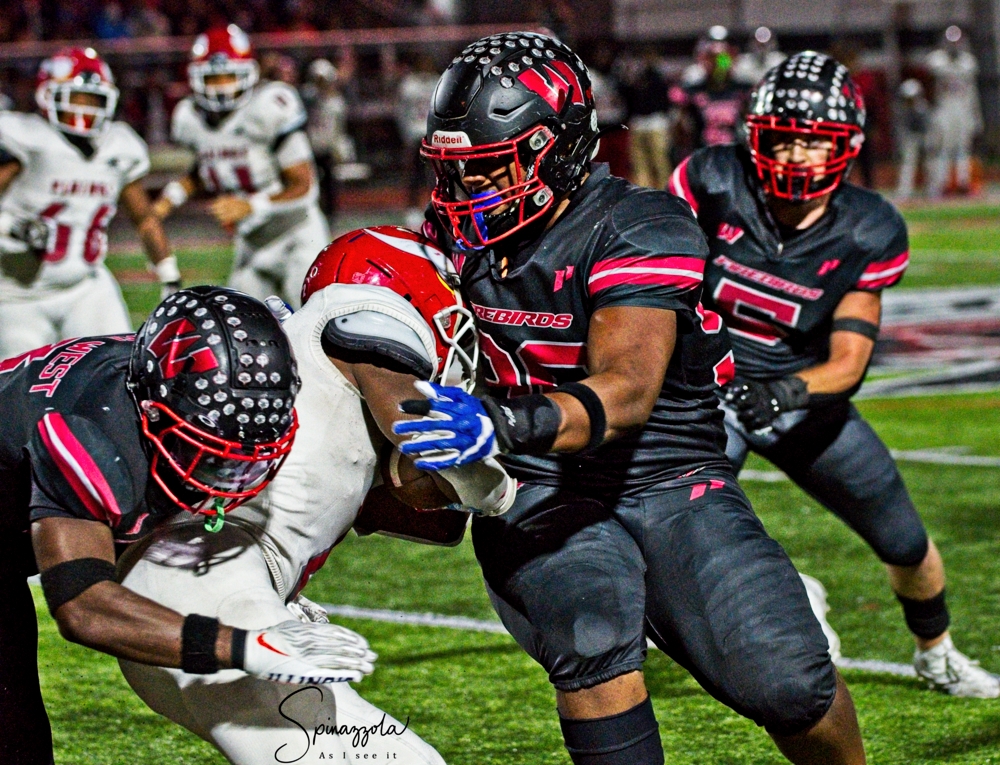 Lakota West (12-0) has won 12 in a row and outscored opponents 441-92. On average, the Firebirds have won their games by nearly a 20-point margin (36.7-7.6).
"Teamwork. Trust. And we're taking it one game at a time," said junior receiver Brennan Remy, who has 43 catches for 641 yards and 10 touchdown receptions on the season. "We trust our teammates and our coaches. That's what is working for us.
"We've had one goal, and that's to win state. We've got our other goals — GMC, the polls," Remy added. "Now we're just here to win state and try to keep going."
Junior linebacker Jacob Asbeck has collected nine sacks, which is tops in the Greater Miami Conference. Asbeck said work ethic has propelled the Firebirds through the 2022 campaign.
"It's great to be this far in the playoffs. We've put in a lot of work to be here — a lot of hours," Asbeck said. "We know we have our own assignments and our own job. We all work together for one common goal."
Senior quarterback Mitch Bolden is Lakota West's leader on offense. He's tossed for 2,380 yards and 27 touchdowns while rushing for 582 yards and 12 scores.
The Panthers and Firebirds both played St. Xavier and Middletown. The Firebirds faced the Bombers in Week 1 of the season, escaping with a nailbiting 16-13 comeback win in the final seconds. The Panthers took on the Bombers as part of the GCL South conference schedule, easily dispatching St. Xavier 42-10. The Middies hosted the Firebirds with Lakota West coming away with a decisive 33-7 win. Elder played host to Middletown in the first week of the playoffs, beating the Middies 49-7.
"Think of a team when you look at Elder — you get a group of good kids. You get a great staff. They have a football-rich tradition," Tom Bolden said. "The kids are hard-nosed, disciplined football players. And they'll give the most of their God-given ability. This is a tough opponent to play. This is a scary opponent."
The Panthers have racked up 828 yards of total offense in two playoff games and are outscoring their opponents 80-13. They're getting great production all around, including from quarterback Ben Schoster and running back Luke Flowers. Elder also got a breakout performance in last week's win over Milford from Walnut Hills transfer Jack Reuter, who amassed 113 rushing yards and two touchdowns.
QUOTABLES
"Fighting for the school to make history," Remy said. "We're one big band of brothers. We're doing this for our community and our players."
"The opportunity presented itself because of my teammates," Asbeck said of leading the GMC in sacks.
"They're obviously going to be one of the more tougher teams we're going to face this year," Asbeck said of Elder. "They have some good schemes. We're just going to play assignment football, do what we do and put our heads down."