FAIRBORN — The Badin High School girls volleyball team traded punches with two-time defending state champion Gilmour Academy on Friday at Wright State's Nutter Center.
The Rams went the distance before falling to the Lancers 3-2 in the Division II state semifinal.
Badin, which finished the season at 27-2, brought a 25-game winning streak into Friday's match. It was the Rams' first Final Four appearance in program history.
"I think we left everything out there on the floor," said Badin coach Courtney Weinheimer, who replaced Anitra Brockman this year when she took a job at Central State. "I think our girls played their hearts out. That was a good team."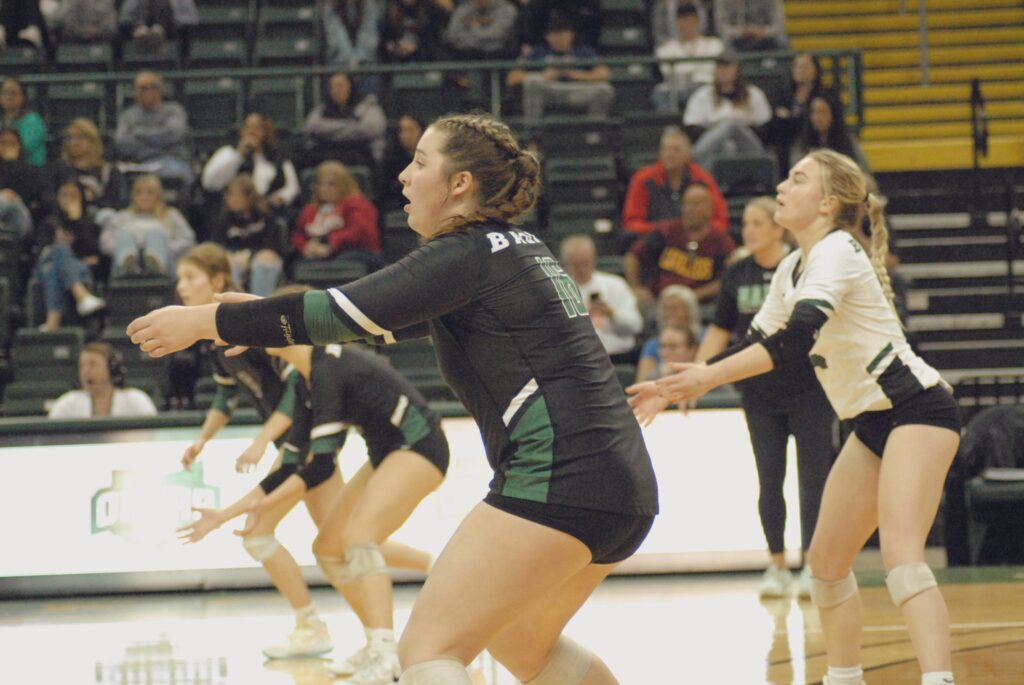 Gilmour Academy (21-8), which is in its 11th state Final Four appearance, dominated the first set 25-12. But the Rams put together a couple of key runs to win the second set 25-21 and grab back some of the momentum.
"They could have rolled over and died," Weinheimer said of her squad. "They came back and fought hard during every single point. That was the tallest — and the toughest — squad we had faced all season."
An aggressive third set saw 13 tied scores and six lead changes, but Gilmour Academy closed it out 25-23. Badin mounted a comeback late in the fourth set to win 26-24.
The Lancers took the fifth and final set 15-10 to move on to Saturday's state championship game against Notre Dame-Cathedral Latin at 3 p.m. at Wright State. Notre Dame-Cathedral Latin defeated Union Local 3-0 in Friday's other semifinal.
"I thought our momentum was going to roll over to five," Weinheimer said. "We've made out well with five-set matches throughout the year. We've played really strong. I just think that with the idea that this could be their last game it got into their heads a little bit."
Badin senior Alyvia Hegemann, who was the Greater Catholic League Co-Ed Player of the Year, said the Rams reached the state Final Four because they grew stronger as the season progressed.
"We were able to build a strong foundation," said Hegemann, who had 17 digs and three aces. "That's a big reason why we had a successful year."
Added Rams senior Sarah Newberry, "The level of play our team has had helped us get better progressively. We didn't lose that many players, so I knew our team was going to be very strong."
Marlie Davis had a game-high 17 kills for Gilmour Academy. Olivia Schmidt had a team-high 13 kills and six blocks for Badin.
Follow this reporter on Twitter @BCHSSReport.