MIDDLETOWN — The Lakota East High girls basketball team took home a lopsided 85-12 win against host Middletown in Greater Miami Conference action on Wednesday night.
The Thunderhawks took control of the game early and showed no signs of slowing down by going on a 26-0 run to start the game — scoring the majority of these points in transition off turnovers.
East continued to dominate throughout the entire contest, shooting 63 percent from the field and 88 percent from the free throw line.
Sarah Sewak led the Thunderhawks in scoring with 16 points, while shooting 78 percent from the field. Lakota East point guard Madison French added 13 points with 6 assists.
"We were looking to get some steals on defense, making sure to keep our hands out, making sure we play as a team," Sewak said. "We wanted to get the ball to other people to get as many opportunities as we can."
Lakota East's last game ended in a loss to Princeton, 53-36.
"We played Princeton the other day, and of our four varsity point guards, three of them were quarantined. And we still don't have them all," Lakota East coach Dan Wallace said. "Today I told them the only thing I wanted them to do was to go out and have some fun."
Have fun they did. The Thunderhawks racked up 26 steals and took advantage of the Middies' lack of ball control.
Wallace said he's looking forward to getting back to full strength and seeing if his squad can make a run at the GMC title.
"If we have everybody and we can stay on the court, this team can compete to be one of the top three or four teams in the GMC," Wallace said. "Come tournament time, if this team gets it going, with the talent we have, I think we can be scary."
Lakota East currently sits at 2-1 in conference play and 2-2 overall. The Thunderhawks are chasing Princeton, Mason and Lakota West at the top of the Greater Miami Conference.
Wallace said he expects French to get back to the top of the conference at the point guard position.
"She (French) does a tremendous job handling the basketball and gets us into what we need to get into," Wallace said. "I think our depth is our biggest thing, but it starts with the leadership of Madison French and our senior class."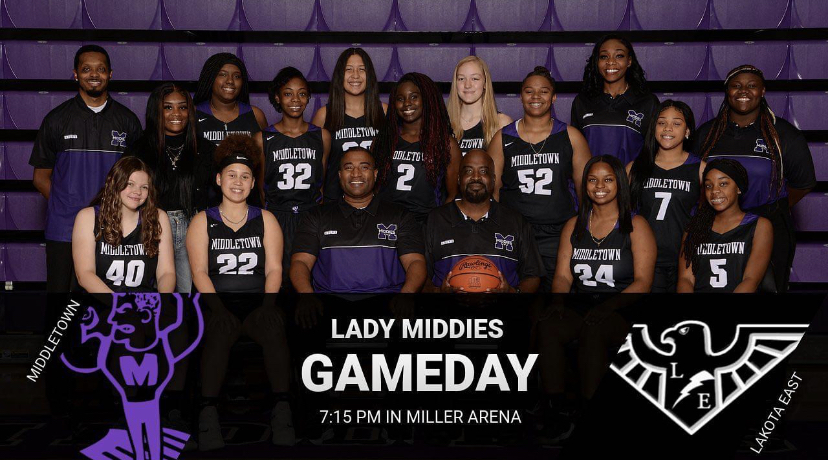 Middletown coach Terrence Toliver said he's got predominant focus for his squad, and that is to develop the young core he has established.
"Right now, we are leaning heavily on six freshman," said Toliver, who is in his first year at the helm. "We are trying to hit on playing hard and competing and playing as hard as you can for as long as you can. A lot of it is processing the speed of the game and the physicality of the game."
Toliver was given the keys to the program in September and had only three weeks of open gyms before the start of the season. He talked about the future and being excited to grow with this young group.
"To have an opportunity to be at the head of a program again is exciting," Toliver said. "Watching these girls grow, mature and gain confidence is exciting. They just have to learn how to come in, compete and push each other."
Five of those six freshmen Toliver spoke on were in the starting lineup Wednesday night. MarZeara Hunter and Brooklyn Edwards led the Middies with five points each.
Middletown (0-3, 0-1) will hit the court next at Lakota West on Saturday, while Lakota East (2-2, 2-1) will play at home against Colerain.
Lakota East 36 17 20 12 — 85
Middletown 1 10 1 0 — 12
Lakota East (2-2) — Yun 3 0 7, Bley 4 2 10, Senger 4 0 8, Sewak 7 2 16, Smith 4 3 11, Novean 1 0 2, Hines 2 0 4, French 6 0 13, Siereveld 4 0 8, Harris 2 2 6. Totals 37 9 85.
Middletown (0-3) — Hunter 1 3 5, B. Edwards 2 1 5, P. Edwards 1 0 2. Totals 4 4 12.
3-Point Goals — LE: Yun 1, French 1