Week 11 is upon us, and there are six Butler County high school football programs taking aim in the OHSAA state playoffs.
Here are four key matchups to keep an eye on: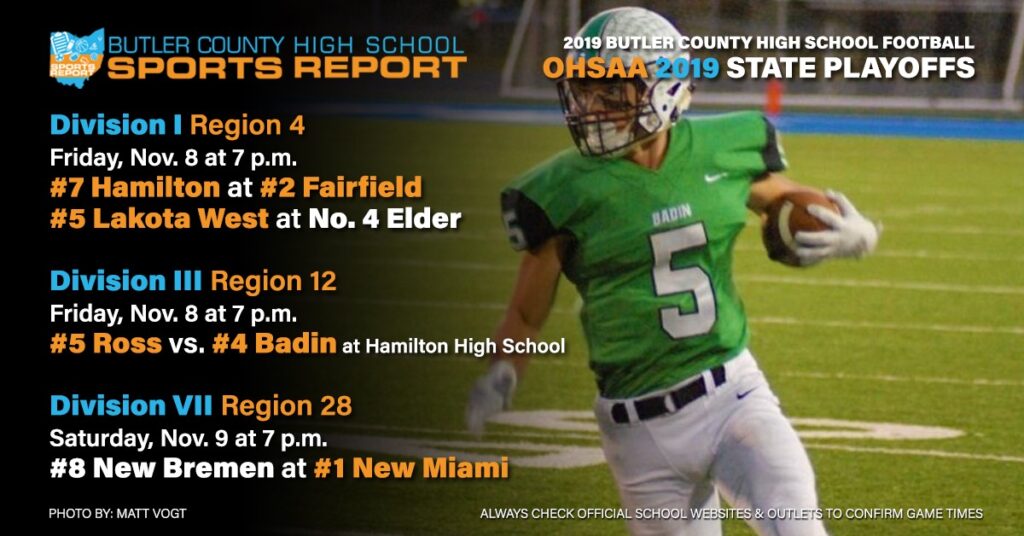 Division I, Region 4
Friday, Nov. 8 at 7 p.m.
No. 7 Hamilton at No. 2 Fairfield — The state-ranked Indians (9-1) were able to shun off a pesky Big Blue (5-5) squad 34-27 earlier this season. Fairfield is coming off of its only loss of the season to Colerain. Indians star running back JuTahn McClain has amassed 1,800 yards rushing and tallied 21 touchdowns. Senior LJ France and junior Brandon Smith provide a boost for Fairfield, which touts the best defense in the Greater Miami Conference. In his first season at the helm, Hamilton coach Nate Mahon has brought back some winning ways to the team in blue. Watch out for GMC-leading tackler Luke Mattia (91). He paces the Big Blue defense, along with Jayden Marshall and Jordan Jones. This should be another fun-filled rivalry showdown — postseason style — at Fairfield Alumni Stadium.
No. 5 Lakota West at No. 4 Elder — The Firebirds (7-3) head to The Pit for this first round bout against the Panthers (8-2). Lakota West coach Tom Bolden came in from the start and immediately made football in West Chester relevant again. Mitch Bolden has manned the controls at the quarterback position with consistency, which has helped running back David Afari to slip in as the third leading rusher in the GMC. Afari has rushed for 941 yards and 16 scores. Garren Carter (7 sacks) and Hunter Anderson (4 INT) help provide the Firebirds a boost on defense. Senior quarterback Matthew Luebbe does it all for Elder on the offensive side of the ball. Luebbe has thrown for 2,064 yards and 18 touchdowns, as well as rushed for 1,099 yards and adding 11 more touchdowns.
Division III, Region 12
Friday, Nov. 8 at 7 p.m.
No. 5 Ross at No. 4 Badin — Part II takes place, again, at Virgil Schwarm Stadium. While one team made a mid-season adjustment, one team continued to power its way through. Badin (7-3) struggled to get some offensive firepower going early on in the season, but head coach Nick Yordy and his Rams reeled off victories in 7 of their last 8 games to get here. Watch for big plays from Josh Hegemann and Alex DeLong on Friday night. … Ross coach Kenyon Commins and his Rams have played with a consistent mindset all season. While sustaining tough losses to Harrison and Little Miami in the regular season, the ground game held true for Ross (8-2). Jackson Gifford and Mehki Bouldin sees most of the work on the ground, that is if quarterback CJ Boze isn't making a play of his own. Ross stunned Badin in the season opener 20-19 in OT. So, look for something like that again. Butler County clash at its finest right here.
Division VII, Region 28
Saturday, Nov. 9 at 7 p.m.
No. 8 New Bremen at No. 1 New Miami — The Village will be rocking on Saturday night. It is the first home contest ever to be played at New Miami's Mara Field. The state-ranked Vikings sit a comfortable 10-0 overall (9-0 without the Landmark victory). New Miami coach Jessie Hubbard said his squad is hungry and ready to avert Fort Loramie's 41-0 drubbing in last year's first round contest. New Bremen (7-3), based out of a tough Midwest Athletic Conference, saw minimal amount of passing throughout the season — relying on the legs of Mitchell Hays, Zach Bertke and Wyatt Dicke. They amassed over 2,000 yards combined on the ground and 24 touchdowns. The Cardinals are traveling directly south — a lengthy hour and 45 minutes — for this first round contest. Trey Robinette mans the passing game, Deanza Duncan is a playmaker on the receiving end of things, and Danny and Dylan Spivey churn things up in the ground attack. The Vikings have not scored less than 27 points in a game this season.