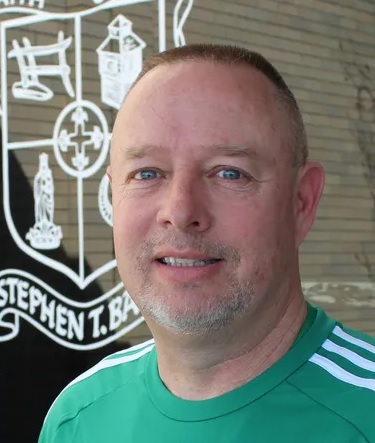 HAMILTON — Joe Martin is well aware that the Badin High girls' soccer program has a strong tradition, and he's looking forward to adding to that tradition.
Martin, 55, was introduced to the team as the new head coach of the Rams on Wednesday afternoon.
"Badin girls' soccer has been a great program in the past and I look to add to what has been done," he said. "Everything we talk about is legacy. What type of legacy do the current players want to leave for the younger girls?"
Martin certainly left a strong legacy at Lewis-Palmer High School in Monument, Colorado, where he was on the coaching staff from 2003-2016, including the head of the program starting in 2010.
LPHS won three league titles under Martin, was the state runner-up in Colorado's big school division in 2015, and won the state championship in 2016.
Martin replaces Todd Berkely, who stepped down after six seasons at the Badin helm. Berkely's Rams went 81-27-13 in those six years, winning five district championships, a Greater Catholic League crown, and back-to-back state titles in 2013 and 2014.
"We have a consistently excellent girls' soccer program and we are confident that Joe Martin is going to continue the Badin excellence," Badin Athletic Director Geoff Melzer said. "He has extensive experience, proven success, and in talking with him I know that he is going to have a winning connection with the girls."
"I think it's going to be a great fit for me," Martin said. "The whole atmosphere looks great – everything is so positive."
Asked about his soccer philosophy, Martin said, "Hard and clean. Work hard, play hard, and play a clean game. Everything is about the program and the girls."
Martin is a 1982 graduate of Reading High School in suburban Cincinnati, who then spent 20 years in the Air Force. He retired in 2002 as a master sergeant. He has since been a civilian worker in the Air Force as an operating room technician at the Air Force Academy in Colorado Springs, Colo.
He and his wife, Diane, are the parents of three grown daughters. The Martins decided to retire back to the Greater Cincinnati area, where family lives, and were informed by family that the Badin position was open.
"Everything happens for a reason – I'm a firm believer in that," Martin said. "Ever since we decided to move back to Greater Cincinnati, everything has just kept falling in line. I'm quite excited about Badin girls' soccer."
The Badin girls' soccer program has made nine trips to the state finals, winning the Division II title in 2005, and Division III titles in 2013 and 2014.
The Rams were state runners-up in 1995, 1996, 1997, 2000, 2006 and 2007. Badin, with Martin at the helm, will open the regular season at home against East Central, Ind., on Saturday, Aug. 17.