WEST CHESTER TWP. — The Lakota West High girls basketball team didn't get off to the kind of start it would have liked against Circleville on Saturday.
Firebirds coach Andy Fishman said his team wasn't executing the defensive game plan as designed early on, and it allowed the Tigers to remain close.
Lakota West eventually settled in, turned up the pressure in the second quarter and took a 38-23 lead into halftime. From there, the Firebirds continued to increase their lead — defending home turf — and secured a 74-43 win over Circleville in the Journey to the Tourney.
"Our half-court defense got better and our full-court defense got better," Fishman said. "And then when we established the lead in the second quarter, we went to more of a half-court defensive plan. And I like the way we responded with that."
The win makes it 10 in a row for the Firebirds, who now sit at 11-2. Lakota West was led by Chance Gray — who finished with 30 points and seven rebounds. 
Gray said her team came in knowing it was going to be a challenge and playing sound defense translated into playing well offensively.
"Everybody came together and played defense well," Gray said. "And that turned over into the offense getting good shots. It was a good team win."
Circleville coach Steve Kalinoski said his program knew they were in for a challenge against the Firebirds and would have to play nearly flawless basketball to win.
"They're a very good basketball team," Kalinoski said. "We knew we had to play our best basketball to compete against them today, so we'll move on to our next game on Tuesday."
The Tigers were led by Kenzie McConnell, who finished the with 16 points and 11 rebounds.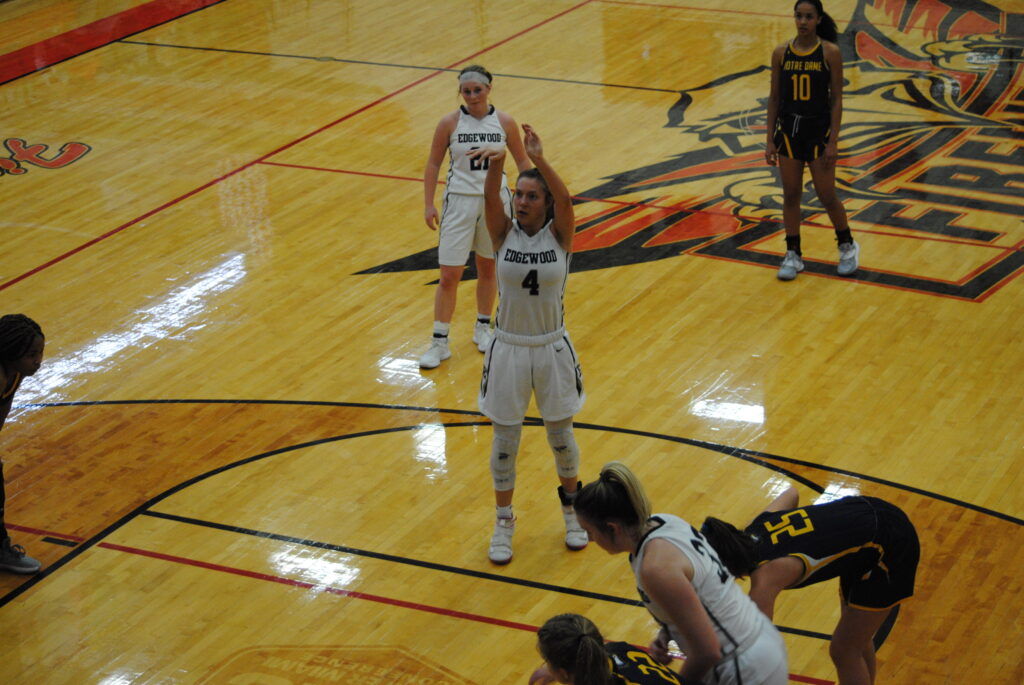 In the contest immediately following Lakota West and Circleville, the state-ranked Toledo Notre Dame Eagles faced off against the Edgewood Cougars.
At times throughout the first half, Eagles coach Travis Galloway felt confident his team could jump out to a comfortable lead.
However, due to occasional mistakes, Toledo Notre Dame allowed Edgewood to remain competitive early on. Then, after making a few halftime adjustments, the Eagles found a way to surge ahead in the second half and secure the win by defeating Edgewood 66-41.
"I thought a couple times in the first half we had a chance to blow it open," Galloway said. "Unfortunately, we didn't and in the second half we found a way to."
The Eagles were led by Grace VanSlooten, who finished with 22 points. She said halftime adjustments were key to her team's victory.
"We started off kind of slow and didn't take away the arch like we knew we had to," VanSlooten said. "At halftime we adjusted and took it away, and we only gave up 10 points in the second half."
Edgewood entered Saturday with a record of 13-0 and atop the Southwest Ohio Conference. Cougars coach Matt Tolliver said he was proud of the way his team came out and competed against one of the top programs in all of Ohio.
"I thought we competed really well," Tolliver said. "It's not like we embarrassed ourselves out there. They're ranked third in the state for a reason, and they're back-to-back state finalists. So, we knew what we were up against it. But we thought we could play with them, and I thought we did for 16 minutes."
Tolliver said to beat a team like Toledo Notre Dame you have to do the small things throughout the game and they just didn't do enough of those to win.
"I thought we got a little bit tired, and we missed too many free throws and didn't rebound," Tolliver said. "If you're going to beat a team like that, you have to do the little things. And tonight, we just didn't do enough of those little things."
The Cougars (13-1) were led by Rylie Homan, who finished the game with 11 points.
OTHER JOURNEY TO THE TOURNEY RESULTS:
Oak Hills 58, Unioto 44
Eastern 35, Sycamore 34
Centerville 64, Princeton 52
Wayne 47, Reynoldsburg 40
Mount Notre Dame 66, Arizona Compass 43