OXFORD — The Talawanda High School hockey program has taken the current season by the horns, and that's simply because the Brave was forced to.
The team from Oxford is ranked fifth in the state thanks to a mixture of talent, athleticism and a committed second-year coach.
"We're kind of taking an extra step this year — we had to if we ever want to continue to get better," Talawanda coach Zach Sens said. "We bumped up our strength of schedule. Every week it just seems like we find a way to make it happen. We find a way to get these seniors a full schedule."
The Brave's slate was hacked when they were forced to start things away from the ice.
"We had a two-week quarantine right off the bat," Sens said. "We lost eight games right away. We had a full schedule get completely ripped apart. We've been trying to add, add, add as much as we can — trying to get the seniors a full schedule."
Now, Talawanda is sitting at 14-3-2 and pushing plenty of momentum toward the postseason as one of the best prep hockey teams in Ohio.
"We kind of tailor to what we have. We've got a group that just wants to go and go and go," Sens said. "We've kind of learned from last year that we needed to bump the schedule up. It's not about the wins and losses for us. There's no ego about if we lose a game or if we win a game. We just want to be competitive. That's kind of been the step this year.
"We won a lot of games last year — 8, 9 to nothing," Sens added. "I mean, that's great. We played a 2-1 game (last week) against Olentangy Liberty. And win, lose or draw, that's where we want to be at. We want to be in the most competitive situation we can be in.
"We're playing good hockey right now," Sens continued. "Luckily we've been on the right side of those close games this year, but we have been in really competitive games. We're playing good teams, and we're just going neck and neck with them."
The Brave have won six out of their last seven contests, and they've outscored their opponents 87-31. Sens said the move to play as an independent program this season has opened up an opportunity to be flexible in terms of Talawanda's strength of schedule.
The Liberty contest was a prime example, the coach said.
"It's been kind of fun," Sens said. "This was a game we've been begging to play all year. We've been knocking on the doors of some of the top teams. Their coach told us that they practice at 3 in the afternoon. And our kids were all about it. We go up there, play a good game, and we knock them off. It was pretty cool. It's basically been any time, any place. Our guys have been showing up and they've actually been getting the job done.
"It's a really competitive group," Sens added. "They are really all over me every Monday. They'll see that we wouldn't have a game on a Saturday, and they're like, 'Coach, can you call anybody? Call up to Cleveland. Anywhere?' They want to play. They want to play the top teams. Every week, they just want more."
Sens said he's never called, emailed or text so many coaches as he has this year pertaining to getting on the ice by adding as many games as possible.
"I'm sure every coach in the state is doing the exact same thing," Sens said. "We've got a pretty cool group. They're just wearing me out every week. I just feel like I have to email the entire state again to figure out the vacancies in our schedule.
"I told the guys earlier in the season that I really didn't think that teams would want to play us," Sens added. "Not because they were scared or anything. But because we really hadn't had the chance to prove ourselves yet because of the late start. We were just ole Talawanda to some. I think we've taken a 180 in terms of teams taking us more seriously and respecting us."
SENIOR LEADERSHIP
The respect has surfaced because of a dedicated group of seniors, according to Sens.
Grady Holmes, who has cemented his leadership role as one of the team's leading scorers this season, has given Talawanda a captain-like boost. Holmes has 15 goals and 22 assists.
"Grady is the goal-scorer. He's the ultimate competitor," Sens said of the center. "He's good at everything he does. He's playing college lacrosse next year. He's a great football player. He's just good at everything that he does. This is his fourth year on the team and he's one of our two four-year lettermen. He's a force. The kid owns the corner. He just battles, battles, battles. He gets a lot done. All the hard work the last three years is really paying off. He's in control."
Senior center Ben Shrider's presence on the ice is unmatched, according to Sens. Shrider has 17 goals and 20 assists.
"We feel really good when Ben's on the ice," Sens said. "Nothing bad happens when the play is near him. He's always pushing the play to where we want it to go."
Seniors Ben Howard and Brendan Bohon have been staples as defensemen, Sens said, while seniors Niko Amarantos and Themio Amarantos — who are twins — boost the team's energy level.
"Those Amarantos twins are intense," Sens said. "When they get on the ice, or in the locker room, they get things going. They get loud on the bench and get the energy going. They're great players, too."
Junior Parker Geshan has jumped into the mix as being one of the most talented kids Sens has seen, according to the coach. Geshan has 17 goals and 9 assists.
"He can letter in any sport at Talawanda if he wanted to," Sens said. "He's a goal-scorer. He had a goal in eight straight games (earlier in the season). He finds a way to put the puck in the net. He makes things happen."
Sens said next level steps have been made at goalkeeper with junior Daniel Emenaker in front of the net. Emenaker has a 92 percent save rating.
"He had a nice season last year, and he's grown up a little bit," Sens said of Emenaker. "He hit the weight room hard this offseason. He works his tail off. He shows up to everything, and he competes hard. He's just been lights out for us. Daniel kind of just keeps it all in check for us."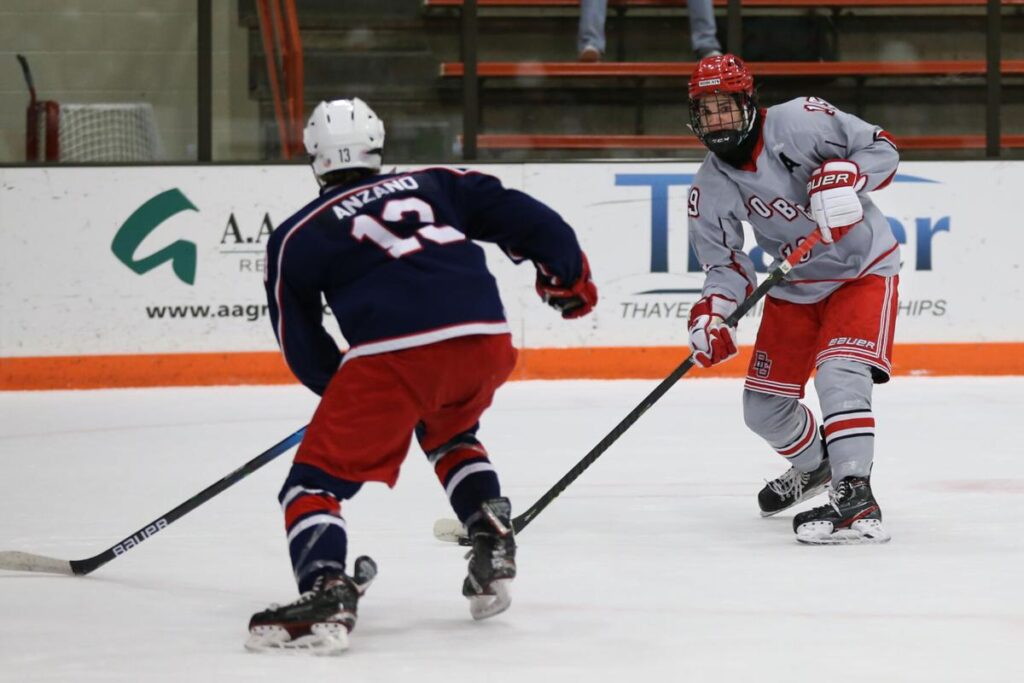 MISSING A LINK
Sens said the Brave has fought through the adversity of losing one of their go-to leaders.
Reid Benamati, Talawanda's senior scorer, broke his arm during a 3-3 tie against Perrysburg on Dec. 29. Benamati had 11 goals and 15 assists before going down.
"It's been a tough loss, that's for sure," Sens said. "It was kind of a fluke, and he got bent up bad. Hopefully, we get him back in early February. But he's pretty bummed, as we are as well. We're missing him. Losing him in the middle of the season is tough.
"But I will say we had to move on, and we beat Finley later that night," Sens added. "We've gotten to this point and have used losing Benamati as a challenge that we've had to accept. Our kids are stepping up."
COACH QUOTABLES
"I'm in a very, very good situation," Sens said. "I've got an athletic director (Wes Cole) who will get on the horn to get us a bus if I need one. I've got parents who if I say, 'We're going to Cleveland tomorrow,' they'll drive to Cleveland."
"Everyone is on board," Sens said. "Everyone knows what kind of talent we have. They're excited about what we have. It's kind of full steam ahead. I've got a really supportive group that makes things easy. I'm not fighting with my parents to get games in — I'm fighting with other coaches to try to get games in."
"We don't want to win 10-0, and we certainly don't want to lose 10-0," Sens said. "We just want to be in the right games."
UP NEXT
Talawanda takes on Miami Junior RedHawks on Friday at Goggin Ice Arena.
Do you have a feature idea? Email Chris Vogt at info@BCHSSReport.com and we would love to tell your story.