HAMILTON — Nick Yordy said Badin High's football team didn't just limp into a successful season in 2018.
The third-year Rams coach simply wants his 2019 squad to know that.
"After the success that we had last year, the kids were able to get a taste of it," Yordy said. "They're kind of hungry for that again. I'm pushing for them the most to realize that it didn't happen by accident. We put in our work just like every other team, and we're prepared to do that again.
"I'm getting the kids to understand that we've got to continue to do what has gotten us to the point where we're at right now."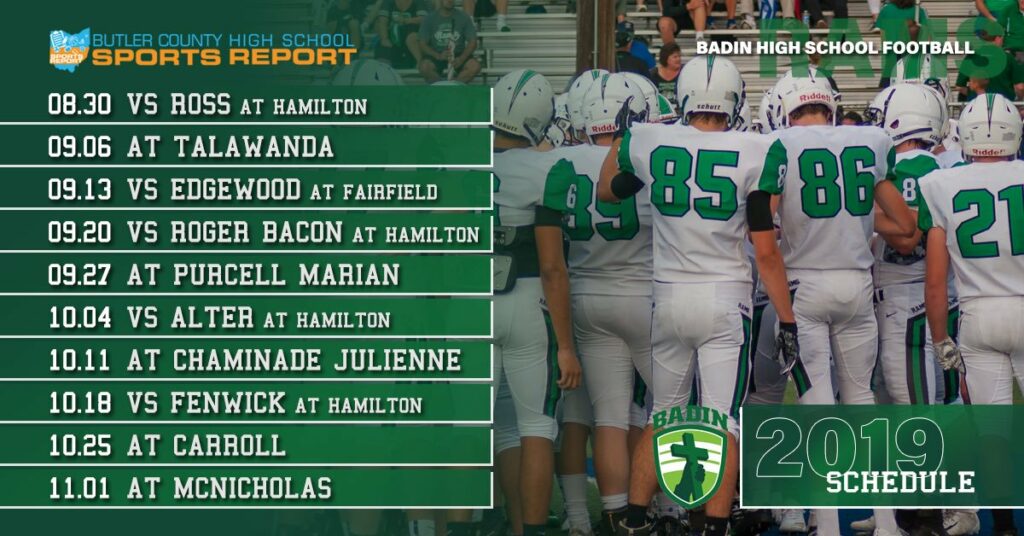 Badin, which finished 8-4 last year, fell to Greater Catholic League Co-Ed Division rival Alter 13-0 in the regional semifinals. The Knights were a state contender.
"We're coming off a two-playoff round, which is a pretty big deal to us considering our past," Rams senior lineman Nathan Schuster said. "We're really building off of that. We're remembering that and coming back to that saying, 'Hey, we want to go that far and then a little further.' That's the kind of momentum and focus we have right now."
Yordy said the competition on the offensive side of the ball is at its peak. Some positions are still up for grabs.
A definite, however, is 6-foot-5 senior quarterback Zach Switzer.
"I'm expecting some big things from him this year," Yordy said of Switzer, who tossed for 700 yards and nine touchdowns as a junior.
Seniors Alex DeLong and Marshall Flaig are looking to make some noise in the backfield. DeLong rushed for 641 yards and four scores last season.
Senior Kegen Gormley and junior Dallas Rawlings are vying for the fullback spot. Senior Josh Hegemann will see some time at wide receiver.
Left tackle will either be senior Zach Schuster or junior Dane Lauer, and left guard could be junior Jeff Dick or sophomore Henry Birchwell. Battling it out for right guard is senior Evan Schlensker and junior Brayden Abner. At center it's junior Connor Young, at right tackle is Nathan Schuster and at tight end is sophomore Logan Neu.
"There's a lot of competition upfront," said Yordy, who expects junior Jayden Carter, junior Sam Webb, senior Ethan Hurst, Connor Young, Dick, Lauer, Abner, Birchwell and Neu to see some form of time in the defensive trenches.
Juniors Michael and David Schweinefuss, Schlensker and Gormley are at the linebacker position, while junior Bobby Young, Hegemann, Flaig and DeLong look to play some time in the defensive backfield.
"I think every senior class tries to set a bar," Yordy said. "We lost good players from last season and we have some good football players coming back. We're figuring out how all that is going to gel and work and how we can be consistent.
"With how we play and how we execute, we're geared to get things going in the right direction," Yordy added. "We've got an opportunity for Badin football to get things rolling."
Badin kicks off the season against Butler County rival Ross at Hamilton High's Virgil Schwarm Stadium on Friday, Aug. 30 at 7 p.m.