NEW MIAMI — The New Miami High football team may not have expected the type of season it had in 2018.
But Vikings second-year coach Jessie Hubbard knows that one thing's for certain: The bar is set for 2019.
"The kids weren't expecting last year to happen," said Hubbard, whose squad last season went 6-5, won the Miami Valley Conference Gray Division and reached the playoffs for the first time in nearly two decades. "My expectations are exactly how they were a year ago. Our expectations are to win the league championship and get to the playoffs. If that's not my goal then I feel like I'm cheating these kids.
"They didn't overachieve last season. We had a great group of seniors," Hubbard added. "Now those kids have seen what it takes to be a championship caliber team — from the weight room work to the teamwork and fundamentals of buying into our program and buying into our system."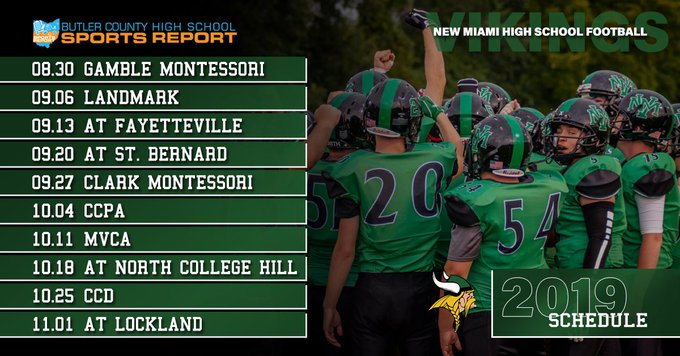 Hubbard said the success from last season has ultimately shaped the tone and vibe heading into New Miami's season opener at home against Gamble Montessori on Friday, Aug. 30.
"We've had good numbers in the weight room," he said. "It has carried over this offseason. But the disadvantages of being a small school is that the kids who play football are the kids who basketball and they're the same kids who play baseball. So we have to buy our time with them.
"For the most part we've had a good nucleus in the weight room, and they're motivated to get back at it."
The Vikings rid nearly all of its offensive line due to graduation this past school year. So they'll be looking to recoup in that aspect.
"Our strength last year was that we were a senior ridden offensive line," Hubbard said. "This year we will be very young up front. But they're capable of doing it. They're learning quick. They know our offense now.
"Our skill guys are very good," Hubbard added. "We've got good running backs and a three-year starting quarterback. He takes command of the offense. He's another coach on the field."
That quarterback is junior Trey Robinette, who brings back plenty of experience on the offensive side of things.
"Last year was a really big year for us — we had a new coach and a new vibe," Robinette said. "We had a new offense that worked well for our players and our schemes.
"We were really close to being an 8-2 team but some bumps in the road moved us to 6-4 (in the regular season)," Robinette added. "But after our big win over Dayton Christian, we were able to make the playoffs for the second time in school history.
"We can use all of that to build off of something this year, make a playoff run and get past the first round of the playoffs."
At the running back positions are senior Danny Spivey and junior Jordan Robinette. Junior Dylan Spivey will play some time at fullback. Junior Deanza Duncan is at wide receiver.
The lone senior on the offensive line is Austin Hart at guard, surrounded by sophomore center Jacob Meyers, freshman guard Cameron Foister, junior tackle Dylan Altman, sophomore tackle Jarrod Caldwell and junior tight end Jerry Helton.
Duncan and both Robinette's will start in the defensive backfield, along with junior Donovan Howard. Both Spivey's will play as linebackers, as well as sophomore Nate Civerella.
At the defensive ends are senior Zach Trent and junior Jerry Helton, and at the defensive tackles are juniors Blake Hart and Ocean Canyon.
Rounding out the roster for New Miami are seniors Elahja Faulkner (TE/DE), Brandon Civerella (TE/CB), Dillon Mills (RB/DB) and Alex Marcum (OL/DL); junior Dylan Altman (OL/DL); sophomores Jarrod Caldwell (OL/DL), Jerrich Holland (OL/DL)) and Tug Jones (TE/LB) and Devin Smith (WR/FS); and freshmen Em Moffitt (RB/SS), Josh Woods (FB/LB), Dameon Pennington (OL/DL), Preston O'Neil (OL/DL) and Dontaz O'Neil (OL/DL).