ST. CLAIR TWP. — The Edgewood High football team is celebrating its 50th season on the gridiron.
And the Cougars have their sights set on commemorating it with the latest trend — Southwest Ohio Conference domination.
"We're not going to be outworked by any team on any given Friday night or in the weight room," said Edgewood coach Scott Clemmons, who is entering his eighth season at the helm. "We preach that other men are working hard out there. But we have to do twice what they are doing.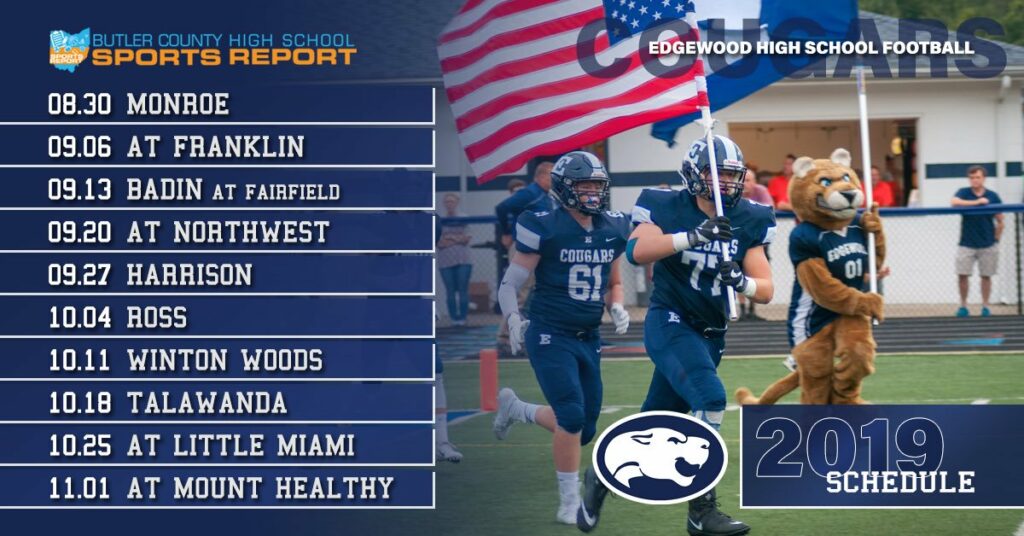 "That's the thing about Edgewood football is that we talk to them about the expectations, and I think you have to communicate that with them," Clemmons added. "As coaches, sometimes we keep talking about that league championship and stuff like that — the goal-setting things. From there, it's nice to have a goal, but what are we going to do to get there. Now that's when the work starts. For any team around the country, that's your first goal — to win a league championship. Now let's put in the work."
Mount Healthy took control of the SWOC the first four seasons when the league formed eight years ago.
But Edgewood has won the last three league crowns, sharing the title with Harrison in 2018. The Cougars have won 21 of their last 24 games against league rivals.
Edgewood went 8-3 and fell to SWOC rival Little Miami 10-7 in the opening round of the Division II playoffs last season.
The Cougars will be working without last year's SWOC rushing leaders in Wade Phillips and Elijah Williams, who amassed a combined 2,449 total yards on the ground their senior season.
Judging by the preseason, Clemmons said there are plenty of options to fill those shoes.
"They're working hard as a group and they're gelling as a team," Clemmons said. "They're really motivating each other and realizing that what happened last year happened last year. Those guys are gone, it's a new season. It's time for some new guys to shine. And for some guys, they'll have to step up and do better than what they did last year."
Returning are All-SWOC performers in seniors Gavin Childers (DL/TE), Isaac Hamilton (OL) and Lincoln Howell (RB/DB).
Also returning for the Cougars is senior defensive lineman Dylan Polisini, senior defensive back Cymeon Gary, senior outside linebacker Peyton Hatfield, senior linebacker Tyler Began, senior lineman Clayton Gerber, junior offensive lineman Sam Everson, senior wide receiver/defensive back Chase Barker, junior field goal kicker Jonathan Testas, senior wide receiver/defensive back Conner Beckman, junior extra point kicker Dustin Turner and senior wide receiver/defensive back Alex Gavern.
Gavern played a good portion of downs a season ago. He said the Cougars are primed.
"We've got a lot of talent coming back," Gavern said. "We've all been putting in the hard work this preseason, and we are all pretty excited."
Clemmons said he's looking for big things from seniors Aaron Williams (wing/defensive back) Max Collett (lineman), Jackson Heflin (tight end/linebacker), Clayton Stahlheber (lineman), Trey Howard (lineman) and Jeremiah Campbell (lineman); juniors Landon Howell (running back), Anthony Scott (quarterback), Andrew Gray (running back/defensive back), Max Meyer (SE/OLB) Nick Herbst (lineman), and sophomores Radical Rothermal (offensive lineman/linebacker) and Josh Geisz (lineman).
"This will be our 50th year of Edgewood football," said Clemmons, making note of when Trenton and Seven Mile both consolidated in 1969 to form Edgewood.
"Those men in the early seventies paved the way," Clemmons added. "They've built a good foundation, and they gave everyone a good idea as to what it means to be an Edgewood football player.
"This group has something very special to play for being the 50th team with Edgewood helmets," Clemmons continued. "They've got Edgewood on their jersey, now let's uphold that tradition of excellence and what we expect from our young men on the field."
The Cougars kick off the season at home against Monroe on Friday, Aug. 30 at 7 p.m.