MONROE — A new era of Monroe High football is set to officially begin when the Hornets take the field at Edgewood on Friday, Aug. 30.
Monroe first-year coach Bob Mullins said the preseason has been filled with promise, hard work and excitement.
"For our program, the foundation will always be hard work," said Mullins, who took over the helm this past December. "The kids have responded really well to our coaching staff and the expectations that we have for them each and every day.
"People are excited about the changes and the whole new system that we've put into place," added Mullins, who noted that the Hornets will utilize a triple-option offense and 50-slant defense.
"We're going to try and be tougher than people," Mullins continued. "We want to impose our will on the field. That's our goal. We want to have a culture of hard work, mental and physical toughness."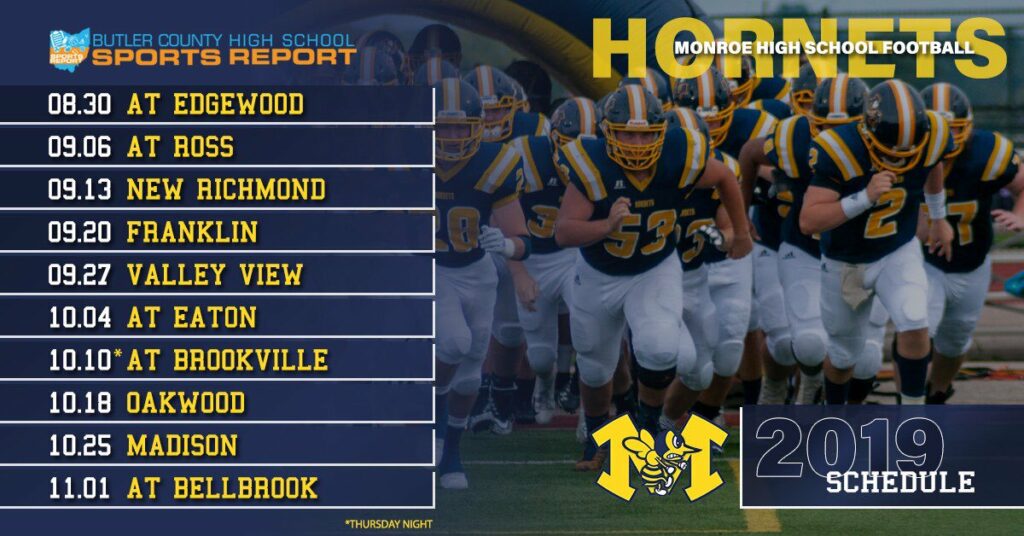 The Hornets are looking to bounce back from three-straight sub-par seasons and reestablish themselves in the Southwestern Buckeye League. Monroe went 2-8 a year ago, 1-9 in 2017 and 3-7 in 2016. 
The last time the Hornets reached the postseason was in 2014, when they fell to Clinton-Massie 49-7 in the opening round of the playoffs.
Mullins said the culture has changed.
"We just want to get better everyday," Mullins said. "We're looking for a perfect effort everyday. If you can give us a perfect effort everyday, are bonding as a team and coming together, I think the hard work at the end of the day will speak for itself."
Monroe senior running back TeJean Rice will be the spearhead in the offensive backfield, along with junior quarterback Collin Deaton, senior fullback Tyler Tracey, junior running back Blake Keeton and sophomore running back Alex Pitsch.
"I'm liking the vibe. This is something new for us," Rice said during preseason workouts. "It's all coming together really well. I thought it was going to be a little difficult to come by, but it's been very good.
"We've got a good coach that makes us accountable and wants us to be here," Rice added. "It's good to have that around here.
"The expectations right now at least are to always be working and never be lacking," Rice continued. "We always have to be doing something — that's how we get better. Once you think we're done, we're not done. We can always do more to build ourselves and be ready for game expectations. We've got a good season coming up for us."
Junior wide receivers Ryan Miltenberger, Nick Voutsas and Landry Flor will be doing most of the catching during the passing attack, along with senior tight end Bobby Borneman, Mullins said.
Seeing some time on the offensive line could be junior tackle Chandler Holler, junior tackle Bradley Downie, sophomore tackle Zach Hagedorn, junior tackle Sebastian Hardin, senior guard Corey Parker, senior guard Josh Parker, sophomore guard Conner Thornton and sophomore center Karson Gomia.
On the defensive side of the ball could be inside linebackers in junior CJ Miles, sophomore Tanner Chastain and Hardin, while outside linebackers could be freshman Wyat McPherson, freshman Elijah Jackson and Borneman.
On the defensive line, according to Mullins, could be Holler, freshman Tyson Rupp and freshman Konnor Loper at tackles, and senior Christian Thomas and Gomia at nose guard.
Senior Nick Snell, senior Caleb Rose, Miltenberger, Flor, Voutsas, Pitsch and Rice could see playing time in the defensive backfield.
"Talking about the tradition of Monroe football — they've had success of winning here," Mullins said. "There's no better place to be than Monroe when the football team is doing well.
"We're going to do everything on our end to try and get the program back to where it should be."