MADISON TWP. — Jeff Smith didn't know exactly how many coats of paint the Madison High School gymnasium floor received during his 23 seasons as head coach of the Mohawks' boys basketball program.
If he'd guess, he thought it to be four or five.
"It never really crossed my mind to be honest," Smith said.
On Saturday night, the gym floor will have its newest coat.
In between Madison's junior varsity and varsity games against Arcanum, the Mohawks' court will be dedicated to and named after Smith.
"There is nothing that (the school) could have done that would have meant more to me," said Smith, 63, who retired from coaching following the 2020 season.
Smith, who has worked with the Madison school district for 29 years, is the current physical education teacher at the high school.
"It's ironic," Smith said. "My adult life has been in this gym for almost a half a century."
Smith began his 29-year coaching career in 1984 at Middletown Christian before becoming an assistant women's coach at the University of Dayton for a small stint in 1989. He went back to Middletown Christian until 1994, when he came to Madison.
He also spent 14 years as Madison's athletic director, which put him in a position to be able to have a say in the layout and design of the current gymnasium. That was in 2001.
"It was neat to be a part of," Smith said.
Countless hours of practice with his former players and assistant coaches, in that exact gym, helped him produce 406 wins.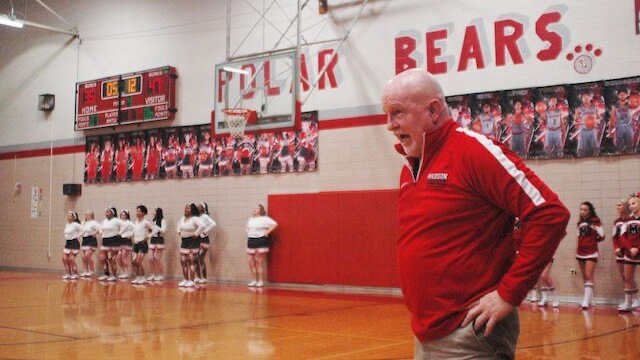 GETTING THE WORD
Smith hadn't the slightest clue about the dedication. That is until one of his former players, and 1998 graduate, Aaron Lawson gave him a phone call.
"We sort of returned each other's favors," Lawson said.
Just weeks prior, Smith phoned Lawson to give him some news.
"He called to tell me that I was going into the Madison Hall of Fame for athletics," Lawson said. "So, I got to pay it back to him."
Lawson said naming the court after Smith was long-overdue. Lawson, who is also on the Madison school board, put in a resolution for the basketball court to be named after the coach.
Following the school board's approval, that's when Lawson called Smith up.
"Once it got through the board, I had to be the one to call him," Lawson said. "I wanted to be the one. He was my coach."
Said Smith, "Aaron was a three-year starter for me. I knew that some players were sort of making it a mission of theirs about the court thing, but the conversation went quiet for a little bit. I hadn't heard too much after a while."
"When I called him and told him about it, it was dead silence," Lawson further recalled. "He just said he had to go and hung up on me. Coach was too emotional to talk. He didn't even know what to say.
"He called me back, though," Lawson laughed. "He collected himself."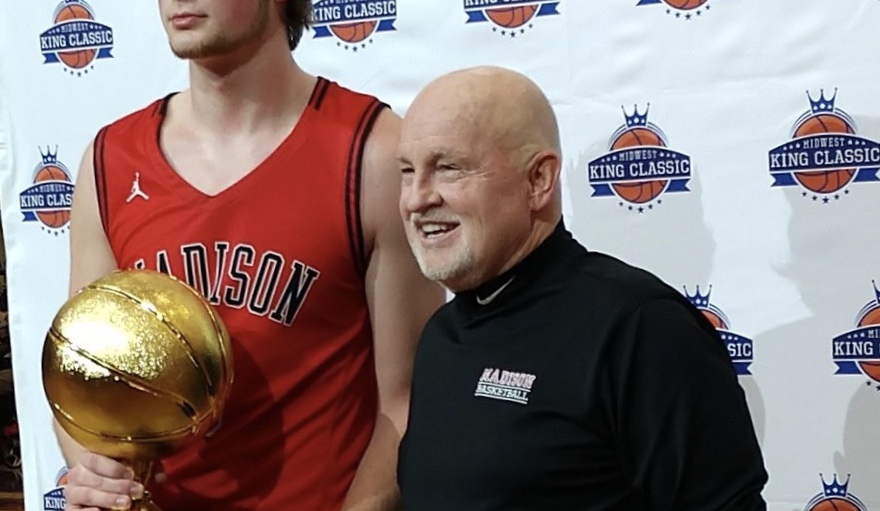 IN THE MOMENT
Smith went through his own collection of memories spent on Madison's basketball court.
"There's so many great moments," Smith said. "Some heartbreaking ones, too. There were a couple of nights when we've won league titles on that floor."
But nothing stood out more to Smith than when his squad opened the 2009-2010 season against then-powerhouse Dayton Jefferson.
Dayton Jefferson, at the time, had three Division I college prospects — Adreian Payne, Cody Latimer and Devin Foster.
"We had a really good team that year," Smith said. "But I remember we were down by 12 at the half. Then we came back and beat them by 12. We came back and beat the best team Madison had ever played on that court.
"People were running onto the floor. It was a madhouse," Smith remembered. "We even had a terrible week of practice, too. It wasn't good. But we ended up getting it right that night."
That Madison team went 24-0 before falling to Taft in the Division III regional semifinals.
"We came in second that night, unfortunately," Smith said.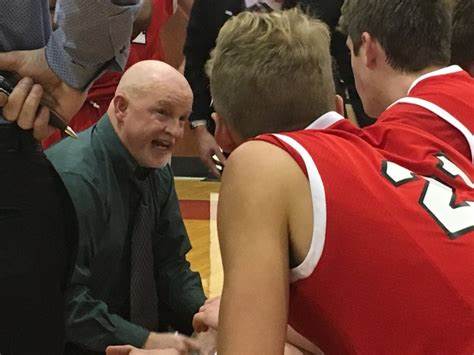 QUOTABLES
But Smith was first in a lot of former player's and coach's lives. Many of them are attending Saturday's dedication.
"He brought together the basketball community in such a short time when he first came here. The program was struggling," said Shane Richardson, one of Smith's former assistant coaches and now the current Madison coach. "And to me that's the most impressive thing."
"He was always there. He lived at the gym. So any time over summer or breaks anyone wanted to get into the gym, he was there to let you in," said Grant Whisman, a 2020 graduate and Madison's all-time leading scorer. "The special thing about Coach was that he was open to learn and listen to other people. It wasn't just a his way or the highway deal.
"During my recruiting process, I didn't do anything," added Whisman, who is a starter at Cedarville. "He helped me before I even knew how important it was to get to where you wanted to go after high school.
"It always was a blessing that as a team, we weren't against prayer and religion on the court for being a public school," Whisman continued. "Coach believed in faith and prayer, and I'm thankful because of that. He did really love every player — from the best player to the worst player. It didn't matter."
Madison athletic director Matt Morrison noted that the court dedication to Smith is a no-brainer.
"He's been involved for 32 years, which is absolutely tremendous," Morrison said. "Burnout is real, administration change is real. All that is a realistic thing. So that says a lot of him to be a part of something for so long. Coach's numbers are impressive, but what he does is better. The way he impacts kids is tremendous — doing it on the court and in the class room. He continues to do it even after being away from the game.
"He's just a great man," Morrison added. "He's a great coach and even better man. It speaks volumes of his wife and family and who they are as people."
Shay Richardson, Shane's brother and former player of Smith, is making the trip from Tennessee on Saturday.
"He come over and really changed our program from the basketball perspective," said Shay Richardson, a 1995 graduate and former Division III State Player of the Year. "I attribute a lot of my successes to Coach Smith. I feel incredible gratitude towards him. We still stay in contact with each other whether it's life, family — you name it.
"Away from a basketball perspective, he's just a wonderful Christian, Godly man," Shay Richardson added. "He's given me a huge foundation regarding my spiritual life. He's the closest person outside of my family as far as a mentorship role. He's the representation of how I want to lead my life. But from a basketball perspective, he had the vision that not everyone had in finding the capabilities in others. I credit him for the large part in me unlocking my potential and bringing together the team."
A COACH'S MESSAGE
While Smith said he focused on inspiring his former players to be better individuals and people outside of the gymnasium, he also tried to help mold aspiring mentors.
"I've told younger coaches that coaching a program has to be about the players," he said. "It can't be about you. I always wanted it to be about the players — my players.
"They've impacted me more than they know," Smith added. "I've loved every single one of them."
Smith noted his coaching abilities forced him to care for past players as if they were his own children.
Smith has a son, Dustin, and a daughter, Amber.
"Even though I feel like I may not have been able to make everyone happy as a coach, I still loved them all," Smith said. "My life had been impacted by them greatly and forever."
Smith's happiest fan, on the other hand? His wife, Denise.
"I wouldn't be able to be where I'm at right now without my faith and where God put me," Smith said. "I've got the greatest coach's wife in the world. We've been through it all — the highs and the lows."
Asked what he will say during the court dedication, Smith replied, "I'll thank my children, my wife, my assistant coaches and my players. Success doesn't happen in a vacuum. It happens with other people involved."
But his goal is to not talk too long on Saturday.
"I'm hoping I'll be able to convey how blessed I was to have coached everyone I did in as little time as possible. That way we can watch some Madison basketball on the court — which is the main reason why we will all be there."
They'll be watching it on "Coach Smith Court" for the first time.