FAIRFIELD — With just over a minute left in the first quarter, Juseters Fataki plunged into the end zone from nine yards out to give the Fairfield Indians a 6-0 lead that the Hamilton Big Blue would chase all evening.
Hamilton got close but couldn't close the gap losing 28-14 in a midseason bout with postseason pushes and playoff seedings relevant.
"The big message all week was the second half of the season kind of leads you into the playoffs." Fairfield head coach Jason Krause said. "And obviously we got to start on the right foot and I thought coming into this one we really liked our matchup up front on both sides of the ball and that was our focus offensively. Just try to impose our will up front and run the football and I think we did that pretty well."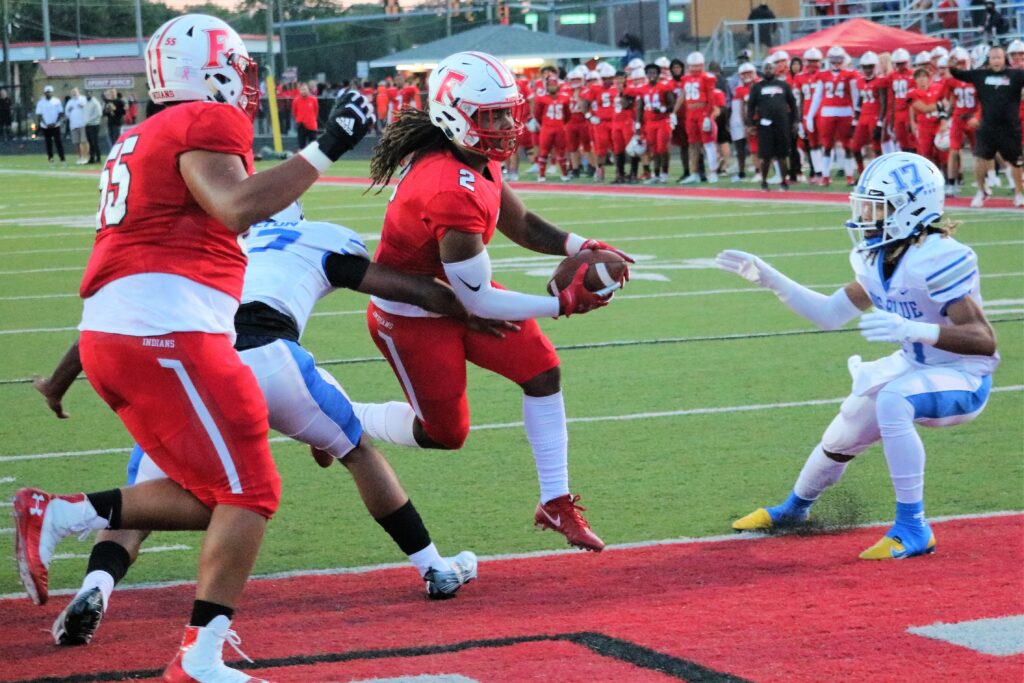 It was 293 yards on the ground later that a will was imposed. Fairfield ended its first drive with the goalposts in sight on fourth down, returned the favor by forcing a Hamilton punt and methodically marched down the field ending the drive with Fataki's nine-yard run.
Hamilton didn't make the win easy though. After Fairfield took a 13-0 lead off a 2-yard Kavi Bivins touchdown run into halftime. Big Blue responded.
With half a minute remaining in the first half, Josiah Jackson of Fairfield intercepted a Kerry Ware pass and returned it 67 yards to — again — put the goalposts within view for Fairfield. But Elijah Givins intercepted Talon Fisher with 3-seconds remaining in the end zone and allowed Big Blue to go into the locker room licking superficial wounds.
"I like how we competed in the second half, called some guys out at halftime and thought we just needed to play better. I think we did it, it just wasn't quite in reach in the second half." Hamilton head coach Nate Mahon said.
Hamilton shot out of the gate in the second half, took the opening kickoff deep into Fairfield territory to only have it called back for a holding penalty. And this would become a routine for Big Blue.
"The holding call on the return was tough, we did end up scoring on that drive which was nice but it just seems like there was a lot of missed opportunities." Mahon added.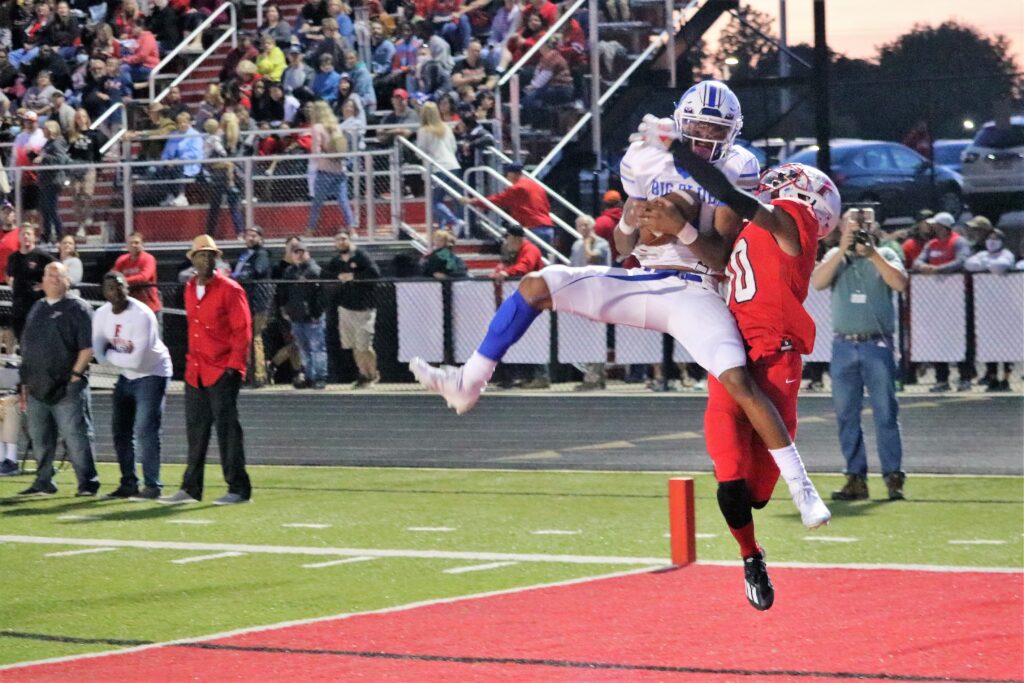 Hamilton closed the gap to 13-7 on a 55-yard Elijah Givins pass to Kerry Ware but Fairfield answered with a 19-yard Talon fisher touchdown run. 
Ware connected with Breon Ishmail for a 15-yard touchdown reception with 4:24 left in the third quarter and a 20-14 Indian lead but like in the first quarter a six-point lead was insurmountable because Kavi Bivins scored his second touchdown of the night and gave the Indians a lead that stood.
Playing for the first time in two weeks due to Covid-19 restrictions, Kavi responded.
"This was actually my first game back, I just came off quarantine. It felt great to come out here and play with my boys again especially against a rival Hamilton, c'mon you can't get better than that. "Bivins said.
Bivins growing up in Hamilton and living in Fairfield just adds credence to the rivalry.
"I came here still wearing blue accessories and Coach Krause got on me but then when I came over here, I love the program and I love the coaches and I love the guys." Bivins said. "It's really just my family over here (at Fairfield) and it felt great to beat up on my home town."
Bivins had two rushing touchdowns, four total tackles, and one sack.
"That sack felt wonderful because I know that guy. He told me that I wasn't going to sack him and when I got it, it felt excellent." Bivins said.
Jackson led the Indians in rushing with 135 yards and Jason Krause was pleased with his performance "All three of those guys do a great job. It's kind of like we got the speedster Jordan Jackson, the younger guy Fataki is coming along, and then Ki'Arran Love is that utility knife. He does it all blocks on counter, he leads on stretch, he catches punts, he punts. He runs the ball, he catches the ball. He's really important to our offense." Krause added.
Breon Ishmail led Big Blue with four receptions, 125 yards and a touchdown.
Hamilton hosts Oak Hills next week and Fairfield travels to Lakota West.