HAMILTON — After an emotional victory against Princeton last week, where Tom Bolden secured his 150th career win, the Lakota West Firebirds Head Coach admitted he was concerned his team may not bring enough energy to their contest against the Hamilton Big Blue.
Bolden's concerns were realized when his team got off to a sluggish start Friday night. But after a much-needed pep talk in the locker room at halftime, the Firebirds came out ready to play in the second half and finished off their fourth win-in-a-row as Lakota West defeated Hamilton 49-13 on the road at Virgil M. Schwarm Stadium.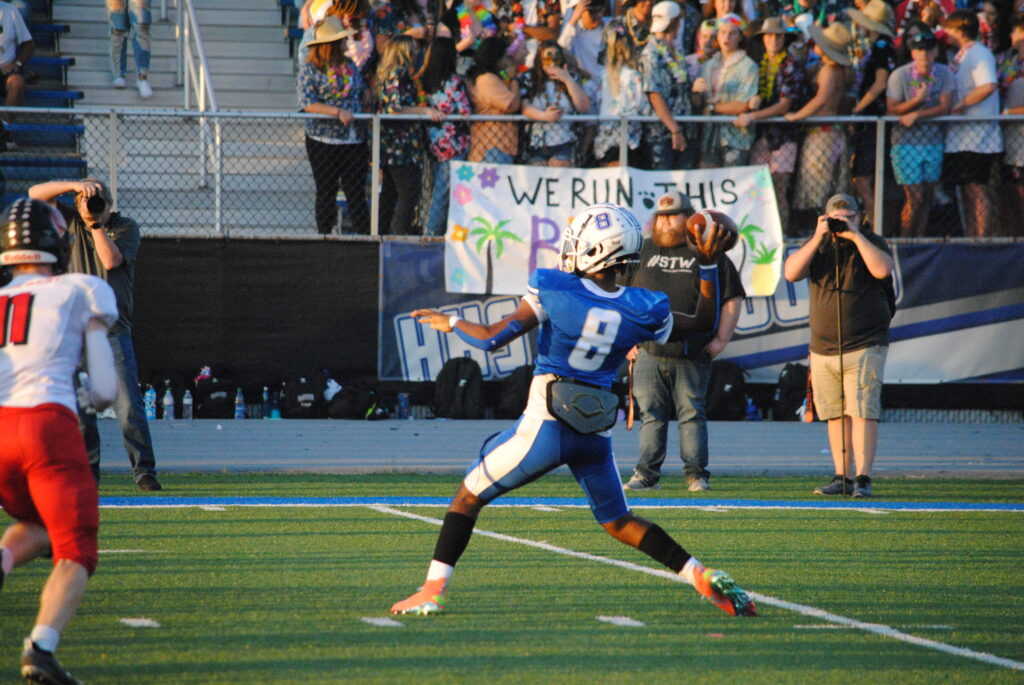 "I was a little worried about last week with such an emotional high for us with that game," Bolden said. "They came out flat and I was none too happy even though our defense played lights out. It just seemed flat. It just seemed weird. So, we gave them a nice little pep talk at halftime and came out in the second half and I thought we played much better."
The Firebirds' defense did indeed turn in another stellar performance giving up just 152 total yards of offense and 13 points. However, Hamilton's first touchdown came via a kickoff return for a touchdown by Elijah Givens at the end of the first quarter and their second score was an interception returned for a touchdown by Hamilton's Wes Fox with just a few minutes left in the fourth quarter and the game all but decided.
So, for what it's worth, the Lakota West starting defense shutout the opposing offense for the second week in a row.
As for the offense, the Firebirds racked up a total of 367 total yards- 147 passing and 220 rushing. They were led by running back Cameron Goode who ran the ball 15 times for 111 yards and two touchdowns.
Goode, who said he's still not quite at 100 percent after suffering an ankle injury against Princeton, gave all the credit for his success to the offensive line.
"The o-line was incredible, I wasn't getting touched for until like five or six yards," said Goode. "And being honest I'm not 100 percent right now after last week in that contest against Princeton. So, I wasn't running full speed. So, for them to hold their blocks and me to get past, that's a great o-line. So, I really couldn't have my yards or anything without them."
Lakota West jumped out in front 14-0 in the first quarter beforeHamilton's Givens returned a kickoff for a touchdown making the score 14-7. The Firebirds scored two more times after that and took a 28-7 lead into halftime.
Then after halftime, it was all Lakota West. The Firebirds scored three more times in the second half with their final score coming from a kickoff return for a touchdown by Alex Afari to make the final score 49-13.
Although it wasn't the outcome his team wanted, especially after a tough loss to Lakota East last week, Hamilton Coach Nate Mahon said he was proud of the way his team battled throughout the entire game and gave credit to the Lakota West Coaches and players.
"They've got good coaches and they've got good players and at the end of the day hats off to them," Mahon said. "I'm glad we kept fighting. Lakota East and Lakota West back-to-back is tough. For me, without a shadow of a doubt they're the top two teams in the league and I look forward to watching them battle it out for the championship this year."
And although getting to the championship is the goal for Lakota West, Bolden said his team hasn't even played their best yet.
"I still think we're yet to play our best game," Bolden said. "But I do feel like we have certain components that are getting better and better each week and we'll get it all put together here."