ST. CLAIR TWP. — Edgewood High boys basketball coach John Thomas knew this one was important Friday night. There are no mulligans.
John Shepherd snagged some timely rebounds that turned into points down the stretch, the Cougars senior also notched a game-high 22 points and host Edgewood outlasted the promising Talawanda Brave 56-52 in a heated Southwest Ohio Conference, Butler County rival showdown.
"Tonight you should never say this is a must-win," Thomas said. "You just can't get them back. So as you move along, every one of these games counts and is big for us."
The Cougars (5-3, 4-0 SWOC) fell to Madison and Carroll before stepping back onto Ron Kash Court. Caleb Allen notched 16 points for Edgewood, which travels to red-hot Badin on Saturday.
"Big. This is big," Thomas said. "We haven't been shooting the ball well. A lot of that is being honest and shooting with confidence and rhythm. We've got to get back into doing a little bit of a better job. We can defend better, I think. Like any other coach is going to tell you, we've got to get back in the gym and get better."
Talawanda held an early advantage at 11-9 and controlled most of the opening quarter. But it was the Cougars who would take a 12-11 lead into the second quarter.
"We've been struggling out of league, but we've just got to stick to it and keep practicing," Shepherd said. "Keep doing what coach says, stick with it. We did that tonight and stuck with it. We almost lost it at the end, but we stuck with it and got the win.
"Talawanda always wants to beat us. I knew they wanted to win," Shepherd added.
The Brave (2-6, 1-3 SWOC) never let the game get out of reach and only trailed at the half 24-21.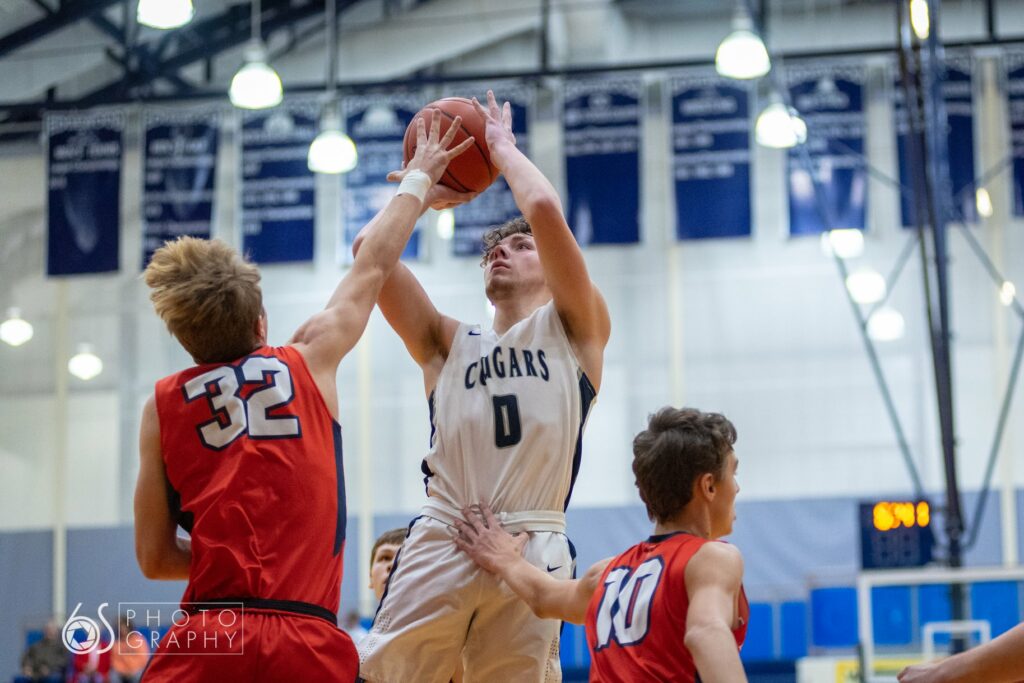 "Hats off to Talawanda," Thomas said. "Jake (Turner) is coaching with a lot of passion, and he's doing a great job. I told him after the game, 'I've been in your shoes before with building a program. It takes a little bit of time.'
"They played hard, and they did a lot of things well," Thomas added. "They took us out of some things that we like to do. I mean, hats off to them. They played a heck of a basketball game."
The Cougars took another 3 points lead into the final stint at 40-37 before finally fending off a late, pesky Brave comeback.
Jonathan Richter led Talawanda with 19 points, while teammate Craig James tallied 11.
"I'm proud of our guys for how they fought — a lot of adversity tonight," Brave coach Jake Turner said. "(Edgewood) made some plays. But I told our guys in the locker room that they left it all out there. Some things didn't go our way down the stretch early in the game, and I felt that was the difference.
"I thought we competed," Turner added. "I feel like this was our toughest game we played all year from the beginning to the end. I think our guys are sick of hearing it, but we're getting there. It's just baby steps. We're going to get some breaks here and find a way to win down the stretch here soon.
"This is tough because we hate losing. I know they want to win," Turner continued. "But they continue to work every single day. They're giving everything that they've got, and that's all I can ask for."