FAIRFIELD TWP. — Cincinnati Christian Schools coach Carly Arington is confident her volleyball program has found the right mix of consistency and competitiveness.
And as the postseason approaches, the third-year mentor envisions plenty of momentum to solidify the team's motto going forward.
"We've got a neat hashtag," Arington said. "It's 'restore the roar.' We're living up to that right now.
"There's a certain type of culture that's been cultivated. The girls have really taken ahold of that competitive nature," added Arington, whose squad has won six out of the last eight games. "It's the fundamentals, holding each other accountable and doing the intangibles. We preach to the girls that it's all about attitude, effort and communication."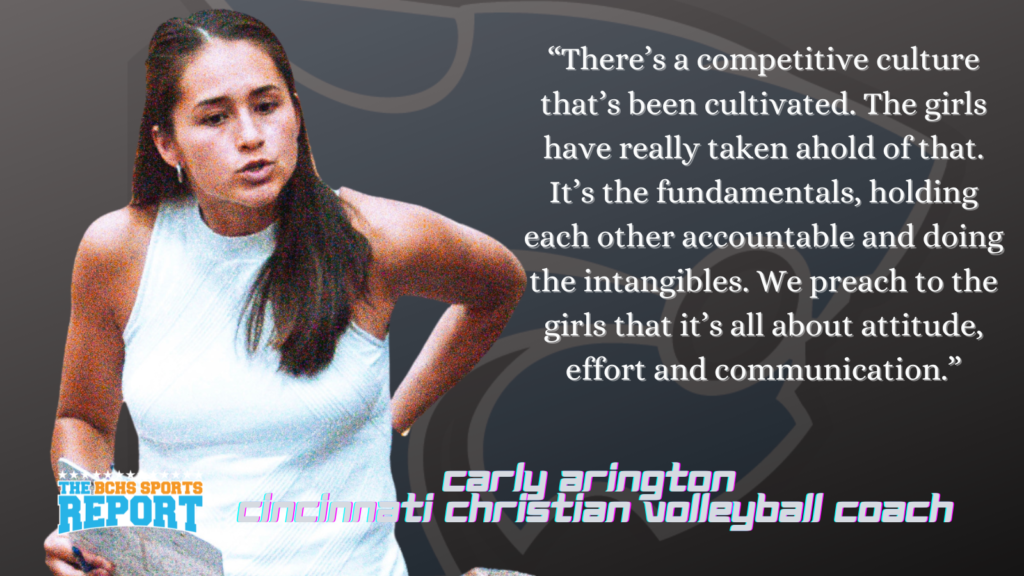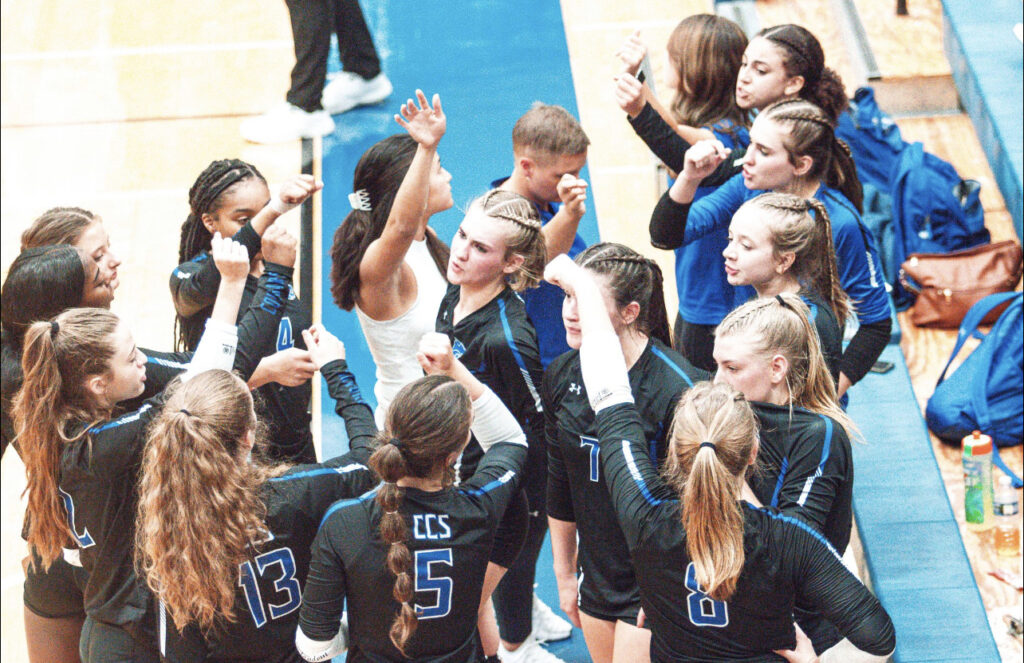 Cincinnati Christian currently sits at 11-6, and Arington said the Cougars have what it takes to make a deep tournament run.
"We don't have a player who is above 5-foot-8. We have a lot of fight," Arington said. "So for us to pull together the way that we have and for us facing a lot of state tournament teams, we have some competitors in our conference that have sort of gotten us ready and not giving us a reason to back down from a challenge.
"We're doing the little things, and we're doing them right."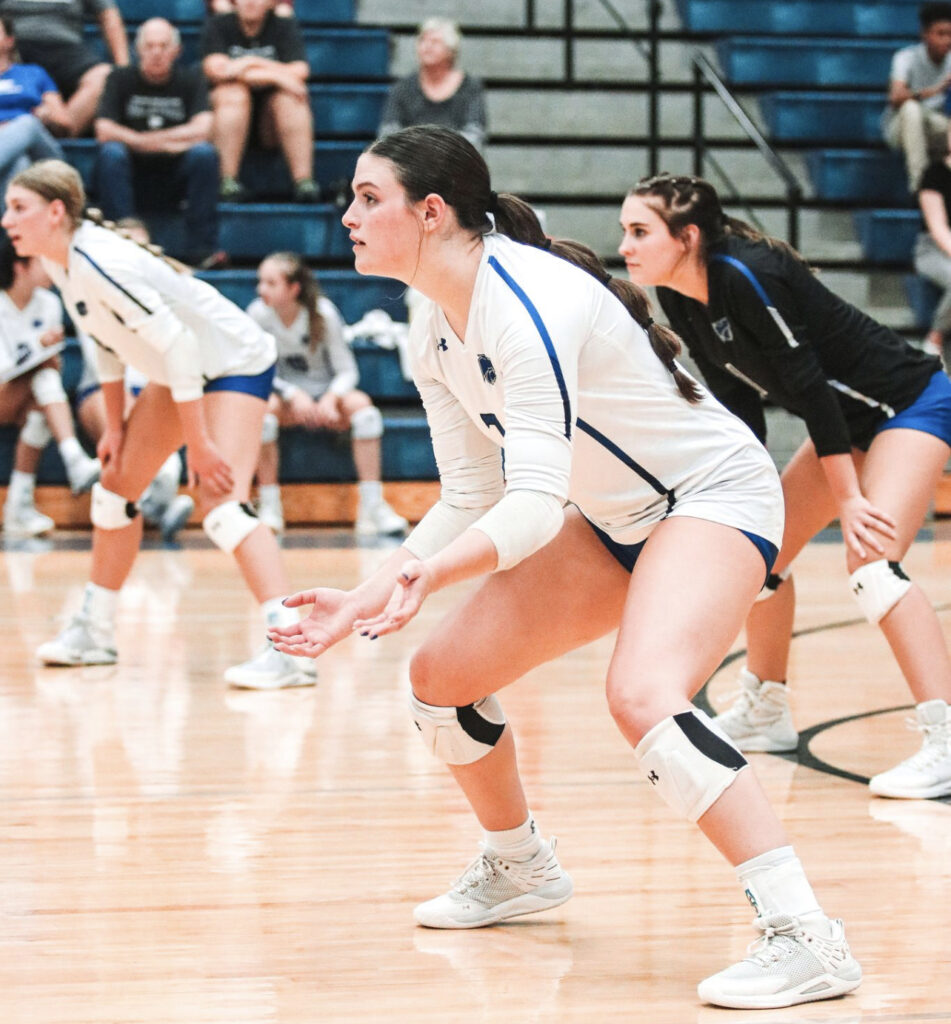 Kate Oates, a four-year starter, is the only returning senior on the team this year.
"She can pretty much do it all," Arington said of Oates, who is in the Miami Valley Conference's top 5 in aces, digs and pass points. "She can be our libero. She can be anything. She pretty much mastered a lot of the skills that we've wanted her to do. She's stepped up a lot in leadership with pulling the team together and reminding them of who we are in CCS volleyball and what our goals are."
Juniors and twin sisters Jenny and Katie Bertram bring a high-level, competitive vibe to the team, according to Arington.
Jenny Bertram had 47 assists against Cincinnati Country Day earlier this season, and "that's pretty hard to do. She played lights out," Arington said. Jenny Bertram is in the MVC's top 5 in assists with 266 this year.
"She's just really stepped up and has been able to make plays," Arington said of Jenny Bertram. "She goes after the out-of-system balls. She has one of the most aggressive serves on the team being left-handed."
Katie Bertram is "always looking to excel her game," said Arington, noting that Katie Bertram is primarily the team's libero. Katie Bertram and Oates both have 195 total digs, which is tied for second in the conference.
Sophomore Lauren Uffman is one of the team's best offensive threats, Arington said. Uffman has a team second-best 93 kills, just behind Oates' 98.
Juniors Jolie Percy and Abby Marcum, as well as sophomore Kylee Arthur, have played dominant roles for the Cougars this season.
Freshmen Anna Kate Young and Serena Cyprien quickly made their presence felt in the early going.
"She's one of the most competitive kids out there on the court," Arington said of Young. "Coming in as a freshman, she's understood that mistake shouldn't have to set you back. She has a really good next-ball mentality. Having girls like that on the team really helps with team culture.
"Serena, she's super athletic, and she is one of the most athletic players we've got on the team," Arington added. "She's our second middle but has also risen above the level of playing that she was used to last year."
Rounding out the roster for Cincinnati Christian are senior Ciara Cyprien, sophomores Lily Clark and Maya Hockney, and freshman Anna Bowling.
Up next for the Cougars is a three-game homestand against Roger Bacon (Oct. 4), Norwood (Oct. 6) and Carlisle (Oct. 10).