MIDDLETOWN — Don Simpson used last season as a measuring stick for where he expects his Middletown High School football team to be when kickoff rolls around.
The Middies weren't short of performing in 2022. Aside from three lopsided Greater Miami Conference regular season losses, Middletown (3-8) was in every game.
Simpson anticipates the script to flip.
"This year, I think we're bridging that gap of competitiveness," said Simpson, who is entering his sixth season as coach. "We are looking good."
Simpson said graduating a larger-than-normal senior class doesn't have the Middies scrambling. Plenty of underclassmen saw the field last year during the program's best season since Simpson took over, so the leadership qualities will be there from many of Middletown's 13 returning starters.
"That competitive edge is coming back," Simpson said. "You've got to build that belief over time. You've got to build that belief that you can win, that you can go out and compete and win these games. This group is that way. They believe that they can win. They're going to go out there and compete and give everything they've got for 48 minutes.
"Our senior class is a very interesting group. They got to sit back and watch this past senior class and see all the ins and outs of their leadership — the good and the bad. And they understood it."
Simpson said his players participate in a mentoring class, and the topic of conversation during those meetings is focused on what needs to be fixed for the Middies to come out on the winning end of tight games.
"When you can identify that as a player, you understand what you need to do to get on that positive track," Simpson said. "It's a really good thing, and I think that this class has that."
Middies junior wide receiver Talan Malicote echoed that sentiment.
"From the work that we've put in so far, we have a lot to bring to the table," said Malicote, who could open up the Middies' passing game with his quickness and speed. "We're working on how we can finish. I think that's going to be the most important part.
"The vibe is great. Everyone gets along, but not only that, everyone works hard."
KEY PLAYERS
Senior linebacker Gabe Terrell believes the hard work him and his teammates are putting in will have its rewards in 2023.
"I don't think there is a team in southwest Ohio that is working harder than us," said Terrell, who had 65 tackles a season ago. "We've got a lot of returning guys. We're putting it all on the line this off-season. I think we're more than ready. I don't think anybody can compete with us.
"It's going to be different," Terrell added. "For the past two to three years, it's been team chemistry, hard-working guys. I truly believe it's going to be a different Middletown."
Senior Jovaun Davis returns at defensive end and wrapped up 37 tackles as a junior.
"Last year, we fell a little short," Davis said. "We should have won at least seven games — because we really didn't finish. We could have executed a little better."
Other players to keep an eye on include seniors DeAndre Goodson (DB) and Mikell Dorn (DB), and juniors Max Johnson (DB), Chandler Shields (WR), Lemondte Chambers (LB) and Jerimiah Landers (QB).
"All we really need to do is put it together," Terrell said. "Some of the games we ball it out on offense. Then some of the games our defense is unstoppable. I feel like once we put it together, I think that's when it starts rolling."
"I think they'll see an exciting brand of football that (the fans) have been missing for the past couple of years," Simpson noted. "It's going to be wide open. We're going to make people cover the entire field. We're going to keep them on their toes with what we're doing."
COMPETITIVE CONFERENCE
Simpson said last season's "heartbreaking losses in our conference" fuels some ambition within the program.
"Every week is a grind," the coach said of playing in the GMC. "You go from top to bottom in our league, every team is talented. Every team is well-coached. Every team is disciplined. So you have to go out there with the margin of error being so slim."
Middletown lost to Hamilton (17-0), Lakota East (14-13), at Mason (10-7) and at Oak Hills (7-0) in 2022 — all winnable games, Simpson said.
"Things will go down to the final 48 minutes. I love the competitiveness about it. The kids love being a part of the conference. The kids understand how tough this conference is. We're battled tested. We're looking forward to it."
DEPTH CHART CHALLENGE
The biggest challenge for the Middies is overcoming a lack of depth on the roster.
But Simpson said there's a way around that.
"I'll always say that our top guys are just as good as anybody else's top guys in the league," he said. "It's just as you go down that depth chart, though. That's when we kind of struggle. We've got some talented kids. So how we're attacking that is everybody is taking a little more of an active role on the field. They know that you have to own it and you have to understand that whatever I need to do to help the team win, do it.
"We don't have the luxury of saying that we're two deep at every position on the field. We don't have that. So we understand that, and we embrace that into our work ethic in the offseason."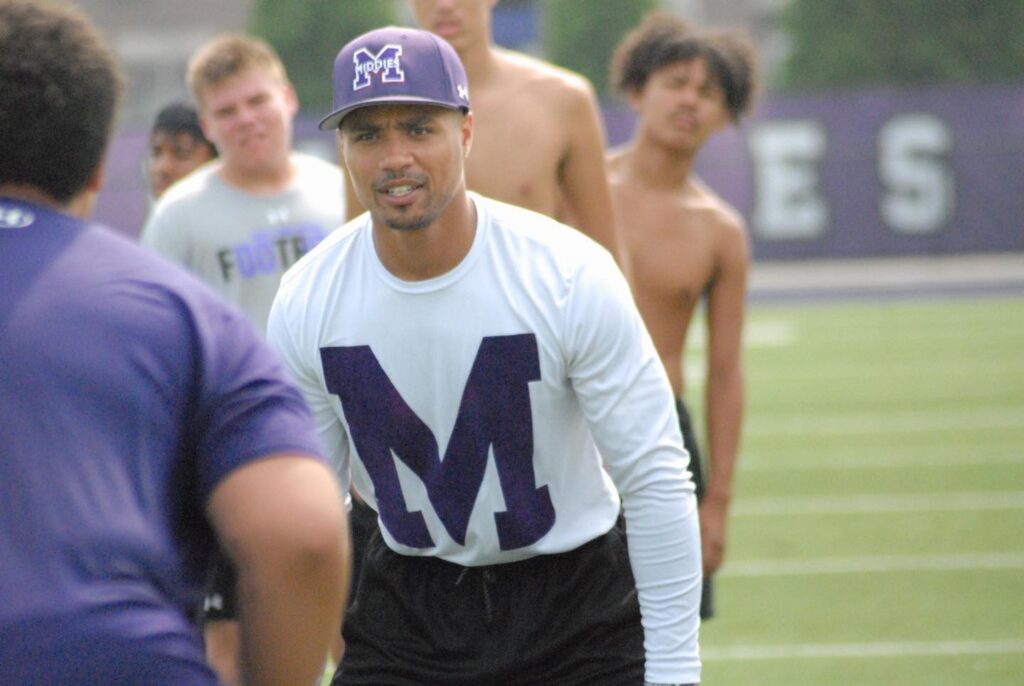 SIDELINE HELP
The addition of Artrell Hawkins and Jalin Marshall to the coaching staff has the Middies operating on a fresh agenda.
Hawkins, who played collegiately for the University of Cincinnati and professionally with the Cincinnati Bengals from 1998 to 2003, will coach the defensive backs.
Marshall, a 2013 Middletown graduate who was a former NFL player and Ohio State University standout, will coach the wide receivers.
"Bringing Artrell on adds a little expertise to the game," Simpson said. "Bringing Jalin on is awesome. When he contacted me, it was a no-brainer bringing him on board. There's a vibe around the kids and the way they look at him. It's awesome."
Simpson gave a nod to the rest of his coaching staff as well.
"My coaches have been with me since Day 1," Simpson said. "They're still here with me. So to the guys, it's seamless with the teaching part. A lot of the guys, they understand it. They've been running it for four years.
"One thing I like about our staff was that most of them were a part of a good two-, three-year run here. Probably the last successful run we've had here in the program. They can tell them that this is what you have to do to be a successful team. They're not just hearing it as lip service as a coach saying it. They're talking to a coach who was playing for this team, and they'll tell you how the city was and how the vibe was in this stadium when everybody is behind you when you're out here winning games."
IN THE KNOW
The Middies open the 2023 season at Barnitz Stadium on Friday, Aug. 18. … Middletown's homecoming game is against Hamilton on Friday, Sept. 29.