MADISON TWP. — Steve Poff heard a clatter of laughter during a 90-degree practice last week at Brandenburg Field.
"This is what these guys have been missing," he said. "You see that? They're having fun being out here, and it's a hot one."
The Madison High School football team has been searching for that kind of vibe the last couple of seasons. Amid a coaching carousel, Poff was hired at the beginning of the year to lead the Mohawks — again.
The former Madison coach said he's on a mission to bring competitiveness and a winning attitude back to the program on Friday nights, and he was adamant on that starting now.
"We've got guys on this team who want to win, and they just haven't had the opportunity to," Poff said. "They feel like they've put in the work and have not gotten a check yet. We're looking at it as if they're going to have to cash a couple years' worth of checks."
Poff, a 1992 Madison graduate, led the program from 2014 to 2018 before stepping down for family reasons. During that span, the Mohawks went 42-15, won four Southwestern Buckeye League Buckeye Division championships and reached the Division V regional finals in 2017 and 2018 while losing to Wheelersburg both times.
Madison had three head coaches in four years between the Poff eras.
The Mohawks finished 5-5 with Ricky Davis at the helm in 2019, 4-5 with Jessie Hubbard in 2020 and a combined 1-19 the last two seasons under Dan Baker.
"There's a lot that's going to go into this season," Poff said. "I've said this in the past. There's not 15 ways to do things right. There's only one or two ways to do it right. You've got to find what you do well."
Madison senior Ryan Brown said the preseason has been, positively, going that direction.
"It feels so much better. The energy everybody brings is just awesome," said Brown, who is expected to play defensive end and tight end. "I feel way more confident than last year. I think everybody does. Practice has been consistent, and that's something we've been looking for."
'WORKING HARD'
The buy-in from the Mohawks has been convincing thus far. But Poff admitted success isn't going to breed itself over night.
"This group, they've definitely got some talent," he said. "We've got some great skill players. They're getting better every day, and they're working hard."
Senior Cy Thompson is back out playing and will be the Mohawks' starting quarterback, according to Poff. Sophomore Gavin Johnson could be in the mix under center as well.
Poff said he's impressed with how senior Kwenton Rhodus and junior Kaleb Miller have been performing in the offensive backfield.
Junior Peyton Neal is working hard at center, Poff said, while juniors Bryant Tinch and Bryson Moore will lock down the guard positions on the offensive line.
"The O-line is coming together," Poff said. "We graduated three from the line last year, but we're piecing things together nicely."
Other players to keep an eye on include senior Jordan Perry (WR/FS), junior Landon Adkins (RB/MLB), senior Landon Potter (TE/DE), senior Aiden Grooms (FS/C/QB) and senior Kaden Sarbaugh (TE/DE).
The place-kicking game will feature sophomore Alden Graham and senior Jaxson Shelly, while a handful of players could do the punting honors. 
"We feel like we're getting ahead of the game," Poff said, "and we're going to see what were good at."
What the Mohawks have been good at under Poff's watch is operating the wing-T offense. That offensive scheme will continue.
"We're not going to change what I like to do," Poff said."We're just out here trying to make these kids better better players and better men — give them a chance to win."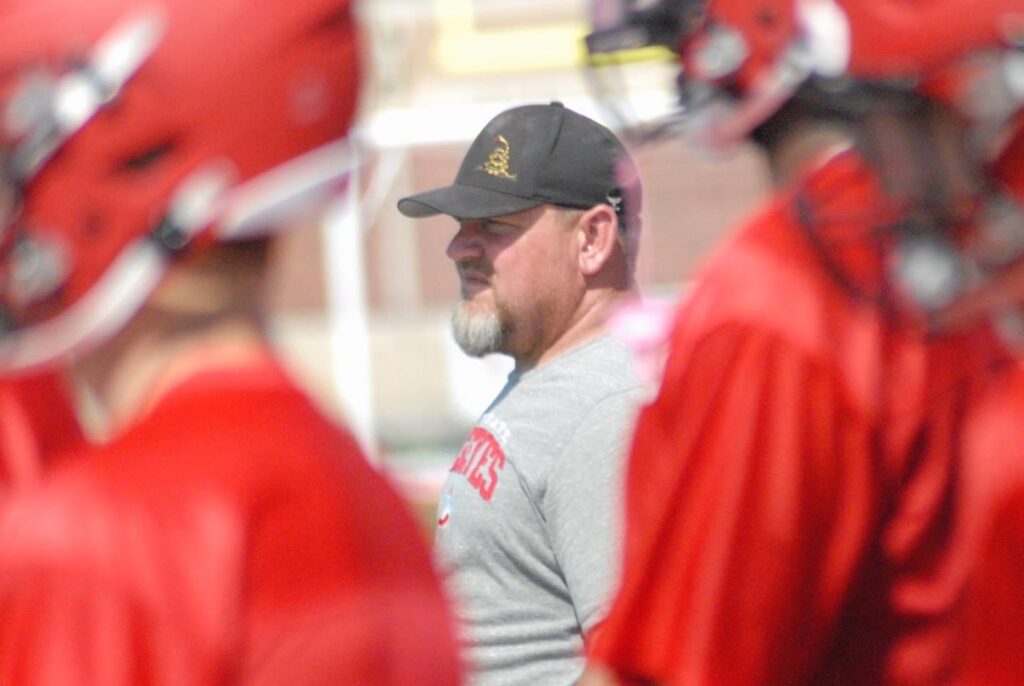 FRIENDLY AFFAIR
Poff said leading Madison's program this season is almost like having a reunion. There will be some familiar faces on the sidelines.
"This is a lot like hanging out with your friends while you're out here standing in the sun," said Poff, who brought back nearly all of the staff members from his former stint.
Chris Whiteman, Chad Thompson, Ricky Davis, Evan Crim, Jimmy Friend, Jeff Howard and Ryan Melton are Poff's assistant coaches for 2023. All of them are either Madison graduates or members of the community, Poff said.
"For some of us, this is kind of like putting the family back together," the coach said. "We're super excited on where we're at. Would we like to be further along? Yeah. Me and every other coach in the state would like to be further along than they are right now.
"It's our job to worry about things, but right now, the attitude for the most part is 95% there. I think there are some people with that doubt, but they'll see what we can do out here on the football field."
QUOTABLES
"They're going to see a whole different team than last year — a much more physically sound team, a much more family team than last year," Rhodus said. "Last year we really couldn't execute on a lot of plays. This year, we're hoping to change that — just scoring more touchdowns, obviously, and getting more stops on defense."
"I think it's all about team work right now," Brown said. "There's going to be a lot of teamwork and consistency. It's all about being tough. You just can't come out here and give it 50%. It's always got to be 110. So if you don't do that, you won't be able to survive. Play rough and tough."
IN THE KNOW
Madison opens the season at home on Aug. 18 against Preble Shawnee and will host a Thursday game against National Trail on Sept. 7. … The Mohawks have six home games on the schedule for 2023. … Madison's homecoming game is Oct. 6 against Waynesville.