DIVISION I
NO. 3 LAKOTA WEST VS. NO. 5 MOELLER
The third-seeded Firebirds, winners of 11 straight, take the momentum into their Division I, Region 4 against the fifth-seeded Moeller Crusaders on Friday at Mason's Atrium Stadium.
Lakota West (11-2) is 1-3 against Moeller (9-4) since 2006, including consecutive losses in the regional finals each of the last two seasons.
The Firebirds forced two interceptions — both grabbed by junior Finn Mason who returned one for a score — turned Princeton over on downs four times and didn't allow a point after the first quarter in their 19-7 playoff win a week ago.
Aside from the shortened COVID season in 2020 when Lakota West gave up an average of 5.6 points in nine games, the Firebirds are playing their best defense in over a decade.
Lakota West, which has given up just 7.5 points a contest in 2023, will play in its fourth consecutive regional final.
The Firebirds scored 16 unanswered to seal their regional semifinal win against the Vikings, while the Crusaders steamrolled Mason 38-3 to get to this point.
Moeller sophomore quarterback Matt Ponatoski threw for 298 yards and a career-best five touchdowns against the Comets.
Michigan commit and senior running back Jordan Marshall has rushed for 1,369 yards and 15 scores this season, and he's caught 24 passes for 333 yards and five TDs.
Senior linebacker Kyler Paul leads Moeller, the Greater Catholic League South champion, with 96 total tackles.
Moeller rushed for 343 yards to beat Lakota West 38-20 in last year's regional final, and Marshall had 165 of those and two scores.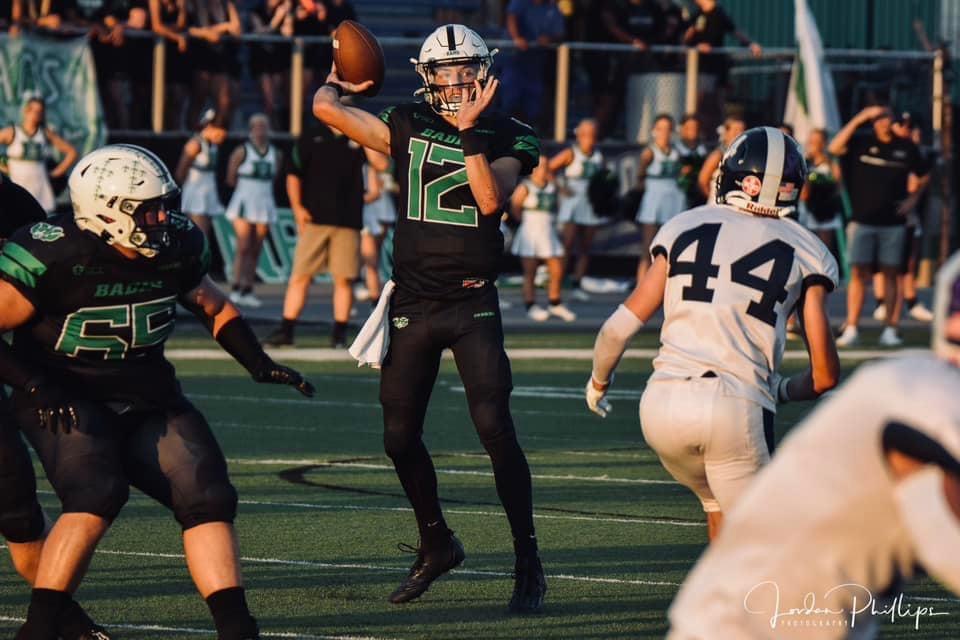 DIVISION III
NO. 1 BADIN VS. NO. 3 CELINA
The state's second-ranked Rams are set to square off against the Celina Bulldogs in a Division III regional final on Friday at 7 p.m. at Trotwood-Madison.
No. 1 seed Badin (13-0) has outscored its three postseason opponents 79-16 — which includes last Friday's win over the Redskins, when Alex Ritzie drove the Rams 65 yards in a minute and a half and hit Carson Cheek on a 5-yard TD pass with 2 seconds remaining.
The Rams are 48-3 in the last four seasons, have played in six consecutive regional semifinals and will now be playing in their third straight regional final. Badin fell to Tippecanoe in last year's regional final on a late field goal and lost to Chardon 21-14 in the 2021 state final.
The Badin-Celina winner will face the Columbus Watterson-Bellefontaine winner in the Division III state semifinals on Friday, Nov. 24, at a neutral site to be announced Saturday.
No. 6 Celina (11-2), which shared the Western Buckeye League title with Wapakoneta, knocked off Tippecanoe 27-13 last week.
The Bulldogs utilize the athleticism of senior Braylon Gabes, who was named both a WBL Offensive and Defensive Back of the Year.
Gabes accumulated over 1,400 all-purpose yards and 21 total touchdowns during the 2023 regular season, while Celina quarterback Bobby Morris threw for 750 yards, seven touchdowns and six interceptions.
In the first 10 games, Bulldogs running back Jon Lutz added 585 yards and four scores on the ground.
BRACKETS — https://www.ohsaa.org/Sports-Tournaments/Football/Football-2023/2023-OHSAA-Football-Playoffs-Coverage