SPRINGFIELD — Badin High School senior Lizzy Meyer was proud Friday night. She was proud to be a Ram.
"For us, this season meant the world," Meyer said. "Personally, I wasn't expecting this kind of a run at all and to make it this far. But I knew that we had the opportunity to. And I really knew that we could do it."
The Rams fell to Carroll 45-41 in a Division II regional final at Springfield, ending Badin's successful run. The Rams went 11-2 in their final 13 games to finish the season at 18-10.
Mahya Lindesmith led the Rams with 17 points, while Jada Pohlen chipped in with 14.
Badin graduates just two seniors — Meyer and Maddie Thompson — who were thankful to be a part of the Badin girls basketball family.
LIZZY MEYER
"Going into this season, not a lot of people know that I went down on my ankle the first game," Meyer said. "I did not expect to come back. It feels pretty great that I did. I wanted to come back and put in the work for these girls."
"We had that close one against Fenwick, and from there, we just kept bringing the energy," Meyer said. "Tonight was a hard loss, and we couldn't make some shots. But we left it all on the court for sure."
"I've played two years here at Badin, transferring in my junior year," Meyer said. "It was the best decision that I've ever made. The culture here is so different. We're just one big family. All the coaches, all the players, every parent. We just come together and they all support us. Our coaches are always there for us. These girls are my best friends. Playing here at Badin, they make you their best friends. We're going to miss them so much. It's going to be weird without them, but I'll definitely come back to visit them because of the family mentality you'll always remember."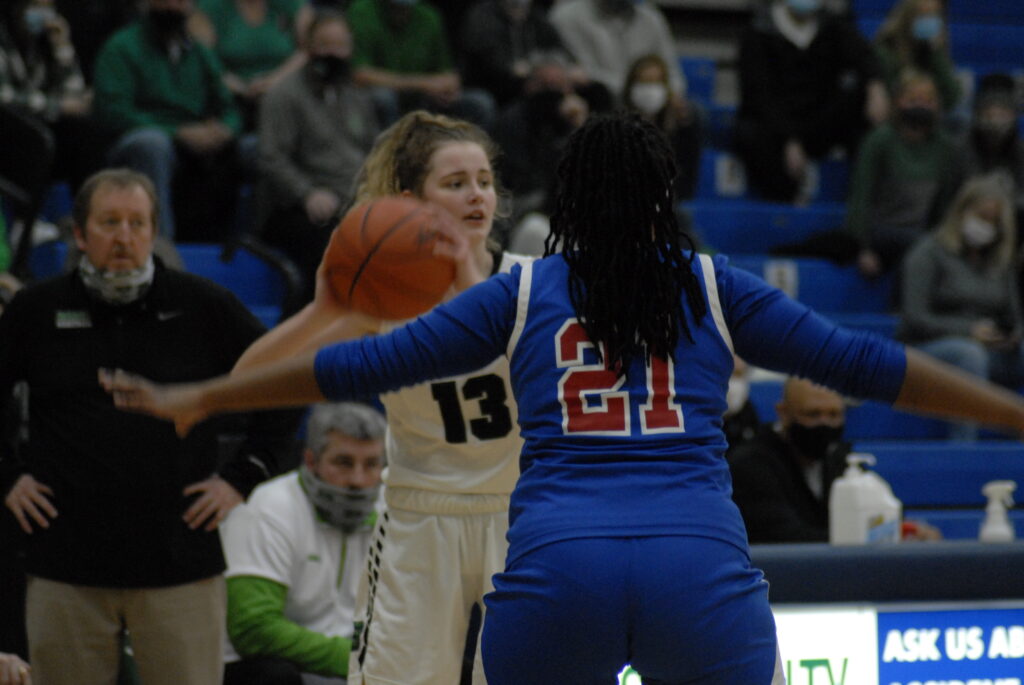 MADDIE THOMPSON
"This meant everything to me," Thompson said. "Even if we lost the first tournament game, I don't care, I could never ask for a better team to be with. Every day we just make each other laugh and pick each other up. We always had the best time, and that's what really matters. It's not the scoreboard, but the experience we all had as a group of great teammates. I'm very grateful to have had this experience."
"This year was really hard and it was a challenge," Thompson said. "Covid, injuries, all of us coming back from something. As a team, I think we did a good job of overcoming a lot of things. I'm going to try to look back at it with no regrets."
"I definitely made some offensive mistakes in the first half tonight. I think I was in my head," Thompson said. "But I can't ever let that get to me. At the end of the day, it is what it is. I just have to remember the time that I was able to have in becoming better player here at Badin."
"Just enjoy it," Thompson said when asked what her message would be to her younger teammates and players coming up within the program. "Put all of your effort into it. You never know what you can accomplish. No one believed in us this year. We proved a lot of people wrong. Badin girls basketball has a good future ahead of it, and the younger girls should take advantage of that."
COACH TOM SUNDERMAN ON THE TWO SENIORS
"Lizzy was out for while. We thought she was going to be out for the year," Sunderman said. "We thought she tore her ligament. The doctors gave their opinion and said that she was going to be out for the year. But she battled. She came back and fought for her senior season. Meanwhile, she comes back and Maddie goes out on concussion protocol for seven or eight games. But they worked hard and bought into the system that we were able to run this year."
"They were the first ones to buy in. Everybody else followed suit. And they showed great leadership," Sunderman continued on the seniors. "That's what we were talking about in that locker room — the leadership. We don't have a bunch of D-I athletes. We have a bunch of hard-playing athletes and kids that come together. Those two were the ones that bought into it, and they worked as a team. It was their leadership that helped us get to where we did."