COLUMBUS — Conference champs. Check.
District champs. Check.
Regional champs. Check.
State champs? A resounding and bold check.
The Lakota East High girls track and field team dominated the sprint events at Jesse Owens Memorial Stadium on Saturday, taking home the state crown with 65 points — 24 more than second place Mentor.
The Thunderhawks became the first Greater Miami Conference squad — boys or girls — to win the team title since Middletown boys did it in 2001 and the first girls team title since Princeton won it in 1989.
"I knew things would be possible after last season (12th at state)," Lakota East coach Rodney Heath said. "We knew we were a couple pieces off, last year Kaylyn (Heath) got hurt at the GMC championship. With her coming back healthy and Serena Clark, I knew we had a real good chance of running the table."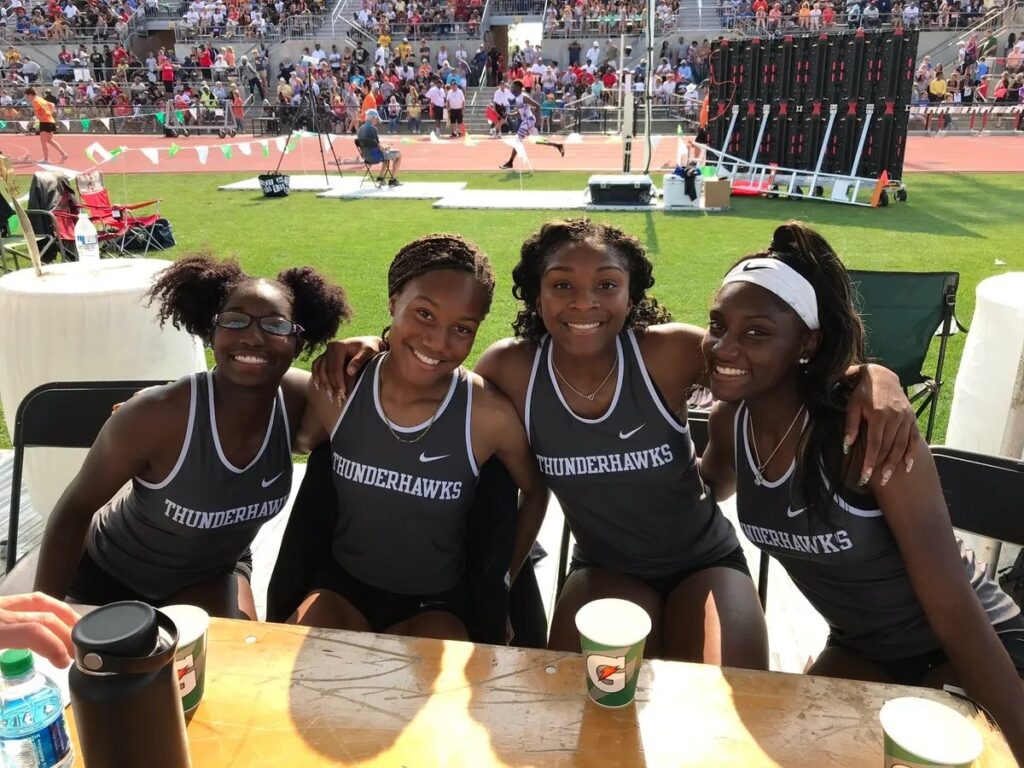 By 4:40 p.m. on Saturday, the 'Hawks put the entire state on notice, as they had their sights on that top spot of the podium by taking first and second in the 100 meter dash.
Kaylyn Heath claimed the title with a time of 11.93 and Clark was right on her heels with a 12.12 second place finish.
Less than an hour before the 100 meter final, Azariyah Bryant (18'05'') and Camiyah James (17'11'') took third and fourth in the long jump.
"We had that plan in place. This was the plan once we got the indoor title in March. My coaches and I looked at how we can maximize our events at state," Rodney Heath said. "The main thing is keeping everyone healthy. If we could keep everyone healthy we were going to be ok we were going to have a chance to make a run at state.
"I knew that I had two long jumpers that were pretty strong. It was just about getting them confidence in their sophomore (James) and freshman (Bryant) years," Rodney Heath added. "With Kaylyn and Serena going one-two in the 100, I knew what I could get in the 100 with those two.
"When we got to the championship season Kaylyn and Serena had already been there, they already knew the load and what they were going to have to do. With the long jump those two girls were fresh. I told them be able to master what you need to do in the long jump. You've got an 18'5'' and 17'11'' on the same team."
"Being able to have six or seven girls who are very versatile, dynamic and strong. It's an awesome thing to be able to coach." – Lakota East track and field coach Rodney Heath
Those four finishes added up to 29 points and at that point, Lakota East was beginning to run away with the title.
Literally.
Fifteen minutes later, Dawn Hilton, Dani Stoughton, Bryant and James grabbed another eight points with a second-place finish in the 800 meter relay with a school record 1.39:32.
"We knew that trying to beat Twinsburg would be very tough because they're a really good team," Rodney Heath said. "We knew that after that we were going to run fast if we try and keep up with them."
But the Thunderhawks had more fireworks and a final curtain call still to come.
Lakota East came into the state meet as the reigning 400 meter relay champions and not only did it repeat as champions, but the foursome Hilton, Kaylyn Heath, Bryant and Clark broke the state record as well with a time of 45.82. That bested the previous mark of 45.99 by more than a tenth of a second.
"We were eyeing the record during the indoor season," Rodney Heath said "We've been eyeing that record and we knew that if we maximized the exchanges that we had the speed to be able to do it. It's just an honor for the girls to be able to take that down. We had two new girls on the team from last years first place team. My third leg (Bryant) doesn't have to wait for KK (Heath) to get her the baton, she's going to run her down."
"The first leg (Hilton) just get out of the blocks and do your best and Kaylyn just happened to have a wonderful second leg she extended the lead, Azariyah just ran away with it and Serena just brought it home," Rodney Heath added. "I told Serena you're running against the clock, it's not about the teams your running against. You need to run this unlike any 100 you've ever run and she did, it was great."
Stoughton followed that up with a fifth place finish in the 400 meter run and a personal record of 56.69 and the route was on but far from over.
Clark had unfinished business. She placed eighth in the 200 meter run in 2017 as a freshman and ninth in 2018. She finished second last year in the 100 meter run and third in 2017.
But an individual title had proved elusive until the 200 meter run. Clark finally broke through with a time of 24.09 for the victory, and to make it even sweeter, Kaylyn Heath joined her on the podium with a fifth place finish and a time of 24.77.
"Serena, that's a dynamic girl going from 100, 200 to the 400 and the benefit for me was having both her and Kaylyn on the same team. It's like having two D-I collegiate athletes on the team and they gel together," Rodney Heath said.
"They have that relationship where they are truly like sisters," Rodney Heath added. "When Serena got hurt last year at the state meet, Kaylyn was there with her. She's going to have the opportunity to go to any school she wants to go to and she has that hunger and desire.
"Those two were our leaders this year along with Dani Stoughton who stepped up and did big things," Rodney Heath continued. "Winning the state title is a great thing but having those girls lead the way they have, I couldn't be any more prouder for them."
Clark's legs were involved in 28 of Lakota East's 65 team points to lead the Thunderhawks.
"Being able to have six or seven girls who are very versatile, dynamic and strong," Rodney Heath said. "It's an awesome thing to be able to coach."
The Thunderhawks graduate only two seniors in Stoughton and Kaylyn Heath that made the podium and return a young nucleus of distance and middle distance runners to go with the strong returning sprinters.
Follow this reporter on Twitter @JacobBCHSS.