ROSS TWP. — It's a cross-county showdown that should have happened in Week 2 of the regular season. But, circumstances.
No. 5 Ross and No. 21 Monroe will get to smack pads, after all, Friday night in a Division III playoff bout at Robinson Field with kickoff slated for 7 p.m.
"It's kind of crazy how it all worked out," Rams coach Kenyon Commins said. "We're both kind of in a similar type of situation with the way we run our offenses and the type of schools we are. But if you ask me, I'm just happy to be playing with the current situations."
As are the Hornets (3-4), who have won two in a row.
Monroe coach Bob Mullins noted that his squad is peaking at the right time, especially after its 27-10 upset victory over Elida last week.
"Yeah, we really are playing our best football right now," Mullins said. "For whatever reason, I don't know what it was. We struggled offensively and didn't quite get things going up until now. But that's why you play. Part of that is we kept turning the ball over and having penalties. When that happens, you limit yourself offensively.
"We're playing really well against the run," Mullins added. "We have to put all phases of the game together, and I think we've been doing that the last three weeks. It's a testament to our coaches and our players."
Each sideline will have a sense of relatability on Friday.
Mullins and Commins were both on the sidelines together a couple of years back as assistants under Kenyon Commins' brother Kurry Commins at Oak Hills.
And, former Ross head coaches Brian Butts and Dick Ballard are current assistant coaches at Monroe.
"There will be about 30-plus years of combined coaching associated with Ross all over the sidelines," Kenyon Commins said. "And Coach Mullins and I are good buddies, too."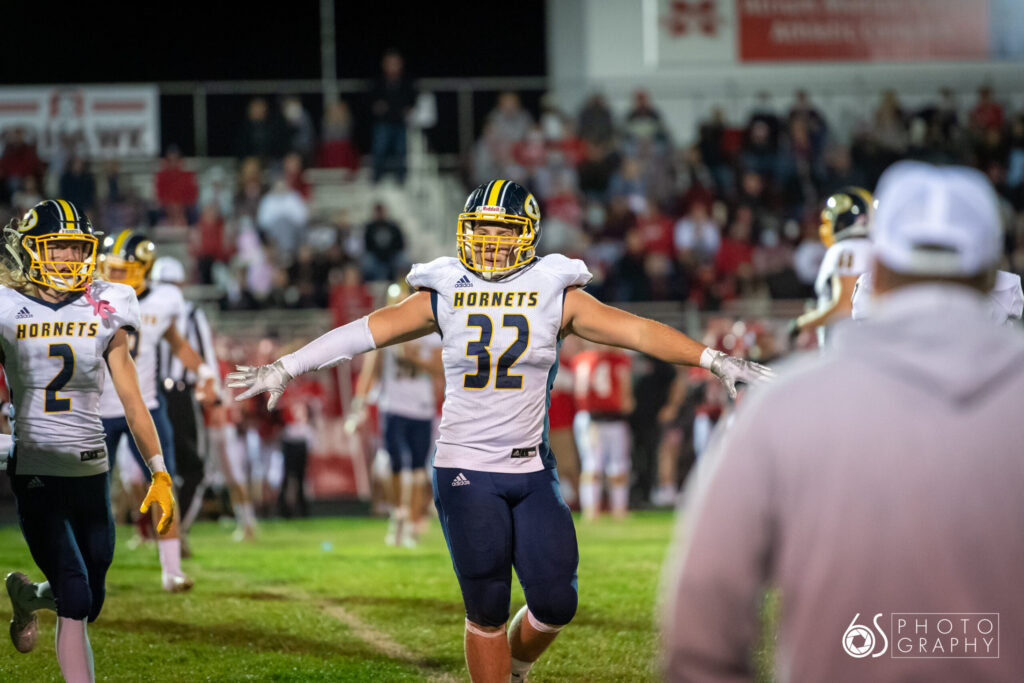 The Rams (5-1), who are Southwest Ohio Conference champs, have won five in a row. And when asked if his program is playing at its best, Commins kept it real.
"I would have said 'yes.' But we hit a bye week in the first round," Commins said. "So I'm a little apprehensive. I will say that I love how we have practiced this week."
Elijah Jackson has been the go-to guy on Monroe's run-heavy offense. The sophomore fullback has logged four games over 100 yards, including 186 against Elida.
Hornets senior quarterback Collin Deaton continues to manage the offense well.
"Our schools are very similar to one another," Mullins said. "We both have kids who work hard.
"But for us, it's pretty simple," Mullins added. "We have to stop the run, and we have to run the ball well. They are going to try and do to us what we're going to try to do to them.
"This game will go fast, and it's really not a secret," Mullins continued. "No one will throw the ball. We have to match their physicality. But we can be physical, too, especially up front. If we protect the ball, I think we will be OK."
Ross is coming off its second-best rushing performance of the season with its 48-21 victory over Mt. Healthy two weeks ago. The Rams steamrolled to 463 total rushing yards.
As advertised, senior running back Jackson Gifford and senior quarterback CJ Boze are the SWOC's top two rushers. Gifford has churned up a league-leading 958 yards on the ground and 18 touchdowns. Boze sits at 652 yards rushing with eight scores.
"This is going to be a fun one," Kenyon Commins said. "I do feel like Monroe throws the ball a little more than we do, which makes things a little different in that perspective.
"But like I said, I think we're all just happy to be able to hit the field when some other programs aren't as lucky. It'll be a good one."
The winner of Friday's contest will play the winner of No. 4 New Richmond and No. 20 Goshen.