NEW MIAMI — The schedule hasn't really been in the New Miami High football team's favor. The Vikings played two games in a row just one time during a regular season that consisted of four contests.
But, New Miami coach Andy Stuckert said he's perfectly fine with that — because there's a mixture of player talent and coaching leadership currently continuing the winning ways in The Village.
"When you have a senior class full of players who want to be on the field, it doesn't matter when you play," said Stuckert, who is in his first season at the Viking helm.
"Though I think you can take it a step further and say that it makes things a lot easier when your coaching staff is just as invested as you are as a coach," Stuckert added. "I'm blessed — and I'm proud — to be coaching alongside such a great group of guys who have invested in these young men with me.
"Their goals are my goals," Stuckert continued.
Stuckert, his staff, a tight-knit group of seniors, and the rest of the unbeaten Vikings (4-0) roll into the Division VII postseason on Friday night with a bout against Fayetteville-Perry (4-2) at 7 p.m. at John P. Mara Field.
THE RIGHT PIECES
Stuckert said he pieced his staff together with confidence. Why? Because he knew all of their capabilities as leaders.
The coach said that his staffers' success at the high school and collegiate football levels would undoubtedly justify their abilities to lead a prep program.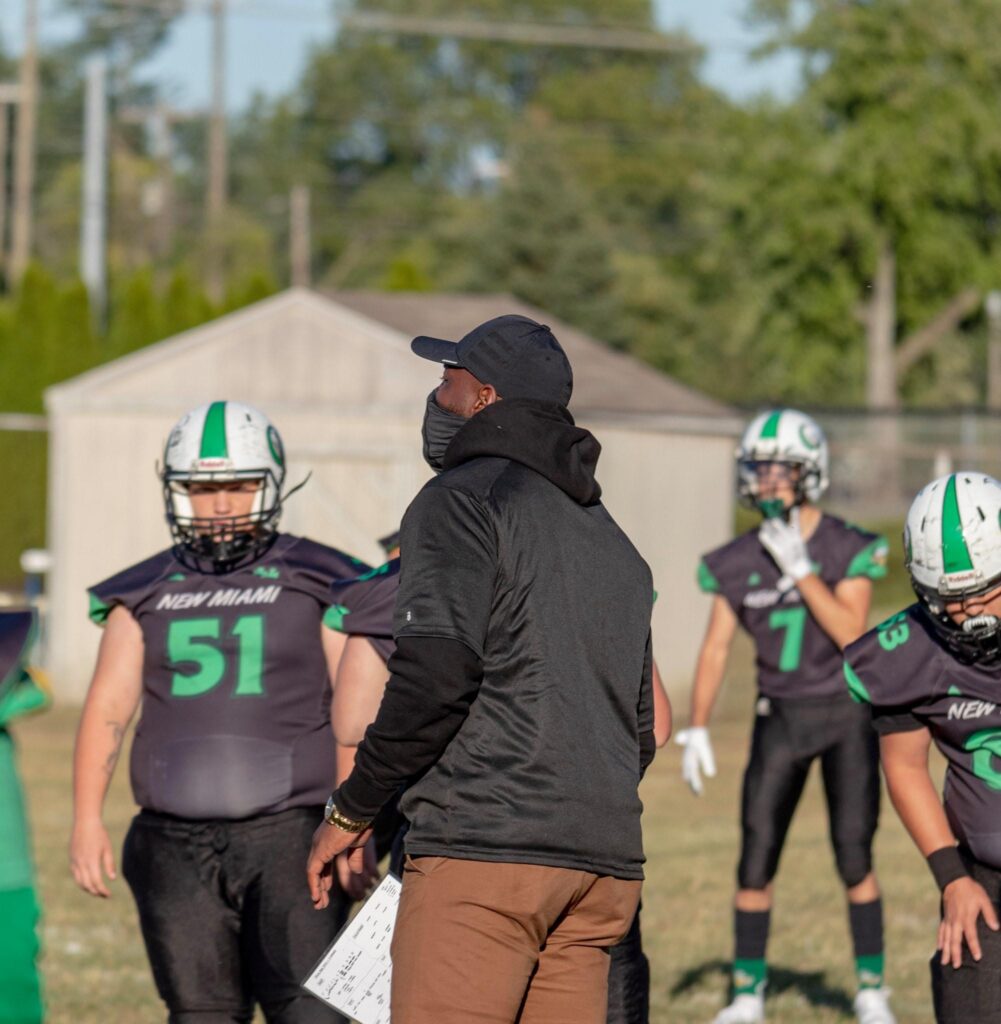 Stuckert said "the guy leading our offense is a proven winner."
That guy is Dominick Goodman, a state-title winner as Colerain's quarterback in 2004 and former University of Cincinnati standout wide receiver.
"I had to tell the kids, because they didn't believe me," Stuckert said. "Goodie was someone that I felt could install a little more complex offense into our system, and I think (quarterback) Trey Robinette has done a fantastic job of managing it and using it to his strengths."
Goodman's offensive coordinator mindset, Stuckert said, has also stemmed from playing arena football — with Stuckert.
"I flat out told him, 'If I land a coaching job, you're coming with me if you want,'" Stuckert said. "He didn't hesitate.
"Just looking at what he's been able to do basically without having an offseason, it's unbelievable," Stuckert added. "It's his first time calling an offense. His adjustments are sharp. He watches more film than I do, and I'm the head coach. He will want to make coaching a career."
Brandon Schon, a Northwest graduate and Muskingum University alum, is the one in charge of making sure the Vikings are ready to go physically.
"With us missing games between games, and then us getting a first-round bye in the playoffs, he is the reason why we're in shape," Stuckert said of Schon, New Miami's defensive coordinator, as well as the strength and conditioning coach.
"The way the defense has been working, it's all because of Schon," Stuckert said. "He's giving kids opportunities that they may not have seen in the past, and he's got them playing at the highest level. … The guy wears many hats. He works his butt off along with our players."
New Miami's familiar face, Ken Ritchie, has been an instrumental part of keeping things together during a complete coaching transition, Stuckert said.
"He's the epitome of what New Miami is all about with how much he cares about the kids and what he does for them," Stuckert said of Ritchie, who is the Vikings' offensive line coach. "He's as loyal as can be."
Yannis Dailey heads the New Miami defensive line.
"It all starts up front with those guys on the other side of the ball," Stuckert said. "And we've held our opponents to a minimal amount of points thanks to our guys under Coach Dailey's leadership."
VIKING, SENIOR PRIDE
It's been touted that these parts haven't seen a senior class walk onto John P. Mara Field like this current one.
"You just don't quite have the privilege of coaching this type of group on a consistent basis," Stuckert said. "Everyone knows that these kids are good. And everyone knows what they're capable of doing. It really isn't a secret."
The general, and senior quarterback, Trey Robinette is a "proven leader." He's tossed for over 2,000 yards, 26 touchdowns and just two interceptions the last two seasons under center. He connected on 12 of 15 passes for 174 yards and two touchdowns two weeks ago in the Vikings' 40-14 win over Lockland.
'He's special," Stuckert said of Robinette. "He's a coach on the field. He knows what plays to make, and he reads the field the way he should."
Robinette finds fellow senior Deanza Duncan a majority of the time. Duncan has 15 receptions and four touchdowns in four games this season.
Seniors Dylan Spivey, Jerry Helton, Jordan Robinette and Donovan Howard provide a huge boost for the Vikings on both sides of the ball.
Senior lineman Blake Hart, who has racked up a highlight reel of bone-crushing hits, is the mainstay upfront. Senior Ocean Canyon is an added compliment in the trenches.
"All of our guys, from our seniors down to our freshman, I can't say enough about them," Stuckert said. "Our coaching staff gels well with these kids.
"Every person that is part of this program deserves to be where they're at right now, and that's having the opportunity to win a playoff game."