MONROE — Monroe High's boys basketball team hadn't hit the court for nearly two weeks due to a quarantine period.
But you'd have been fooled Tuesday night.
Collin Deaton scored a game-high 19 points, Jack Taylor went 11-for-11 from the free throw line, and the Hornets used a 20-0 run to boost the hosts to a 63-52 victory over Talawanda.
"We got quarantined. This is our first week back not having any practice," said Deaton, a senior forward. "We were all a little nervous, just not being able to put some shots up until the game and not running our plays. But everyone focused enough. We made shots when it counted. It's a good team win."
Monroe (2-1) was forced to sideline due to a COVID-19 situation and hadn't seen game time since a win over Bellbrook two Fridays ago. The Hornets didn't skip a beat in mounting a 27-21 halftime advantage against the Brave (3-3).
Monroe managed to churn up 20 straight points that spanned from the second quarter and into the third. The Hornets took a 43-27 lead into the final quarter and was able to hang on.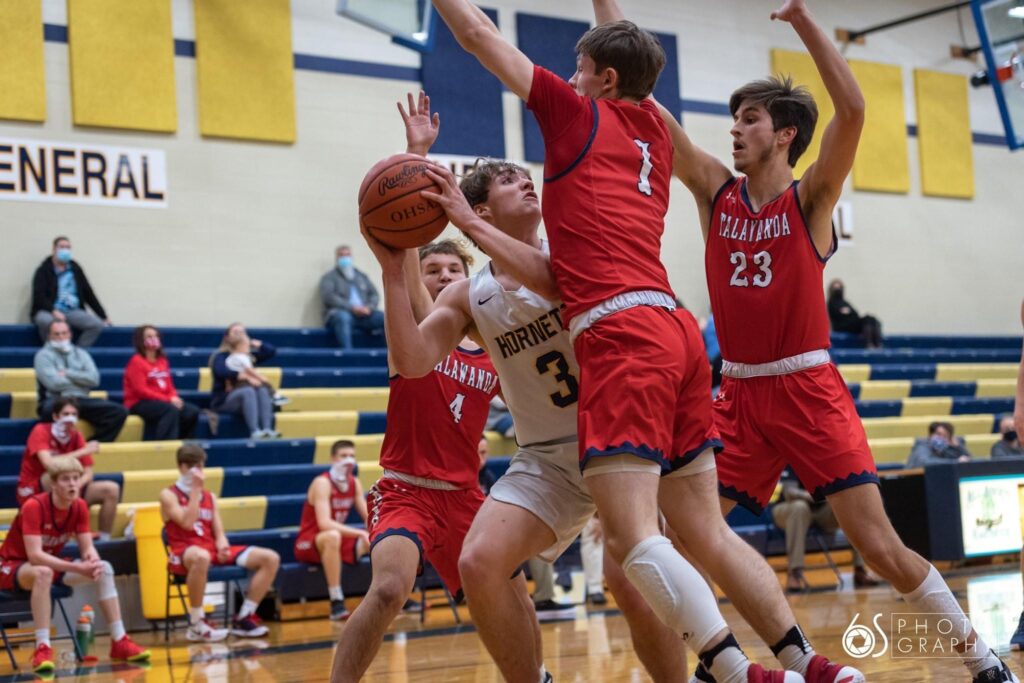 "We gave them some things that we wanted them to try to do if they had the opportunity to on their time away," Monroe coach Aaron Horne said. "To be honest with you, what they did on that time seemed to be productive tonight. But we've got to get back at it and continue to get better. It's an important weekend for us."
Monroe hosts Eaton on Friday and Franklin on Saturday to continue Southwestern Buckeye League play. Talawanda starts a 3-game home stint, beginning with Edgewood on Friday.
"Any time the other team goes on a 20-0 run, you're going to be in a tough situation," Talawanda coach Jake Turner said. "But we didn't give up. We battled back.
"You have to give them credit," Turner added of Monroe. "I know that they were quarantined up. But it sure didn't look like they had been quarantined tonight."
Taylor finished with 16 points and hit 6 of his free throws down the stretch.
"Our guys are extremely competitive," Horne said. "On the defensive end of the floor, they can really get after you and get locked down. They take pride in that. And that's a huge difference maker. For us, if you can string together some stops, your offense feeds off of your defense.
"On the flipside, the opponent starts to tighten up a bit, so it allows you to go on those types of runs," Horne added. "That was obviously huge. That's something that we needed — just not knowing what our legs were going to be like at the end of the game. Free throw shooting at the tail end showed that a little bit."
Leading the way for Talawanda were seniors Craig James and Jonathan Richter, who each had 13 points.
"We've got enough experience. We can't go on a drought," Turner said. "But we've had one every game. We've had one every game where we struggle to score with the basketball. Some of that is on us coaches. We've got to be better, and we've just got to make shots.
"Defensively, we were pretty bad," Turner added. "But you've got to give credit to Aaron. They've got a lot of good stuff. And they were able to get what they wanted tonight. They made shots."
With limited to no practice, Deaton said the only way to be able to prep for a player like Richter — Talawanda's go-to inside presence — was to simply be aware of him. Deaton manned Richter the entire game.
"Coach told us before that Richter is a great player," Deaton said. "We knew that he likes to lower his shoulder a lot. Coach told us to take some charges. When the opportunity arose, and we were able to take advantage of that."
Taylor credited Tuesday night's win to a steady defense.
"Everything was just flowing," the senior guard said. "Deaton was getting open. We played solid defense. I feel like when we get out and run, it's hard to guard us.
"Being quarantined sucks. We all look forward to coming to basketball every day," Taylor added. "Talawanda is a good team. I was expecting it to be a dogfight, and it was a dogfight. We knew it was going to be a fight. But we were just hoping for a chance to get out and play."
Talawanda 11 10 6 25 — 52
Monroe 10 17 16 20 — 63
Talawanda (3-3) — Hensley 2 1 6, Reynolds 2 3 8, C. James 5 0 13, Williams 1 0 3, Puckett 1 0 3, Schlichter 3 0 6, Richter 5 3 13. Totals 19 7 52.
Monroe (1-2) — DeBord 2 0 6, D. Taylor 2 0 6, Deaton 6 7 19, J. Taylor 2 11 16, Mapp 0 2 2, Hitchcock 1 0 2, Ploeger 3 1 8, Ericson 2 0 4. Totals 18 21 63.
3-Point Goals — T: C. James 3, Williams 1, Puckett 1, Reynolds 1, Hensley 1; M: D. Taylor 2, DeBord 1, J. Taylor 1, Ploeger 1.