HAMILTON — Lakota West coach Tom Bolden said the pieces are coming together.
David Afari ran for 110 yards and four touchdowns, Mitch Bolden stepped in to steer an already-stable ship at quarterback and containment defense helped propel the Firebirds past Hamilton 33-13 in a Greater Miami Conference opener on Friday at Virgil Schwarm Stadium.
"We got a whole bunch better, but we're still not playing as smart as we needed to play," said Bolden, who secured his 77th straight GMC victory which includes his stint at Colerain.
"We've got to play smarter," Bolden added. "We're playing hard. But we've got to play smarter football offensively, defensively and fix some dumb penalties that extended drives. We'll get that fixed. I like that we're getting each week. The kids are stepping up and making plays."
Lakota West, which moved to 2-1 overall and 1-0 in the GMC, outgained the Big Blue 328-193 in total yards.
Hamilton (2-1, 0-1 GMC) suffered its first loss under head coach Nate Mahon.
"We weren't as prepared as we needed to be, and that was my fault," Mahon said. "Hopefully we get that corrected, but we need to be more prepared for a big game like that. And that's my fault. We need to be way more prepared, and that's my fault."
Afari, a senior, got the scoring started on a 1-yard run that put the Firebirds up 6-0 with just under 6 minutes left in the first quarter. He found the end zone again in the second quarter on a 3-yard plunge that made it 12-0 at the 7:21 mark.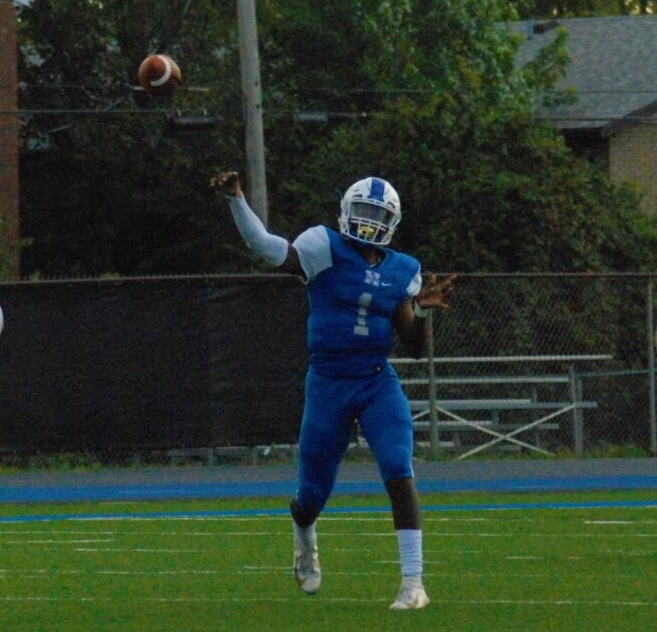 "We're all out there working hard, trying to win," Afari said. "This feels great, but we've got some work to do. We've got to play smarter. No dumb stuff."
Hamilton put together a stellar drive that was capped off on a Daryan Bowling 24-yard touchdown reception from Quincy Simms-Marshall, cutting the Lakota West advantage to 12-6 with 3:09 showing on the first-half clock.
Afari tacked on two more scores in the third, and Malcolm Rencher added a 70-yard touchdown jaunt to slam the door shut on Hamilton. All three drives were set up by the steady reads of freshman quarterback Mitch Bolden, who stepped in for an injured Caleb Rao.
"He ran the team and played with some great composure," Bolden said of his son, who is the first freshman quarterback to play the position in Lakota and Lakota West history. "He's been around a lot of football."
Mitch Bolden finished with 104 yards rushing on eight carries.
Bowling added his second touchdown catch of the night on a 9-yard strike from Simms-Marshall with 42 second left to play.
Simms-Marshall finished with 146 yards passing, but tossed an interception to Firebirds defensive back Truman Mason. Bowling had four catches for 69 yards.
Luke Mattia had 11 tackles to pace the Big Blue on defense, while Isaac Kolosik notched eight for Lakota West.
"We're going to play with an edge," Bolden said. "We were wearing them down. They had a couple guys go down here and some guys go down there. With that, I liked the way our defense played. They fly around and get after it. We've got good size and we've got good length.
"Right now, I like how 1-0 sounds in the GMC," Bolden added.
Lakota West hosts Sycamore next Friday, while Hamilton travels to Fairfield.