MADISON TWP. — Jessie Hubbard is leaving New Miami to take the head football coach position at Madison.
Hubbard will be placed for approval at the February school board meeting, according to Madison superintendent Lisa Tuttle-Huff.
Hubbard coached the Vikings to a 16-6 overall record in two seasons at the helm and their best season in school history at 10-1 this past fall. Hubbard also led New Miami to its only home playoff appearance in a 45-15 loss to New Bremen back in December. The Vikings lost to Fort Loramie in the first round of the Division VII playoffs in 2018.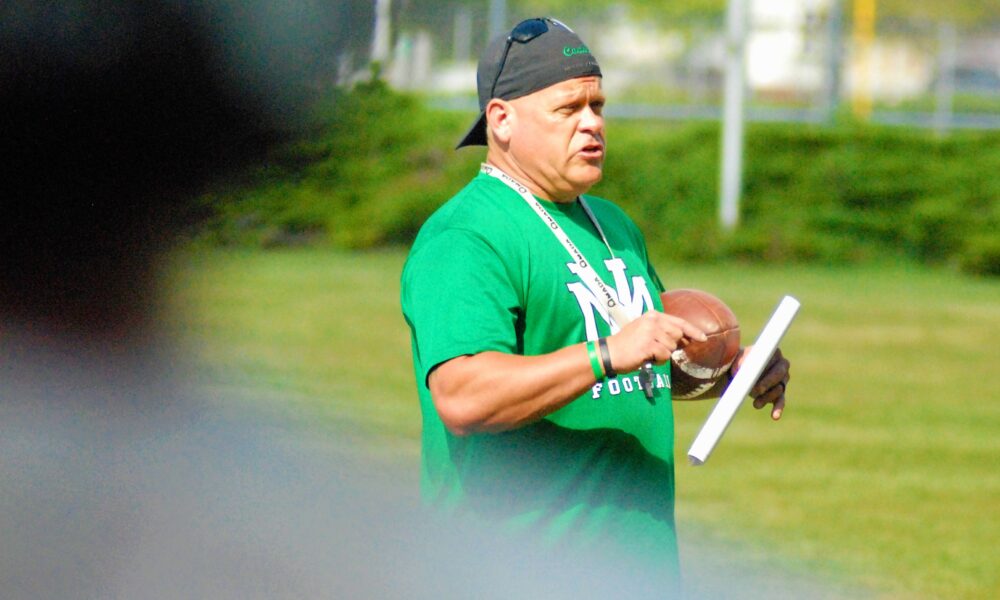 The Vikings went a perfect 10-0 during the 2019 regular season, and they also captured the last two Miami Valley Conference Gray Division titles.
Hubbard said making the move was a tough one because of the relationships he formed while at New Miami. He also stated that he's leaving behind "another 10-0 team loaded with talent" coming back in 2020.
"This was the hardest decision I've had to make in my entire life," Hubbard told The Report. "The relationships I have built these past two seasons at New Miami are now life-long.
"It was an honor and a pleasure to have had the opportunity to coach the fine young men at New Miami," Hubbard added. "What those kids have accomplished these past two seasons is amazing. The Miami Valley Conference championships, all the wins and playoff games were special, but off the field these young men proved to be even greater.
"But when open doors come up, you have to see what lies ahead," Hubbard continued. "You have to take shots and try your hat. It's a challenge, and at the end of the day you have to make these decisions in order to survive as a high school football coach."
Hubbard is a 1989 Edgewood High School graduate. Hubbard was an assistant coach at Edgewood and Little Miami for 6 years prior to heading to New Miami — his first head coach position.
"I'm looking forward to what is ahead in this new adventure and the opportunity that's waiting at Madison," Hubbard said. "There is a rich culture of Mohawks football, and it will be within the best of my abilities to make sure that a winning tradition continues."
Hubbard said he looks to bring "a handful of my former coaching staff from New Miami to Madison, and I also look to work with keeping some of Madison's former staff as well."
Ricky Davis took the Madison head coach position this past February nearly a month and a half after Steve Poff resigned. Davis most recently led Madison to a 5-5 overall and 4-2 Southwestern Buckeye League Buckeye Division record.
Davis stated in a Facebook post on Jan. 1 that there were some internal issues at the school which led to him stepping away from the head football coaching duties at Madison.
Tuttle-Huff said she's looking forward to seeing the Mohawks program continue its winning ways under Hubbard's leadership.
"Jessie comes with playoff experience and a desire to continue the great work of Ricky Davis and Steve Poff," Tuttle-Huff said in an email. "We welcome his experience and know he will continue the winning tradition at Madison.
"He was among 6 possible candidates that were considered for the job, however, he was the overwhelming choice by the panel," Tuttle-Huff added. "Input by players were a factor in the choice as well."
Madison hosts Greeneview on Friday, Aug. 28 at 7 p.m. to kick off the 2020 campaign.