FAIRFIELD — The Fairfield High football team began the 2019 season in a similar fashion as last season.
Both included wins over the Centerville Elks as well as three rushing touchdowns from JuTahn McClain.
That is where the similarities end.
Beginning this year the Fairfield Indians have a victory bell to ring after every home victory. The first person to christen the metal clangs of victory is Monica Moore, the mother of Mason Blanchard — a student who recently passed away from a rare form of cancer.
Blanchard performed a myriad of tasks for the football program and is remembered by those teammates he left behind.
The helmet decals the Indians wear to commemorate his life are not worn lightly, as McClain has vowed every game to honor his friend.
"It was an emotional night obviously," Fairfield coach Jason Krause said. "We talked most of the off-season about playing for Mason Blanchard and I think our kids played with a lot of emotion in the first half."
The Indians didn't concede much defensively, winning 33-7 while allowing just 27 yards on 23 Elks plays in the first half.
Centerville didn't cross midfield until there was a little over a minute left in the first half.
"I think the defense came out and played a really, really good half of football," Krause said. "Obviously to hold somebody scoreless at our level — that's good football."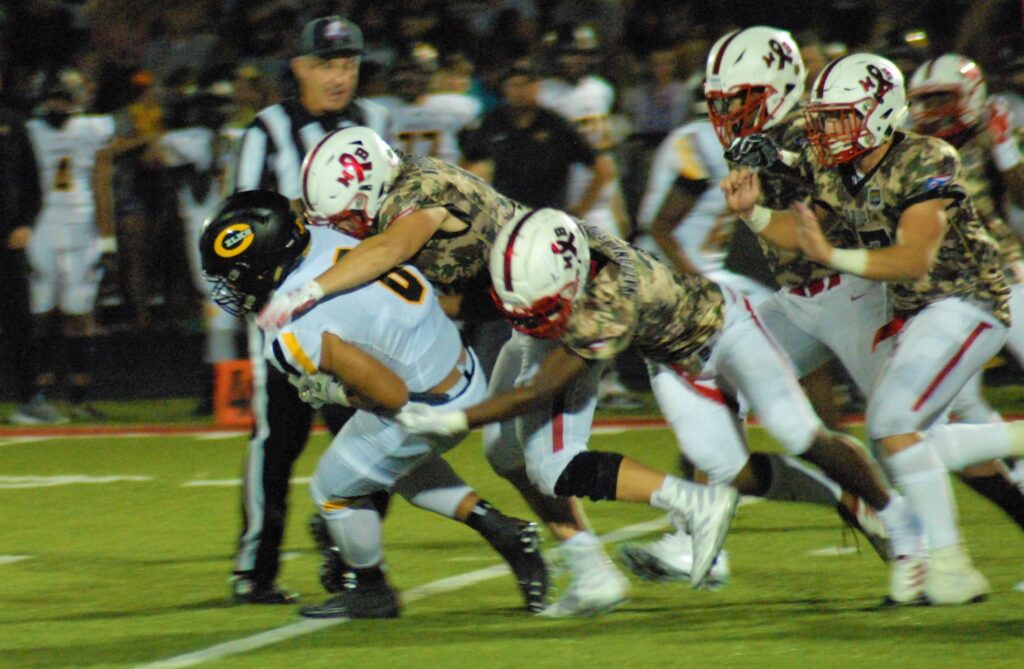 The Indians limited the Elks to 116 total yards and were a consistent thorn in the side of Centerville quarterback Chase Harrison, sacking him three times and being relentless with their pressure.
"Our defense plays pretty fast," Fairfield coach Jason Krause said. "I like the move to the stack, and I think it fits our kids pretty well. That's a fiery bunch on that side of the ball."
As good as the defense played, Fairfield did score 33 points and all of them came from the offense. McClain led the way with 168 rushing yards and two scores and added two receptions for 16 yards and another touchdown.
Sawiaha Ellis threw for 120 yards and one touchdown, adding 44 rushing yards and another score. His one passing touchdown was a toe-tapping fade to Dashaun Simpkins at the pylon that would have stood upon further review on Sundays.
"Offensively I thought that we did a lot of really good things and obviously everybody is going to key on McClain," Krause said. "They were trying to take the perimeter away tonight, and I think that we were able to establish some other things which is really good for us as a team."
Next week, the Indians (1-0) travel to Springfield to avenge last season' s lightening-delayed loss. Centerville (0-1) travels to Lakota West.
Centerville 0 0 0 7 — 7
Fairfield 3 23 7 0 — 33
1ST QUARTER
FF 5:01 Elgin Phillips 25 YD FG 3-0
2ND QUARTER
FF 8:58 Sawiaha Ellis 7 YD RUN (Sawiaha Ellis RUSH) 11-0
FF 2:34 Jutahn McClain 2 YD RUN (Sawiaha Ellis RUSH) 19-0
FF 2:04 Dashaun Simpkins 17 YD PASS FROM Sawiaha Ellis (Elgin Phillips KICK) 26-0
3RD QUARTER
FF 3:44 Jutahn McClain 33 YD RUN (Elgin Phillips KICK) 33-0
4TH QUARTER
CEN 7:59 Bryce McMahon 1 YD RUN (Brendan Salo KICK) 33-7