HAMILTON — Gerry Weisgerber walked up the stairwell and back onto the floor after talking with his Badin High School boys basketball team on Tuesday night.
It was the final time he'd do that at Mulcahey Gym.
"I don't think you wanted to dial it up like this, but I'm always proud of my guys," said Weisgerber, whose Rams suffered a 60-54 defeat at the hands of Carroll. "Yeah, you don't want it to end like this on your home court. The only thing left in this gym for me is practice. And I hope we will be practicing for a long time during the postseason.
"I knew with this group of seniors when I was looking at that 3 to 5 year period of time and as the years go by, these seniors would stay with us through the whole program," Weisgerber added. "So I felt it would be a good way to go out. I've been doing this for a very long time, so I think it's time for me to graduate."
Weisgerber announced that he will be retiring after this season, eventually putting to rest a 44-year career of coaching and being a part of high school basketball in this area.
Weisgerber said he started coaching at Badin in 1979-80 as an assistant and later became head coach from 1981-82 to 1998-99. Weisgerber had a brief coaching stint at Lakota West as an assistant just prior to starting his second coaching stretch at Badin in 2016-17.
"This is tough," Weisgerber said. "It's the last time I'll ever coach a game in this gym. I've been in this gym since 1979 — other than that time I had at Lakota West.
"I was still looking over at Badin to see what they did every night, though," Weisgerber added. "I always followed them. They made me feel like part of the family when I got here from out of town. And you can't ask for anything more than that."
Badin athletic director Geoff Melzer expressed gratitude regarding the opportunity to be a part of Weisgerber's journey.
"As a former long time AD, Gerry has always been willing to be a sounding board and give me advice when asked," Melzer said. "I'm grateful for his mentorship but more importantly for his friendship."
Highlighting some accolades along the way, Weisgerber coached the Rams' 28-0 state title team in 1988, and he eclipsed the 300-win mark during the 2018-2019 season.
"Badin basketball is all about getting after you," Weisgerber said. "Every year after every game, we want the other team to think that they just got done getting into a battle with us. We can live with wins and losses, we just wanted to make sure that we put everything we are capable of doing out there on the floor."
Before tip on Tuesday night, Badin recognized Weisgerber as former players and coaches lined the court to send him off.
"Some of the players came back — as many as they could," Weisgerber said. "I got some well-wishes from others who couldn't make it tonight because they're coaching other teams or the restrictions on being able to be in here.
"It was nice to see some of the guys who came back because it represented all the way back before 1988 (the state title season)," Weisgerber added. "It makes you feel good knowing that they wanted to come back and watch you play in this place one last time."
Some of those former players in attendance expressed the kind of impact Weisgerber had on them — both on the court and off the court: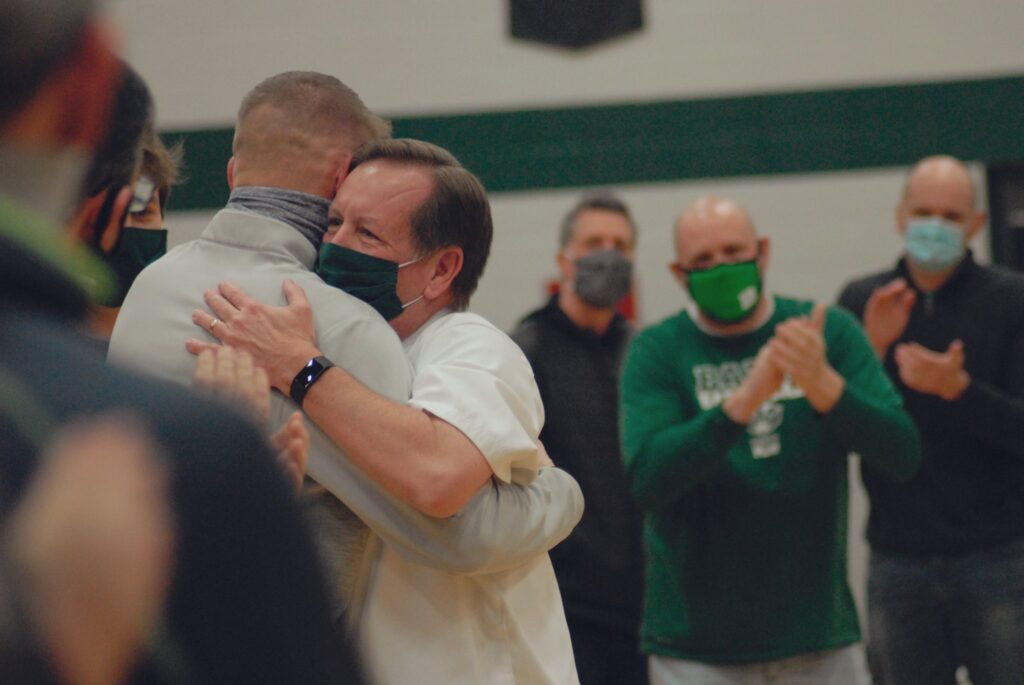 ED LARKIN (1988)
"He has brought and still brings a lot of credibility and integrity to the program. People know Badin basketball is built on defensive toughness and doing things the right way — which is what he's always focused on."
"He's mellowed some and that comes with age and life experiences. But he knows when to turn it on and turn it off. He's experienced and knows when to let the players be themselves. He has been able to adapt, which is a tough thing to do. But he's done that."
"His mindset was always to get you playing good hard defense and execute. You have to work hard and play harder with a big focus on the defense. Our team was fortunate that we were talented, and we worked extremely hard during the offseason. He made us want to be in the gym."
"It's very cool to know that he's coached my sons (Zach and Andrew). It's neat to be able to share that with them and talk about the similarities we all experienced. The game has changed and you have to adapt, and they've been able to take in some things from Gerry that we didn't quite see when I was playing."
SID IMHOFF (1988)
"Coach Weisgerber is the foundation of Badin Boys Basketball. His presence, effort, and preparation for the task at hand impacted me as a player, and many other players over the years. The Badin Family has been blessed to have such a great man, father, coach, friend and mentor be a part of their lives. He will be missed by our community."
BEN HELMERS (1998)
"He's just a fantastic guy — even-keeled and great to play for. Taught you a lot both off the court and on the court. I still think you see that today with the kind of kids that come out of Badin."
"It's the same thing with Fred Hesse and Gerry both — they've instilled in all of us skills needed to be successful later in life. It kind of carried over from being on this basketball court with Gerry as our coach."
BRIAN ALEXANDER (1998)
"He was my guy. You always have to come back and check him out and see him whenever I can. Him and Fred (Hesse) — those are my two guys that I always try to come back and see at all times whenever I get the opportunity."
"We're talking about someone who molds you as a person. Other than hanging out with your parents or your uncle or other family members, this was a guy you spent a lot of time with. He is someone who was always a pillar in just being there for us."
"Something like this? Absolutely you need to be here. I wasn't going to not be here for his 300th win either. I called my friends, I called (Ben) Helmers and said, 'Find whoever you can find to get them up there tonight and check him out before he leaves.' We had to. We have to stay in touch with him the best we can."
"He had a hard-nosed aspect of coaching. Back in the day, we were in your tail. The motion offense, all that. We didn't have someone who ran out there and put up 30 points a game. Everyone had 10 to 15 points a game. We were all about saying, 'Let's win.' I don't care if you're the No. 1 or not. We were about winning the ballgame."
"Between him and Fred, they wanted to win a ballgame. That was the whole purpose in playing the game of basketball with them by our side. It was simply going out there and wanting to win a ballgame. It was fun just to be a part of a team like that. Everybody bought in because of him. To be a part of one of his teams, to do my part and take care of my portion, to play defense and get the rebounds, or to do whatever — it was awesome."
MATT BROERMANN (1999)
"It's definitely cool to be back here to see this. We were very fortunate enough to have a lot of success under Coach Weisgerber — both on and off the court. He was a big reason for that."
"A lot of the things that we did on a daily basis I still carry over into my every-day life. I enjoyed every second of it. I still kind of keep in touch with him, which is rare nowadays. It was a really great experience playing for him."
"He could be a little bit of everything you wanted when I look at it from a player standpoint. There are times where he's yelling at us like most people wouldn't expect. Other times he's more like a father figure with his arm around you from a comforting thing. He covered all the basis, there's no doubt about that."