LIBERTY TWP. — Lakota East High junior golfer Ellie Yeazell doesn't necessarily feel the heat as a leader. As youthful as the Thunderhawks are on paper, it's team unity that has provided a sense of stability for the Lakota East girls golf team.
Yeazell said mixing in some talent with that balance puts the Thunderhawks on the map.
"I don't think there is a lot of pressure on us right now being a young team because we just have a great team that works hard," Yeazell said. "We have been working on playing consistently. What we focus on is playing our style of game and concentrate on beating our rivals.
"We have to continue to play as good as we allow ourselves to," Yeazell added.
The Thunderhawks, who do not have a single senior on the squad, went into the Greater Miami Conference tournament at Walden Ponds earlier this week with the momentum they needed. Lakota East took third behind first-place Mason and second-place Sycamore.
Thunderhawks coach Ali Green said a third-place finish was an attainable goal for her young program.
"For us personally, I think that was doable," Green said. "I think second place was going to be the best we could do. Mason is that good of a program. So I thought that was great for us.
"After this week at GMC, I think things have been falling in place nicely," Green added. "They work hard, and at practice, the hard work correlates onto the course."
Yeazell notched a two-day 74-73—147 to tie for third at GMCs, while Ellie's freshman sister Clare Yeazell carded a 75-78—153 for eighth. Ellie Yeazell currently sits fourth in the GMC individual season standings with a 9-hole 38.7 average.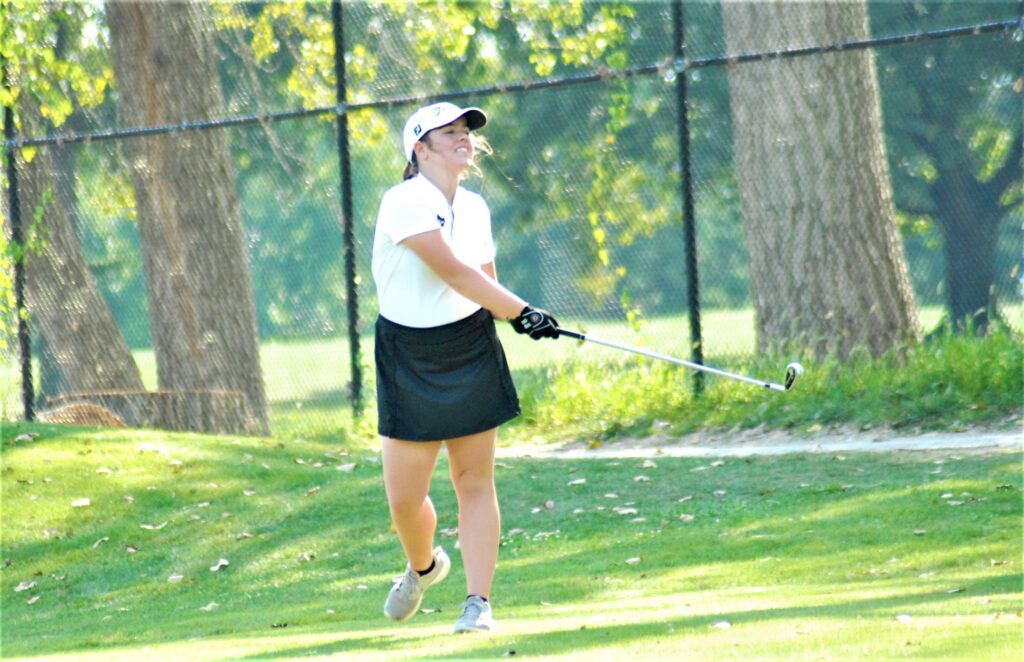 "Being able to have that young leadership is nice, and it helps motivate the girls," Green said. "Coaches do what they can in terms of that motivation factor, but it certainly is nice that the girls push each other even when you don't have a senior on the team who typically would step into that role."
Lakota East was also led by freshman Alexis Park (88-95—183, 23rd), sophomore Andie Madding (92-94—186, 24th) and sophomore Skylar McKay (97-90—187, 25th) at the conference tournament.
"Playing in a conference tournament with sophomores and freshmen is a different animal," Green said. "We're looking to use that as a tool and progress and become more consistent as a team. This past week is what we had expected with the outcome of GMCs.
"I think this season can be a stepping stone for our program for years to come."
Rounding out the roster for Lakota East is junior Ashley Mullen, sophomores Abigail Rutherford and Abby Theobald, and freshman Leah Arnett.
Green said the absence of junior Samantha Bernardo, who suffered an injury that has prevented her from competing recently, was a huge blow.
"We started out OK out of the gate," Green said. "We've struggled a little with Samantha being hurt. But I think all we were focused on was trying to start out with a consistent approach. That's what we've continually been working on since."
While Bernardo's presence may not be felt, Green noted that the continued leadership from Ellie Yeazell has propelled the Thunderhawks through to this point.
"I can't ask for anything different from her leadership to her ability to perform," Green said of Ellie Yeazell. "She plays great golf, and she holds these girls to a high standard. I can't ask for a better player. She's just a great leader for the girls."
Added Ellie Yeazell, "I think we've been working hard and doing really well as a team. We're a pretty close group of girls and that helps. We necessarily don't have a motto, but I think we definitely try to go after our best score and work off of that.
"It all goes back to playing more consistent," Yeazell continued. "We really haven't had any bad days as a team. And I think that's a good thing for us as a young team."
"I have no issues with them at all, and they do exactly what they're supposed to do," Green chimed in. "We've got a relatively stress free team, and I'm enjoying watching them grow as a team."