HAMILTON — Zach Yordy took it one match at a time, literally.
That also was the inspirational mindset he used throughout the entire Division II district wrestling tournament.
"I had to empty the gas tank," the Badin High School junior said. "That's what happened. I left it all out there."
Yordy won four consolation matches in a row, claimed fourth place and earned himself a spot in this weekend's Ohio High School Athletic Association wrestling state tournament.
"I went in knowing that I was capable," said Yordy, who wrestles in the 175-pound weight class. "We wrote down goals on a piece of paper as a team. My goal was to qualify for state, and I got there."
It's how he got there that was the impressive part.
Yordy lost his first-round match to Waterson's CJ Youell before barreling through his next four opponents in the loser's bracket, which included Mount Healthy's Julian Lafrenz, Vandalia Butler's David Weigand, Bellefontaine's Parker Knox and Graham Local's Cameron Mockbee — in that order.
Yordy takes a 26-12 record into state, and one of his losses was to Weigand in sectionals.
"I wanted that one bad," Yordy said of his rematch.
"He happened to lose that first one, and he kind of flipped the switch," said Badin third-year coach Craig Martin. "It woke him up a little bit. He went through and started beating people. We're not just talking about catching a lucky draw where he saw some slouches. He was beating kids with good wrestling backgrounds.
"He zoned in and did what he needed to do," Martin added. "Here we are a couple of matches later, he's punching his ticket."
"It was pretty exciting," Yordy continued. "I was out there jumping around. I hugged Coach Martin. It was really fun."
Yordy fell to Jonathan Alder's Anthony Kroninger in the third-place match, but Yordy knew his trip to state was already set.
So did Martin.
"As coaches, we talk about some things going into districts and sectionals. We talk about seeding," Martin said. "A lot of high school kids put a lot of weight on seeding, saying, 'Oh, this is a one seed. This is a four seed.' Part of my talk to the team is that when they get to the top four and move on to districts, anything can happen."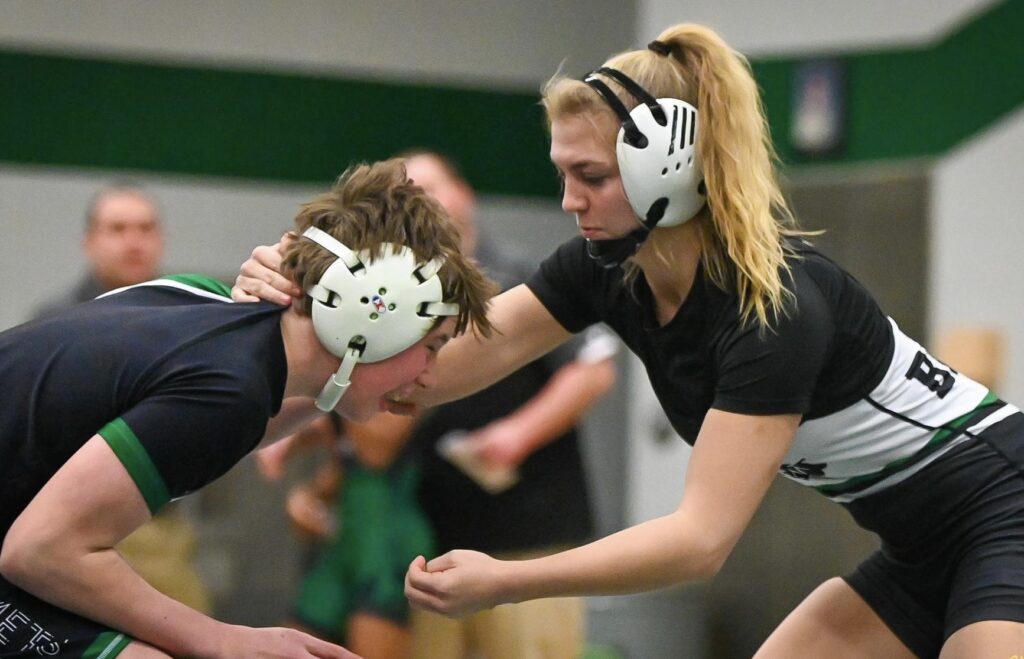 Badin senior Rachel Nusky is heading back to the state tournament for a third consecutive time. She took second place at state each of the last two seasons.
Second place is not an option this weekend, said Nusky, who wrestles in the 130-pound weight class.
"I definitely want first this year," Nusky said. "I've had to work harder in this weight class since I moved up. I know that I have to continue to push harder every single match to get first.
"I'm out to prove to myself that I can go out on a strong note," Nusky added. "That's what kind of motivates me."
"Her thing for me that I've noticed is she is fearless," Martin said of Nusky, who is 17-2. "When she turns it on, she's all business. She doesn't have nerves."
The OHSAA's state wrestling tournament takes place at the Schottenstein Center in Columbus from Friday to Sunday.
Other area wrestlers competing at the state tournament:
Boys
Division I
113-pound class — Fairfield senior Jake Lentz (34-8) vs. Aurora sophomore Johnny Green (36-6); Monroe sophomore Nathan Moser (34-8) vs. Brecksville junior Brett Stanley (30-11); Ross senior Jordan Miller (33-15) vs. Massillon Perry freshman Mason Rohr (34-7). 138 — Fairfield senior Tannar Beermann (32-6) vs. Dublin Coffman junior Omar Ayoub (48-2). 144 — Middletown senior Jacob Castillo (36-3) vs. Whitmer junior Jeremy Ginter (26-2); Lakota West senior Matthew Szczepaniak (39-6) vs. Perrysburg senior AJ Parish (25-6). 215 — Edgewood junior Wyatt Walker (40-3) vs. Olentangy Liberty senior Dylan Russo (40-3). 
Division II
175 — Badin junior Zach Yordy (26-12) vs. Buckeye junior Eddie Neitenbach (40-3).
Division III
126 — Madison sophomore Matthew Wheeler (30-13) vs. Shenandoah senior Drake Kanyuch (40-5).
Girls
130 — Badin senior Rachel Nusky (17-2) vs. Hubbard sophomore Emily Flynn (31-6). 135 — Lakota West freshman Kelsey King (28-1) vs. Liberty Center senior Alexus Shaneyfelt (28-2). 155 — Ross senior Rylee Miller (18-4) vs. Marysville freshman Katie Hammersmith (28-14). 170 — Ross sophomore Audrey Garcia (21-8) vs. Mentor junior Maddie Manchaca (30-17). 235 — Lakota West junior Kate Fenton (16-6) vs. Berea-Midpark freshman Deionna Borders (34-4).