ROSS TWP. — Myah Boze had always been a soccer and basketball kind of athlete. But that all seemed to change over time.
The Ross High School junior track star gradually found her new niche, and for good reason.
Boze will return to the Division I state track and field meet June 2-3 and compete in the 100 and 300 hurdles at Ohio State University's Jesse Owens Memorial Stadium.
"I started doing track because I honestly just wanted to stay in shape," said Boze, who finished seventh in the 100 hurdles with a 14.81 and third in the 300 hurdles with a 43.82 at state as a sophomore.
"It took a while because I didn't do much hurdles my freshman year. Now track is my No. 1 sport."
Boze made the assessment because her time in the 100 hurdles at the D-I regionals this past weekend was sliced by .15 seconds compared to her state performance last year.
"I felt pretty good — pretty confident." Boze said. "A lot of training throughout the week and throughout the whole season has helped. My coaches have helped me out this season in order for me to put my best foot forward."
Literally.
Boze ran a 14.66 in the 100 hurdles and a 44.03 in the 300 hurdles — both third place finishes at the regional meet. She will compete at state in the 300 hurdles a third straight year and the 100 hurdles a second straight time.
"Myah was able to do better or get to that same spot she was at a year ago," Ross first-year coach Kyle Ratliff said. "Now she's wanting to change that end result a little bit and propel towards winning a state title.
"I think as we've gone through the year, Myah's worked her tail off. She's worked extremely hard and been focused. She's very, very coachable. She's gotten better as the years have gone on."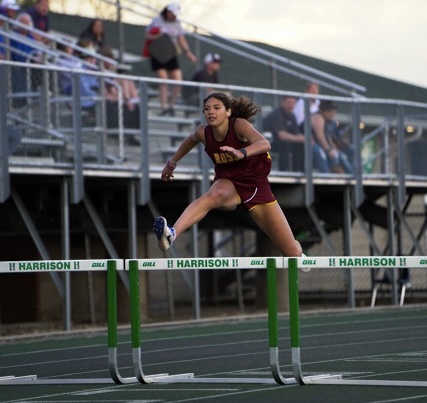 Boze said competing at the Wayne Invitational in late April added a whole new perspective regarding her chances in Columbus.
She went up against some of the state's best hurdlers and came out victorious, outrunning Gahanna Lincoln senior Camden Bentley — who is the defending state champion in the 100 and 300 hurdles.
"I'm going to go in with the mindset that I want to win it," Boze said. "Having already seen the best competition has helped my mindset. I'd like to think I have a good chance. I just really hope that I bring it, leave it on the track and do the best I can."
Ratliff was impressed with Boze's results at the Wayne invite and agreed that it will give her an edge this weekend.
"It was an interesting scene. There are people tuned into the women's hurdles world, and people were stunned," Ratliff said. "It was one of her big highlights. Head-to-head, she took down her biggest competitors in the state of Ohio. Getting Myah accustomed to that speed has been huge.
"You'd probably have to go back a while to find a race that Bentley lost. That's helped Myah's mentality moving forward. It can be done."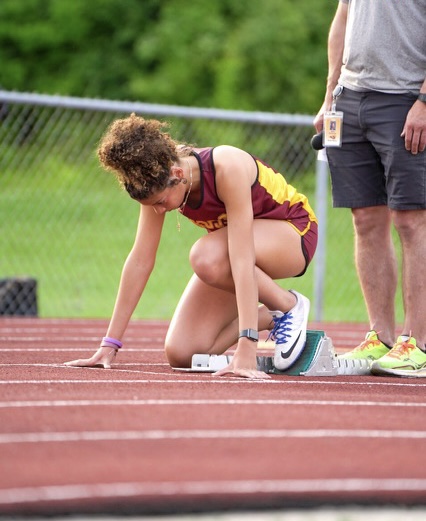 Boze credited her family and her coaches — including assistant hurdles coaches Jake Richards and Hunter Penkal — for giving her motivation throughout "a season that was nothing like I've ever experienced before."
Ross saw an immense drop in track participation numbers due to the recent levy not passing, which increased participation fees, and that was a shock to Boze.
"We went from so many people last year to like 13, and for me that was a big shift," Boze said. "All of my friends quit. That was the most difficult thing to get through. I've sat with my family (during meets), which has gotten me past the mental challenge. Being with my friends was so much fun and making memories, and now I'm by myself. But my sisters hype me up. They got me race ready."
"There is no doubt in my mind that Myah Boze is going to win a state championship next week," Ratliff added. "I wouldn't bet against Myah Boze at all in my entire life. She's in the best condition possible to do it."
Other area state tournament qualifiers:
Division I
Boys: Fairfield — Isaiah Glover, Xavier Isaacs, Jordan Jackson, Rayzier Jones (4×200 relay); Franklin — Liam Acevedo (100, 400, 200); Lebanon — Calvin Kilgallon (800); Lakota East — J.D. Leverette (400); Edgewood — Jacob Crowthers (300 hurdles); Lakota West — Sam Afari, Keenan Moore, Joel Nimoh, Jeffrey Nyangy (4×200 relay).
Girls: Ross — Myah Boze (100 hurdles, 300 hurdles); Lakota East — Mikaylah Chandler (100 hurdles, 4×200 relay, 4×100 relay), Lena James (4×200 relay, 4×100 relay), Qiersten McClain (4×100 relay, 4×400 relay), Katlyn Pham (4×200 relay, 300 hurdles), Ivy Smith (4×200 relay, 4×100 relay, 4×400 relay), Hailey Still (4×400 relay), Haylie Yeazell (4×400 relay). Lakota West — Kaitlin Kaszubski (4×800 relay), Lauren Mang (4×800 relay), Evelyn Prodoehl (3200), Ava Shepard (4×800 relay), Prashi Vatsal (4×800 relay)
Division II
Boys: Badin — Nicholas Dunn (1600); Fenwick — DJ Brown (high jump).
Girls: Fenwick — Ashley Yontz (400).
Division III
Boys: Cincinnati Christian — Josh Holder (discus throw), Brandon Rogers (400).