OXFORD — The Talawanda High girls golf team has found its groove. The Brave are rolling on all cylinders at the season's halfway mark.
"This is our fourth year as a program, and we're finding out that we can be a competitive team," Talawanda coach Scott Davie said. "We're continuing to make some growth, not so much as to buying into the system we're putting into place, but because they're working on their craft and controlling what they can control."
The Brave have indeed been in control, winning seven out of their last eight matches. They currently sit at 11-2 overall and second in the Southwest Ohio Conference behind rival Harrison.
"These girls are dedicated to getting better and better every day out on the course," Davie said. "I felt like we really turned the corner last year (going 16-4), jumped some hurdles and have been able to roll through to this point.
"They're understanding that their individual improvement as a player is linked to the overall performance as a team," Davie added. "We're still in many ways a fledgling program, but the recent success gives you an indication that they're looking to improve and become better as a whole."
Senior Jada Tegge leads the way for the Brave. She's clubbed a team-best and SWOC second-best nine-hole average of 40.
"She's just steady," Davie said of Tegge. "Jada leads by example and is nothing but smiles. She works hard, and when she doesn't have the best of outings or doesn't medal, she's always excited about her teammates."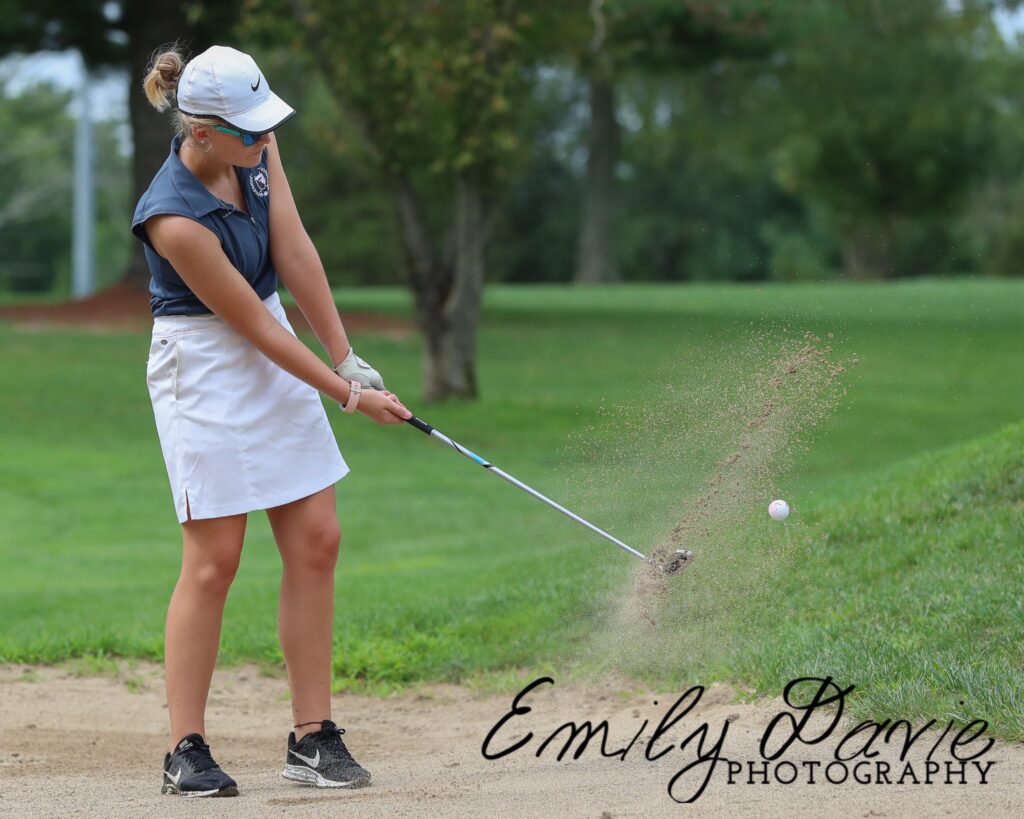 Freshman Keylee Goerss "scores regularly for us," Davie said. "The interesting thing about Keylee is that she's actually a softball player who has also transitioned into a great golfer. She can crush the ball.
"She's finding her way around the greens," Davie added of Goerss, who is firing a 49 this season. "She's got ton of upside in her game. I'm telling you, Keylee has about 4 or 5 chips and putts that she can shave off her scores. She will be fun to watch and develop. … The difference with Keylee is she's got a bubbly and talkative personality. When she's on her game, you hear her voice more than anyone else on the team."
Senior Alysse Aylor recently registered a 39 against Harrison, which is a team record, according to Davie. Aylor is hanging around the 50 mark.
"She knew we needed to score well against Harrison," Davie said of Aylor. "Her and Jada compliment each other on their style of play. She's super quiet — never too high, never too low. She's a big part of our success this season."
Junior Sophia Moore has been a consistent scorer and continues to shave ton of strokes. She's averaging around a 50 as well.
Senior Lily Cieslak "has scored a couple of times for us." Davie said her game has improved tremendously since starting as a sophomore.
Senior Hailie Anderson and freshman Kayla Bennett have been putting in some decent scores for the Brave as well.
"Here we are with 26 wins in the last season in a half," Davie said."We play some good squads, too. Our scores are lower and lower every year. We've got good kids and good students, and I'm hoping that's the reputation we get as a school and a team. Looking back at the early years, it's great to measure the hard work and continue to watch the program grow.
"Everybody has a role that they play specifically this year, and it turns out that they're being rewarded for their hard work right now," Davie said. "It's just a good time for Talawanda golf."