By Joel Sackenheim, BCHSSReport.com
The OHSAA released its playoff divisions and regions for the 2019 season.  Here's a look at our coverage area teams' regions, and which out-of-town teams might be the most relevant to scoreboard watch and keep an eye on as Butler County squads try to position themselves for a playoff appearance in 2019.
Division I, Region 4
Teams: Fairfield, Hamilton, Lakota East, Lakota West, Middletown
Additions for 2019: none
Subtractions from 2018: none
Analysis: Division I, Region 4 is unchanged from last season. There are only 18 teams fighting for 8 spots, so the math works out the best for our Division I Butler County teams. The entire GMC (10 schools) is in this region. With an 8-game conference schedule, the first two weeks of the season are the most important for the GMC as a whole. A bigger conference schedule raises the floor and lowers the ceiling for the Harbin points available. And so the more out-of-conference wins that the GMC schools can get in the first two weeks, the more heavily-weighted the conference games will be starting in Week 3. If the GMC wants to get as many teams in as possible, their dream scenario would be everybody going 2-0 out-of-conference, a bunch of ECC schools losing their non-conference games in Weeks 1-3, and the Division II ECC schools (Kings, Turpin, Anderson, Loveland, Withrow) beating up on the Division I ECC schools (Milford, Walnut Hills, West Clermont) in-conference. Three GCL South schools (Elder, Moeller, St. X) are also in this region. They play a three-game conference schedule, which allows each of these schools seven opportunities to pick up points against significant non-conference opponents; this is often why a GCL South school has an easier time making the playoffs with a 6-4 record than a GMC school with an 8-2 record.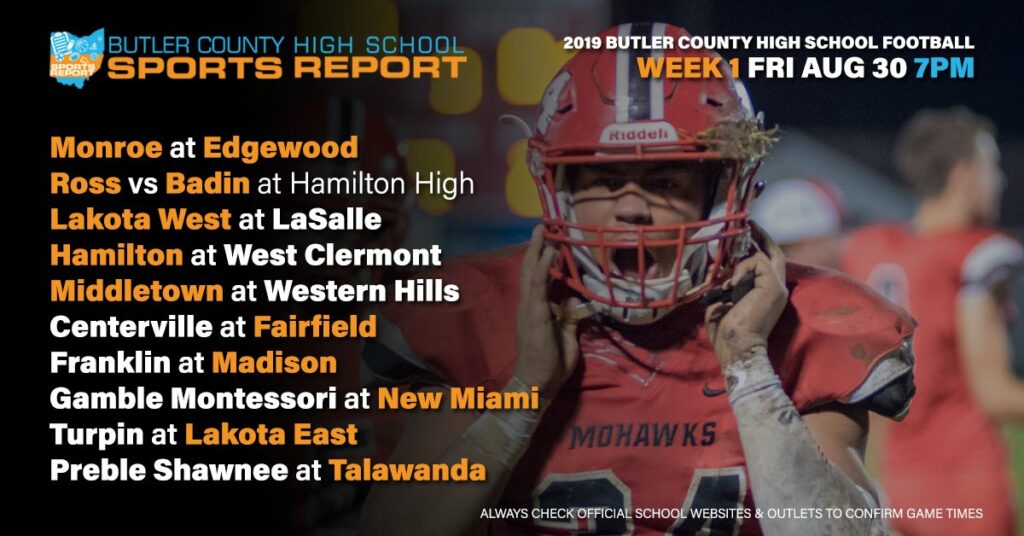 Division II, Region 8
Teams: Edgewood, Talawanda
Additions for 2019: Canal Winchester, Logan, St. Charles, Columbus St. Francis de Sales, Walnut Ridge, Columbus West, West Carrollton, Whitehall-Yearling
Subtractions from 2018: Belmont, Big Walnut, Dublin Scioto, Olentangy, Sidney, Troy, Western Brown, Westerville North
Analysis: Winton Woods, Kings, and La Salle are still in this region–traditional powerhouses and formidable obstacles for Edgewood and Talawanda.  Eight teams enter, and eight teams leave; it appears to be a fairly-even trade-off. Edgewood and Talawanda will not miss the company of Troy (last year's No. 3 seed) and Sidney (the No. 4 seed in 2017).  Olentangy also snuck in as the N0. 8 seed last year and is now gone. Those three schools still remain in Division II but have been shifted to Region 7 with the Toledo-area schools. Edgewood and Talawanda will not have to worry about any of them until potentially the state semis.  But in their place, three Columbus-area schools that went 9-1 last season: Whitehall-Yearling (No. 5 seed in Region 7), Walnut Ridge (No. 8 seed in Region 7), and Canal Winchester (finished 9th with a 9-1 record and did not qualify for the playoffs, even though they had enough Harbin points to be the No. 5 seed, had they been in Region 8 last year instead of Region 7).  The two Columbus Catholic schools of St. Charles and St. Francis de Sales have been up-and-down in recent years; with the departure of Purcell Marian and Roger Bacon from the GCL Co-Ed, those two Columbus Catholic schools will start seeing non-conference matchups with members of the old GCL North (Alter, Carroll, C-J, and Fenwick). In an interesting twist of fate, Edgewood and Talawanda will find themselves rooting for these closer-geographically Catholic schools to knock off their Columbus counterparts.
Division III, Region 12
Teams: Badin, Monroe, Ross
Additions for 2019: Aiken, Belmont, Goshen, New Richmond, St. Mary's Memorial, Taylor
Subtractions from 2018: McNicholas, Piqua, Ponitz Tech, Thurgood Marshall, West Carrollton
Analysis: Six new teams come into the region, and five leave. Piqua was the strongest of the departing teams, finishing 6-4 and in 9th place last season. McNicholas's record was uncharacteristically bad last year, but if they're able to turn it around, it'll be in Division IV, Region 16. Belmont drops down to Division III from Division II; they were a solid 5-5 last year. Two other solid teams move over from Region 11 in Goshen (6-4 last year) and New Richmond (7-3 last year). It is possible for one or both of those teams to push for a playoff spot this season (New Richmond had the points to be the #8 seed last year in Region 12, had they been placed there). But the one name that should jump off the page is St. Mary's Memorial. The Roughriders have battled against Wapakoneta (also in this region!) neck-and-neck for the Western Buckeye League title the last several years. St. Mary's Memorial has been 9-1 for three years in a row and will add some major firepower to the top of Division III, Region 12. For that reason alone, Badin's, Ross's, and Monroe's jobs have just gotten that much harder. The Western Buckeye League plays a nine-game conference schedule. Five of the ten teams (Wapak and St. Mary's Memorial, along with Elida, Celina, and Lima Shawnee) are in this region; five are not. Watching how the Western Buckeye League does in the non-conference Week 1 will be key to giving a slight bump or drop in the points for these ten teams; once the conference schedule begins in Week 2, there traditionally seems to be enough points there to guarantee the top 2 finishers in the conference standings a top-4 spot in their region. It would be to the benefit of Badin, Ross, and Monroe if one or two of those other five teams in the conference (Defiance, Van Wert, Kenton, Ottawa-Glandorf, and Bath) should make a run at the conference title and redirect as many of those Harbin points OUTSIDE of Region 12 as possible. McNicholas drops down to Division IV, but the rest of the GCL Co-Ed remains in this loaded region, and believe it or not, it will most likely benefit these Catholic schools (including Badin) to have Purcell Marian and Roger Bacon join the Miami Valley Conference Scarlet Division. Badin (and McNick) have still elected to schedule Purcell Marian and Roger Bacon as non-conference games. By Purcell and Bacon replacing GCL North opponents like Alter, Fenwick, and C-J with new conference opponents CHCA, Summit Country Day, and Norwood, Purcell and Bacon will have opportunities to rack up more wins and be worth more Harbin points to Badin, should Badin beat them. And with the rest of the GCL Co-Ed being forced to play a five-game conference schedule instead of seven, there is increased opportunity for each of them to get two more wins out-of-conference and bring those points into the collective pool of conference games that starts in Week 6. And obviously, whatever is good for Badin, Alter, Carroll, Fenwick, and C-J is bad for Ross and Monroe.
Division V, Region 20
Teams: Madison
Additions for 2019: Bethel, Brookville, Greenon, Indian Lake, Meadowdale, Miami East, Springfield Shawnee, Taft, Versailles, West Liberty-Salem
Subtractions from 2018: Bethel-Tate, Greeneview, Minford, McDermott Northwest, Piketon, Portsmouth, Portsmouth West, Waynesville, Wheelersburg
Analysis: Last year, Division V, Region 20 shifted dramatically to the southeast, separating Madison from most of its northern rivals and placing them into a highly-competitive region with 2017 state champion Wheelersburg, who has now knocked them out of the playoffs two straight years, and their Southern Ohio Conference rivals like Minford and Portsmouth West.  Madison will not be sorry to see them go, as they get shifted over geographically into Region 19 this year. In fact, 5 of the top 9 teams from Region 20 are now gone, putting Madison in prime position to make a run at the No. 1 seed. The earliest Madison could see Wheelersburg or one of the other Southern Ohio Conference teams would be in the state semis.  West Liberty-Salem gets bumped back up to Division V after being in Division VI last year, and Miami East, Taft, and Brookville all have been known to put together some solid seasons in recent history; but make no doubt about it, this year's realignment plays out very much in Madison's favor. 
Division VII, Region 28
Teams: New Miami
Additions for 2019: Marion Local, Lima Perry, Ridgedale, St Bernard-Elmwood Place, Tri-County North, Twin Valley South
Subtractions from 2018: Crestview, Gamble Montessori, Minster, Riverdale, Triad
Analysis: New Miami was a pleasant surprise last year, squeaking into the playoffs by grabbing the No. 8 seed on the last day of the regular season, and qualifying for the playoffs for the first time since 2008.  Two quality teams leave New Miami's region, as last year's No. 2 seed Crestview gets geographically shifted into Region 26, and last year's No. 3 seed Minster gets bumped up to Division VI. One team that is historically far stronger does enter, though, in the Marion Local Flyers from Maria Stein.  Marion Local has spent the last four years in Division VI, where they have made it to the state championship game all four years, winning it in 2016 and 2017. Before those last four years spent in Division VI, the Flyers won state titles in 2011, 2012, 2013, and 2014. Yes, New Miami fans, you heard that right: Marion Local, bouncing back-and-forth between Divisions VI and VII, has at least appeared in the state finals for eight straight years.  And they're now in your region. Ouch! The trade-out of two last-year playoff teams for one makes it more likely for New Miami to qualify for the playoffs this year but less likely to get out of the region's playoff bracket and into the state semis.