HAMILTON — The Fenwick High boys basketball team had a different look about itself on Friday.
"The biggest thing we've been working on all year is learning how to manage the game," Falcons coach Kelven Moss said. "We're learning how to close out games."
Fenwick built a double-digit lead in the first half, the towering AJ Braun made his impact felt inside the paint in the early-going and Fenwick held off Badin down the stretch for a 64-52 Greater Catholic League Coed rivalry win at Mulcahey Gym.
Braun, a 6-foot-9 junior, notched 13 points and grabbed 12 rebounds in the opening half alone. That helped Fenwick put together a 34-21 halftime advantage.
Braun and senior Dan Luers both finished with a game-high 16 points for the Falcons. Braun collected 20 total boards.
"They're playing a lot better than the first time we played them," Badin coach Gerry Weisberger said of the Rams' 66-55 victory in the initial meeting back on Dec. 13 at Fenwick. "They've been playing well the last 6 or 7 ball games."
Badin had its 5-game winning streak snapped. The Rams are 14-4 overall and 8-3 in the Greater Catholic League Coed. Alter is now sitting 2 games ahead of Badin and McNicholas for the GCL Coed's top spot.
Fenwick has won 3 out of its last 4. The Falcons are 7-9 overall and 4-7 in the GCL Coed.
"It sucks that we've lost early, but we've been in this situation before. We've been in the lead early and have found ways to give it up," Moss said. "Now that we're growing, and we're maturing and getting through some growing pains, we're finding ways to win. We're making free throws, getting the extra turnover and getting another stop. We did that tonight."
Seniors Josh Hegemann and Zach Switzer led Badin with 12 points apiece.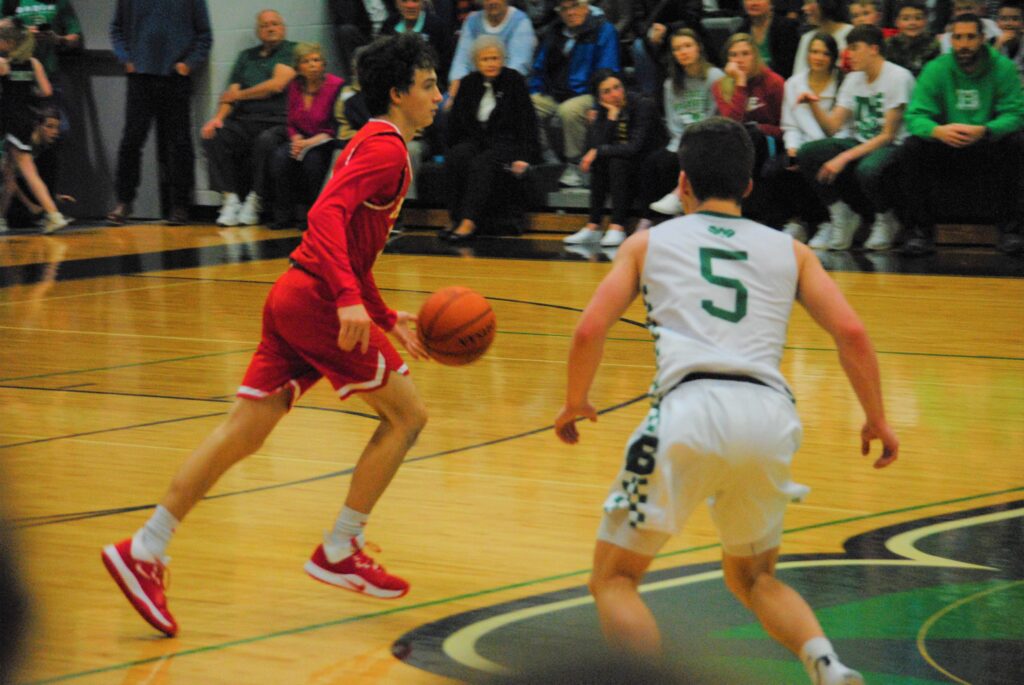 "We weren't running much tonight," Weisberger said. "We just weren't able to do what we wanted to do. Give them credit. They were able to put us out of a lot of stuff that we usually count on. They took us out of that."
Badin gets back to action at Carroll next Friday, while Fenwick hosts Edgewood tonight.
Fenwick 13 21 13 17—64
Badin 11 10 10 21—52
Fenwick — Luers 7 0 16, Richards 0 2 2, Rucker 1 4 6, Braun 7 1 16, English 2 0 6, Mulligan 4 0 10, Earls 3 2 8. Totals 24 9 64.
Badin — Hegemann 5 1 12, Watkins 3 2 8, Switzer 3 4 12, Giesting 4 0 9, Larkin 1 0 2, DeLong 0 1 1, Young 1 1 4, M. Schweinefuss 2 0 4. Totals 19 9 52.
3-Point Goals — F (7): Luers 2, Braun 1, English 2, Mulligan 2; B (5): Young1, Giesting 1, Switzer 2, Hegemann 1.