FAIRFIELD — The Fairfield High School girls basketball team had plenty to celebrate Thursday night.
The team's five seniors were recognized in a pregame ceremony during senior night, and then from there the Indians turned in a performance that should provide a boost of confidence for the remainder of the year.
After forcing several turnovers and coming away with some clutch second-half shots, the Indians came away victorious by defeating Hamilton 53-34 for their second win of the season.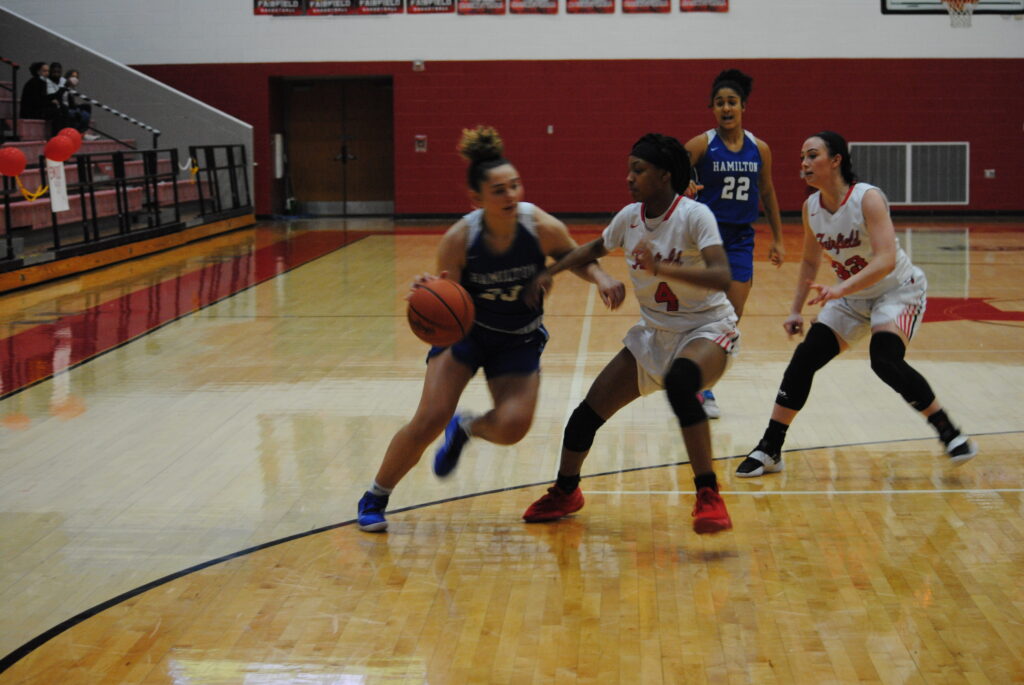 "Kristen Leesemann came away with some clutch shots that put us in a position to really control the game at that point in time," Fairfield coach David Loper said. "And those shots were big and then we made some good inside-outside plays and defensively we got in the passing lanes and caused some turnovers."
Fairfield (2-10, 2-5 GMC) was led by Breyel Kidd, who finished the game with 15 points. Kyler Booker had 14 points for the Indians.
Kidd said her team didn't play as well as they could have in the first half, but they came out in the second half playing hard and patient while taking advantage of the open shots.
"We played hard and aggressive," Kidd said. "We were slacking in the first half but we came back and we were being patient and looking for the open shots and we weren't rushing anything."
Another top performer for the Indians was Leesemann. She finished the game with 12 points — all 3-pointers — giving her team the comfortable second half lead. She said the team is finally coming together and playing as a unit.
"We definitely started getting our chemistry together and we definitely became stronger as a team," Leesemann said. "We started finally pulling it together and working as a team."
She added that having the fans in the stands for senior night helped provide some positive energy to come out and play hard.
"We brought a lot of energy today for sure," Leesemann said. "I think it was all the fans in the stands. We were feeling pretty good."
Hamilton coach Harry Phillips said that although his team had their issues at times, he can't take anything away from Fairfield's performance.
"I'm not going to complain," Phillips said. "Fairfield played well, No. 33 got hot. When she got hot and hit three 3's that kind of put the nail in the coffin for us.
"They were aggressive enough to get some things going for them and they got a hold of Mr. Momentum and that was the straw that broke the camel's back," Phillips added.
Hamilton (1-14, 1-11 GMC) was led by Jayden Isaacs who finished the game with 14 points and 5 rebounds.
Next up for both teams on Saturday, Fairfield travels to Sycamore while Hamilton hosts Mason.