HAMILTON — Tommy Puma coined it the best game he ever played during his Badin High School football career.
On the other hand, Derrick Wilkinson questioned why he and his Hamilton teammates didn't take the Rams as seriously as they should have.
That was 23 years ago — Friday, Oct. 27, 2000 — the last time the Showdown at the Schwarm took place.
"I think we were a bunch of underachievers," recalled Puma, a 2001 BHS graduate. "We were coming in around .500, and I know we were way better than what our record indicated.
"Then over there … there was some elite talent," Puma added of the Big Blue. "They had stuff over there that we never imagined having."
Hamilton had Wilkinson at running back and guys like Nick Mahon, EJ Underwood and Tez Morris. Badin, on the other sideline, had Puma at quarterback, Andrew Thieken, Nate Bunce, Joe Roberto and Joe Webb.
Just a few that were named.
"That was a good team — I'm not gonna lie," Wilkinson praised Badin.
It was longtime Hamilton coach Ed Mignery versus, at that time, the state of Ohio's all-time winningest prep football coach in Badin's legendary Terry Malone.
The Rams entered with a 4-5 record, while Big Blue sat at 5-4. But, like most rivalries, numbers didn't mean a thing.
At least that Friday night they didn't.
"It's always been a rivalry because of the people living next door to each other," said Mignery, who manned the Hamilton helm from 1988 to 2001. "Hamilton and Badin playing against each other makes the fans say, 'Hey, we are proud of our team.'"
Once Badin got its first look on offense, the Virgil Schwarm Stadium crowd watched in astonishment.
On just the third play from scrimmage, Puma faked a pitch to fullback John Klamo, turned up field and zipped past the Big Blue defense for a 72-yard score. Puma's extra point gave the Rams a 7-0 lead.
"I felt like everyone on Badin's offense was key that year," Puma said. "From a talent perspective, we were the underdog. This was a chance for us to compete against some big-time players. And in hindsight, we were looking to win that game for Coach (Terry) Malone."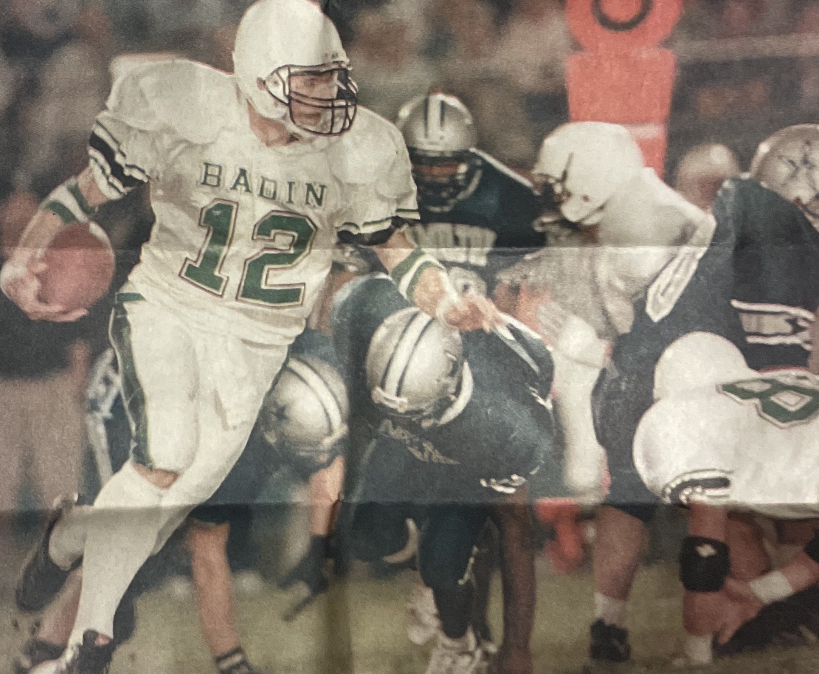 With Puma's quick burst, it began to look that way. But Wilkinson had other plans.
"Back then, that game meant everything to us," Wilkinson said. "We just came off of beating them 45-13 the year before, and it was my senior year. We thought we were going to come out pumped."
"They obliterated us the year before," Puma added.
Wilkinson matched Puma with a 73-yard touchdown run of his own with 4:45 left in the opening quarter to tie it up at 7-7.
"It was a slugfest right off the bat," Puma said. "It was a dirty, defensive game — cheap shot after cheap shot. Whether it was retaliation or not, we were going at it.
"Drew Thieken punctured a lung in the third quarter," Puma continued. "He played a couple series with a cracked rib. It was a brutal contest."
Puma went on to boot a 27-yard field goal in the second quarter, sending Badin into the half on top 10-7. Not another touchdown was scored the rest of the way.
Puma hit a 27-yarder in the third quarter and then a 40-yarder in the fourth to give the Rams a 16-7 advantage before Kenny Harper's 38-yard field goal pulled Hamilton to within 16-10.
"After that, we were just looking to run out the clock," said Puma, who scored all 16 points for Badin and finished with 167 yards rushing.
Wilkinson had 135 yards.
"It's been 23 years," Wilkinson said. "It's left a sour taste in Big Blue's mouth."
THE GAME
The lengthy hiatus will come to an end Friday night.
Hamilton and Badin will face each other for the first time in over two decades at 7 p.m. at Virgil Schwarm Stadium — in front of what is expected to be a near-sellout crowd.
"That's why this is so big for us," Wilkinson said. "This is the best thing that's happened to the city of Hamilton in a long time."
"I think this is a good thing," Mignery chimed in. "I sure am glad they decided to play it again. It's both a money-maker and some good competition."
THE SERIES
Badin and Hamilton have only played four other times, with the Rams owning the series 3-1 — 1980 (28-14, Badin), 1981 (3-0, Badin), 1999 (45-13, Hamilton) and 2000 (16-10, Badin).
DISTANCE AWAY
Hamilton and Badin high schools are located 3.2 miles from each other, which is an approximate 9-minute drive.
TICKETS — Hamilton High School
UPDATES — Butler County HS Sports Report
LISTEN — WMOH