HAMILTON — Gracie Cosgrove didn't want to find a flaw in the first half of the Badin High School girls basketball team's season.
So the sophomore guard just shrugged with a grin.
"All I know is that we shouldn't have lost," said Cosgrove, one of three underclassmen who compliment a surrounding cast of seniors on a Rams squad that has won seven in a row.
"People know we're good," added Cosgrove, who scores 10.7 points a game. "Everyone plays a big part on our team. I think we can always live up to being better than what we were last year."
Badin, which has reached the Division II regional finals each of the last two seasons, suffered a five-point home loss to Cincinnati Country Day on Nov. 28.
The Rams have been rolling ever since by matching their 2018-19 start at 9-1. Badin has used an overwhelming defense to get to this point, and with that defense has come some scoring.
A lot of it.
"We're not a selfish team," said freshman Braelyn Even, who averages a team-best 15.6 points, 9.4 rebounds and 3.9 steals a game. "If we get the ball, we look for one more pass. We are diverse in who can shoot and who can drive to the basket."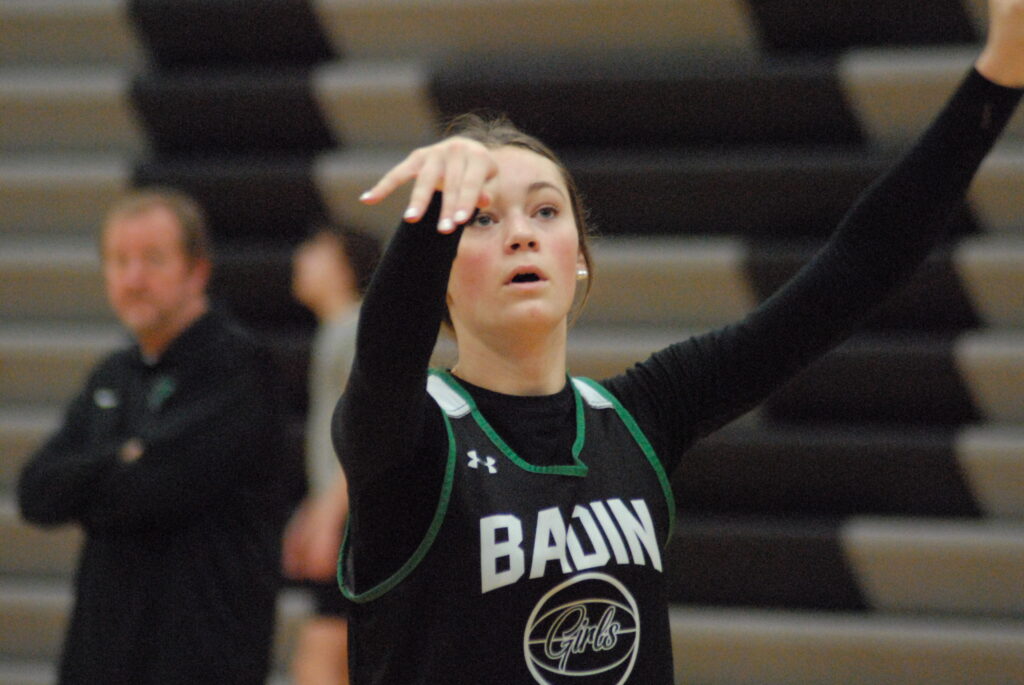 "The style we play helps us score off our defense," Rams coach Tom Sunderman said. "We've had games where we've struggled to score, so we try to get a couple of cheap layups on some turnovers. All you know in the back of your head is that you're scoring. Then the outside shots start falling. It's contagious. It all starts with the defense."
The Rams put up 55.3 points a game during that season four years ago. They're scoring 64 points a contest this campaign.
"Our scores are a little more separated because of the defensive end," Sunderman said.
Sunderman went on to acknowledge that seven players have scored six or more points in at least one game this season and there's been a different combination of top three scorers every game.
"We have some very intelligent basketball players. I think the girls have bought into everything this year. The difference between last year's team and this year's team is that we're more balanced. We're deeper, and this group plays both ends of the floor. They play them really well."
Adding a boost during the first half of the season has been sophomore transfer Ashley Pate, the team's second-leading scorer with 11.7 points a game.
But due to the OHSAA transfer rule, Pate will have to miss out on the remainder of the season after the Wednesday, Jan. 4 game against Winton Woods.
"It's going to be rough sitting out," said Pate, who came from Lakota West. "I'll definitely be cheering for my team on the sidelines."
Added Cosgrove, "I think that's going to really hurt us missing Ashley, but we're all so bonded as a team and we play so well together that I think we will be able to get through it."
Cosgrove also noted that if any part of Badin's schedule separates how the Rams' second half of the season goes, it would be the next couple of games.
"We're excited about it," she said.
Badin has a four-game homestretch coming up that includes Winton Woods, Alter, Chaminade Julienne and Ross. The Badin Rams and the Alter Knights sit on top of the Greater Catholic League Coed standings at 5-0.
"These next games, depending on how we do then, that will set us forward to where we need to be," Cosgrove said.
Sunderman agreed.
"We've got a difficult part of the schedule coming up," he said. "But the good part about that is that it prepares you for the tournament. No matter what your record is, we preach to these girls that all everyone remembers is what you do during tournament time. You can go 20-0, but if you lose in the sectional, people will only remember that.
"The girls know that this is all about getting ready for the tournament," Sunderman added. "This is going to prepare us better now that we're playing a stiffer schedule."
Sunderman continued to state that the senior leadership has prepared his Rams for another push toward the regional finals — where they fell to rival Alter a season ago.
"These girls know how to get there," he said. "They just know how to go out and take it one game at a time."
Seniors Erin Beeber, Lauren Grawe, Alyvia Hegemann and Lauren Christie each contribute at least five points a game.
"People aren't underestimating us. People know who we are," Christie said. "People want to beat us, which makes games more intense and emotional.
"But we're ready. We're ready to get to state," Christie added. "They always say that the regular season is preseason for the tournament. Everyone remembers what you did in the tournament. We're taking that into consideration."