ST. CLAIR TWP. — It's been an impressive start to the season for Nick Yordy's Badin Rams.  Seven points allowed in a win at Yordy's old mentor, Arvie Crouch's Mount Healthy Owls.  Seven points allowed in a win at last year's #1 seed, the Bellbrook Golden Eagles.  And now?  Badin's defense can add a shutout against a previously undefeated team to their ever-growing resume, as the Rams knocked off the Northwest Knights, 35-0, on Friday night at Kumler Field.
Last year was Northwest's first winning season since 2016, as the Knights finished 5-4.  That year was a building year, and the Knights came into Friday's game on a hot streak, with a 2-0 record against two teams (New Richmond and Indian Hill) who have had good success in recent seasons, and scoring 44 and 34 points in those matchups.  All of that ended with a "THUD" at the hands of the Badin defense.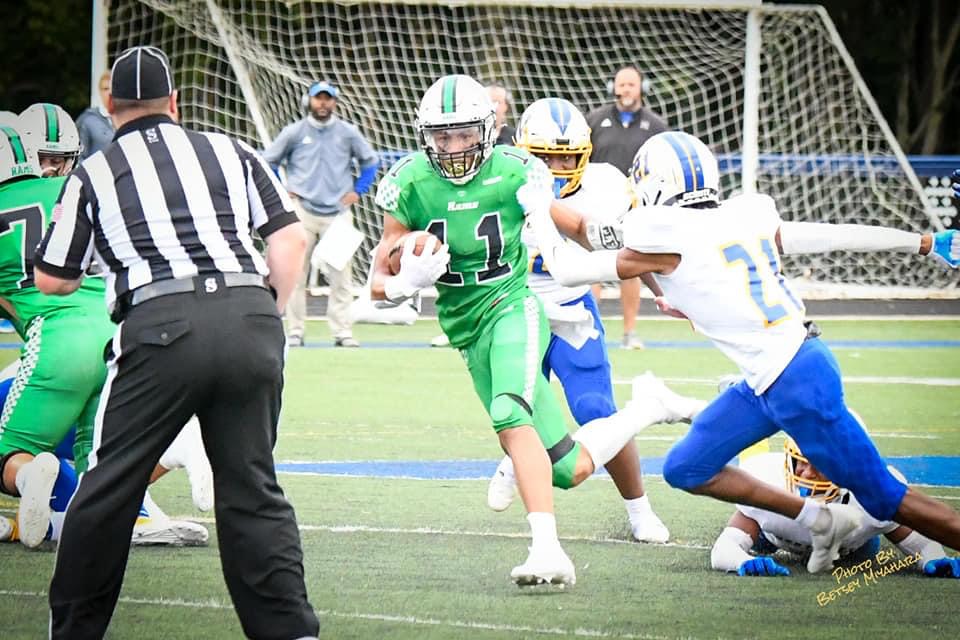 The Knights got the ball first and had their best offensive drive of the game on their opening possession. Badin's defense snuffed out a 4th down attempt inside the red zone, and the critical stop may well have been the key play of the game, early though it was. On Badin's second play from scrimmage, quarterback Landyn Vidourek broke loose on an 85-yard touchdown run to put the Rams up, 7-0, and put the Knights back on their heels.
Northwest had another opportunity to claw back into the game early after recovering a Carter Russo fumble deep in Badin territory, but Badin's ferocious defense actually drove Northwest's offense so far back that the Knights had to punt on a possession that began on the outskirts of the red zone. Landyn Vidourek scrambled for 19 yards on a 3rd and long later in the second quarter to set himself up for a 1-yard QB sneak touchdown, and Badin led 14-0 going into halftime.
Badin's offense had the opportunity to finish off the Knights on the opening drive of the second half, and the Rams' offensive unit did just that. Carter Russo capped off a dominant, steady drive with a 9-yard touchdown run to put the game out-of-reach at 21-0. Eric Rawlings added a 40-yard touchdown catch later in the third quarter, and Braedyn Moore added a 12-yard touchdown catch on the first play of the fourth quarter to finish off the scoring at 35-0 and set up 11:50 of a running clock to end the game.
Kaden Starks led the way for the Badin defense with 6 tackles, but it really was an entire team effort for a defensive unit that has now allowed just 14 points in three games.
The Rams improve to 3-0 and will play Roger Bacon (3-0) on Saturday, September 11th at Kumler Field. Badin's five non-conference opponents are now 12-3 overall, with Badin providing all three of the losses. This sets up Badin with a Harbin points board that resembles a game of "Deal or No Deal" with all four of the top dollar amounts still in play. Badin is currently #1 in Division III, Region 12, with a decent gap in between them and #2 Ross. Badin's next two opponents are 3-0, which means that they can greatly widen that margin even more, if they were to beat Roger Bacon and Ross in the next two weeks. Badin currently has 33.0 second-level points, which is more than any other team in any other division in the entire State of Ohio. (Moeller and Ironton are the only two other schools in the entire state who have more than 30.0) Not only does such a schedule give Badin the ammunition to lay claim to the #1 seed, but if Badin should run the table, it is possible that the Rams could clinch the #1 seed in Week Nine, before they play their last game against McNicholas.