HAMILTON — Brion Treadway wasn't asking him to join the Badin High School baseball coaching staff because the program needed the help, or because there was a lack of support in the dugout.
Treadway invited former coach Mark Maus to be an assistant to make the Rams better than what they historically already are.
There was another reason, too.
He wanted him around because he simply felt "Mark belonged here. As far as a program goes — year in and year out — he built Badin baseball to have certain expectations.
"I just always felt like he deserved the opportunity to end his career on a positive note at Badin," Treadway added.

Though the storied area powerhouse had been in good shape for over three decades, Treadway — Badin's current head coach and recent athletics Hall of Fame inductee — figured bringing a key piece from the past back to the diamond wouldn't be all that bad of an idea.
"I remember meeting with Mark to try and get him on board last season," recalled Treadway, a 1997 Badin graduate and standout pitcher who was coached by Maus.
"It just didn't work out. I felt there was a little apprehension."
The two revisited the conversation prior to the start of the current season, and Maus said he was "all in."
Maus, a 2008 BHS Athletics Hall of Fame inductee, is now part of a Badin squad that is 26-1 heading into its Division II district semifinal against Reading on Tuesday at Alumni Field.
"I had to call him back up and ask if the offer was still there," said Maus, who noted helping his son Reid internet broadcast Badin's two regional contests a season ago for Chatterbox Sports refueled the fire.
"Being close to the game — watching that level of play — that's when I realized how much I missed baseball."
Rick Kunkel, Badin's head coach for 11 seasons in between Maus and Treadway, knew exactly how much Maus indeed missed the game.
"I can tell that Mark is having a ball right now," Kunkel said. "He's having a lot of fun."
Kunkel is also on the current coaching staff and has been an assistant ever since Treadway took over in 2012. Kunkel said with a collective mix of baseball minds, the knowledge circulating around the Ram dugout this season isn't just mesmerizing
"It's unheard of" to the tune of over 700 Badin baseball coaching victories amassed among the three — Maus at 222, Kunkel 234 and Treadway aiming for No. 247.
"If you want my opinion, you have to have continuity in the coaching staff to build success in your program," Kunkel said. "If I would speak at coaching conferences, that is what I would preach. It forms the backbone of a program."
For Badin, it has been for 30-plus years.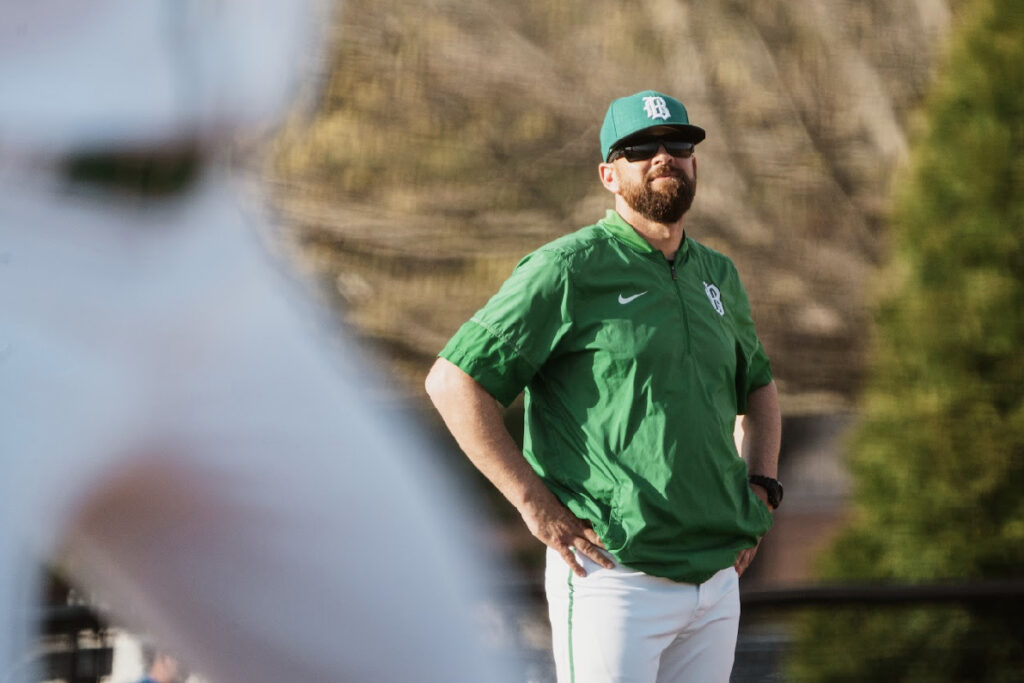 THE START
Maus, a 1979 BHS graduate, assisted Gerry Weisgerber in 1984 — when the Rams lost to Coldwater 8-4 in the Class AA state final.
He then became Badin's junior varsity coach from 1985 to 1989 under the late Tom Rains.
"We were good then, too," Maus said. "But I thought to myself, 'It's time to move on. This is the best it's getting.' My kids were starting to grow up. I didn't think I'd have the time anymore."
Maus told Badin's athletic department that he was done.
Or so he thought.
"They immediately came right back to me and asked, 'What if we made you head coach?'"
Badin, along with other area Catholic schools, was in the middle of talks to create the Greater Catholic League. Maus suspected the conference creation would be beneficial for Badin athletics — specifically baseball.
So, Maus decided to hang around.
"And that's how it started for me. I became the head coach for the next 11 years."
Maus went on to win the school's only state titles in 1991 and 1996.
"It was so silly because we were such a young team when I started," Maus said. "We had a nice team my first year, but we just stubbed our toe in the tournament — losing in the first round.
"I learned my first lesson that year, too. I didn't start our best pitcher — which you always have to do. You give him the most games in the tournament. I didn't throw him."
Still fielding a youthful squad his second season, Maus focused on putting together a competitive schedule. It served its purpose, which is something still done to this day.
"We always wanted to play the best," Maus said.
"Why play slouches?" Kunkel added. "It doesn't help you one bit."
Badin filtered through its tough slate and made a prominent postseason push, beating defending state champion Coldwater 2-1 in the 1991 Division III title game.
"It was one of those things where we just got on a roll," Maus said.
At that moment, according to Maus, he realized he wanted Badin's baseball program to be known around the state — much like how the late Terry Malone put Badin football on the map during his Hall of Fame coaching career.
Though Maus admitted he never really said that out loud back then.
"When I grew up, it was always Badin football. Always," Maus stated. "Honestly, that's where I ended up getting a lot of my coaching from. You had to do the basic fundamentals right. I learned a lot of that from Terry Malone and Gerry Weisgerber.
"It was simple if you think about it," added Maus, who led the Rams to their 1996 Division II state title with Treadway getting the win on the mound.
"All we had to do was throw the ball over the plate, catch it defensively and hope to scratch some runs anyway you can," Maus continued. "I don't know that it came across like that to others, but I sure hope it did."
It did to some. But not others.
To some, Maus's baseball coaching mechanics were tuned. To others, his verbal coaching approach was too stern, which ultimately cost Maus his job in 2000.
"I'll always know that on top of being a phenomenal baseball player, you were better people because you were playing under this program," Maus said. "I guess those are the things that I wanted out of my teams. That's really all I ever wanted, to be honest."
"When Mark got axed, I said I didn't want to coach anymore," Kunkel chimed in.
But three or four days after Maus was let go, both Kunkel and Maus had a 40-minute conversation that steered Kunkel in a direction that many believe had continued the Badin baseball program in its dominant direction.
"Mark said, 'This should be your program,'" Kunkel remembered. "He convinced me. He's the one that made me change my mind. And, boy, I'm glad I did."
Kunkel called then BHS athletic director Sally Kocher, a 2023 Badin Athletics Hall of Fame inductee, to tell her he was going to apply for the position.
"I initially didn't want anything to do with Badin baseball anymore," Kunkel smirked. "I told her I changed my mind, and I would put in for the job."
NEW DIRECTION
At the start of the 2001 season, Kunkel was Badin's new head baseball coach.
"Mark was the one that got me into coaching," said Kunkle, who was an assistant to Maus and the JV coach before taking over the program. "I felt like I had an obligation to continue what he created. Hell, he was a huge part in building Alumni Field.
"Mark instilled in me what it was like to not just teach kids baseball, but to teach them about life," Kunkle added. "That's how I got into it.
"But Mark was tough on them," Kunkel continued. "I was the drill sergeant, and Treadway is sort of like the lawyer right now."
Kunkel said there was a rebuild feel at the beginning of his tenure, but things didn't take long to get rolling.
The Rams were well-staffed, according to Kunkel, with assistants like Chuck McKinney and Ken Brown.
"Chuck is still with us. We've now got Brian Woods, Brett McKinney, Matt Marcum, and plenty of old Badin baseball alumni who have come back to make sure this program will continue in the up direction."
And there were plenty of thriving moments under Kunkel's watch — including a Division II state runner-up finish in 2005 and two Division III state runner-up finishes in 2008 and 2009. The Rams were Division III state semifinalists in 2010.
"I've always said that good head coaches surround themselves with great assistant coaches," Kunkel said. "It's been a good conglomeration. Everything just kept on improving. We became a machine."
Soon enough, Treadway hopped on board as an assistant to Kunkel after playing collegiately at the University of North Carolina at Charlotte and in the minors when he was drafted by the San Francisco Giants.
"He's turned out to be one of the most organized coaches I've come know," Kunkel said of Treadway. "It showed with how he dealt with our players."
ANOTHER DIRECTION
Treadway remembered Badin's 2011 Division III district final loss — a 2-1 barnburner against Madeira — like it was yesterday.
"When Rick is in your garage minutes after that game, it's hard not to forget something like that," Treadway laughed. "He said, 'We have to talk.'"
The Rams had just knocked off Madison 7-6 in a nailbiter the night before they were forced to turn around to face Madeira.
Treadway listened to Kunkel explain how "he hadn't calmed down from the last two nights. It was too much for me."
"I was getting tired of the administrating duties of being the head coach," Kunkel said to Treadway. "I would only do this if you would want to take it over. But I think I'm done at this point. I wouldn't want the program to go into just anyone's hands."
Kunkel wasn't there just to talk to Treadway.
"He said, 'I want to talk to your wife,'" Treadway chuckled. "I had 10-month-old twin daughters, and he sits here and tells me to stay outside.
"He comes back out and says, 'She's all in,'" Treadway added.
Kunkel went to let Badin's athletic administration know that "this is what we want to do. I'd still like to stay on as an assistant."
And within days after Badin's 2011 season-ending loss, Treadway became the head coach.
"At that time, there were a lot of people who were asking how it was going to go," Treadway said.
"Rick has become the most loyal, dedicated coach I could ever ask for," Treadway added. "He's been my mentor. He gives great advice, and he doesn't take things personal."
Treadway said Kunkel made the transition easy for him.
"He made it perfect for me, actually," Treadway noted. "Just allowing that freedom for me to take over a well-oiled machine."
That machine continued to produce talent. And that talent brought more success.
Badin baseball's all-time coaching leader in wins, Treadway has led his teams to four state appearances — including a Division III semifinal finish in 2013, a Division II runner-up finish in 2016 and two D-II semifinal finishes each of the last two seasons.
"Badin baseball has been a lot about success," Kunkel said. "But you have to have the work ethic to have success. Every kid has to realize that this is a process."
"I would say this means everything to me, and I wouldn't have the same passion if I would coach anywhere else," Treadway chimed in. "I'm invested, and I take it personal.
"This is a lifelong fraternity, and it seems like you're always going to be invested with what's going on with Badin baseball even once you leave the field. You're always going to want to stay a part of the success that's been created here."