LIBERTY TWP. — Navaeh Woods pitched a two-hitter, Hamilton collected 12 hits and the Big Blue notched an 11-1 run-rule victory over Greater Miami Conference and Butler County rival Lakota East on Friday.
"Coming here to win is a tough thing to do," Hamilton coach Steve Heckman said. "They've got a great program and it just feels really good."
It was the second game in a row that Hamilton has won via the 10-run rule. Big Blue defeated Colerain 10-0 on Wednesday, and Heckman said his program is finally getting some clutch hits it has missed out on earlier this season.
"We got some clutch hits," Heckman said. "They've been lacking prior to the last two games. The last two games we've started to get those hits with two outs and runners on. And games before we've had runners on and just haven't been able to get that hit."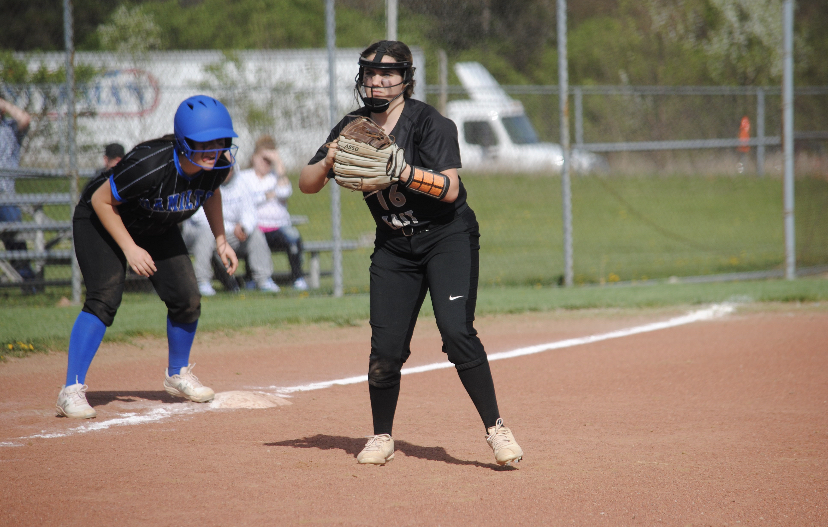 Hamilton, which scored two runs in the second and three in the third to take a 5-0 lead in the early going, had four players with multi-hit performances at the plate. The Big Blue notched 5 runs to close it out in the fifth.
Katelyn Polido went 2-for-4 with a run scored, Lilly Hilsercop went 2-for-3 with two runs, Julia Tegeder finished 2-for-3 with two runs, and Bri Hochscheid was 2-for-3 and a run scored. Ashlynn Falk had three RBI for the Big Blue, who moved to 2-5 overall and 2-1 in the GMC.
In addition to the offense, the pitching performance from Woods was equally impressive. The freshman took a no-hitter into the fifth before surrendering two hits by Lakota East.
"She was an out away from a no-hitter, but you know, it is what it is," Heckman said of Woods. "I could tell she was shortening up a little bit on pitches, and they were a little bit low that last inning. She's a smart girl. I think she knew and was maybe trying to be a little bit too fine there at the end. But man, she came in and gave us some great innings."
Heckman also praised Jaycee Taylor for her defense at third base. Some of her clutch plays allowed Woods to maintain her no-hitter into the fifth.
Taylor, who finished 1-for-2 with two runs, said although Big Blue struggled earlier in the season, they're finally starting to put things together as a team — especially with their top pitcher.
"We've been struggling a lot," Taylor said. "We haven't been able to put it all together. But I think getting our number one pitcher back really helped us come together as a team."
Taylor added that after having been run-ruled just a couple of games ago, it felt good to finally get on the other side of one.
"It felt really good," Taylor said. "We've run-ruled the past two teams after getting run-ruled so something is working for us."
Heckman said although his team lacks experience, they continue to learn and improve with each passing game. And defeating Lakota East was a crucial step in the right direction for his team.
"We don't have a lot of experience," Heckman said. "But coming back and learning and getting better every day, that's what we're trying to do and this was a big win for us today."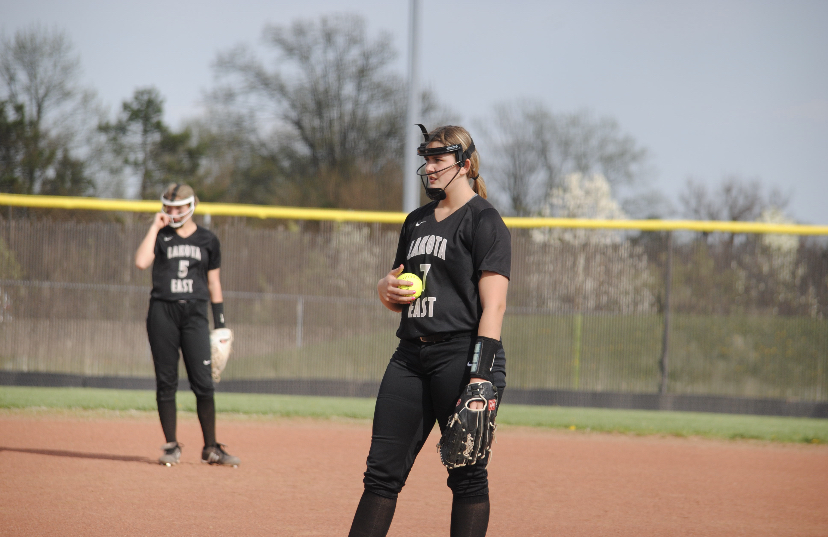 Lakota East assistant coach Jessica Howard said the Thunderhawks are a young program looking to get into the groove.
"We're a young team, and that's not something that we're used to here," Howard said. "We have five or six freshmen starting on a varsity team. We lost nine or ten seniors from a state runner-up team. So they're young and hopefully they'll learn from games like this I hope."
On Hamilton's pitching performance, Howard said that "(Woods) had a no-hitter for probably 80 or 90 percent of the game, so there's really no excuse for that. We've got to be able to hit too."
Leading the way for Lakota East (2-4, 2-3 GMC) was Leah Arnett (hit, run) and Vanessa Sims (hit).
Hamilton travels to Mason on Monday, while Lakota East visits Oak Hills.