ROSS TWP. — Ross senior offensive lineman Kaden Rogers looked at the scoreboard, wide-eyed and excited.
"We did our job," Rogers grinned.
The Rams steamrolled to 522 yards of offense — all on the ground — and No. 5 Ross showed its physicality in a 52-14 victory over No. 21 Monroe in a Division III playoff contest at Robinson Field on Friday.
It was the first playoff win in Ross history.
"That was the goal, to make history," Rogers said.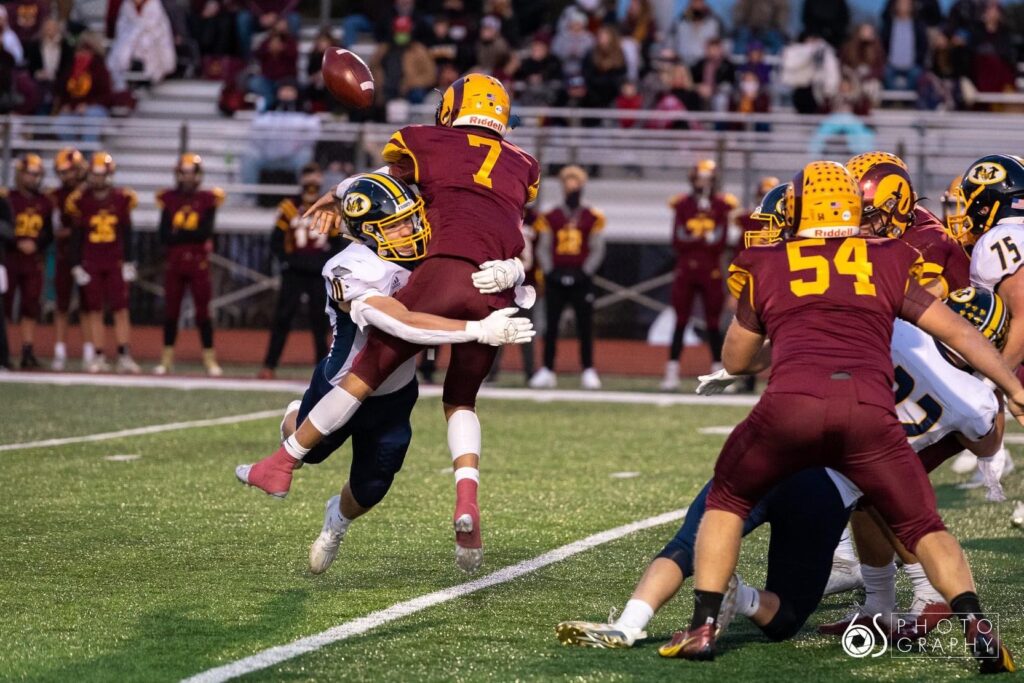 Jackson Gifford (190 yards), CJ Boze (170) and Brayden Fraasman (110) led the ground-game onslaught for Ross, which travels to New Richmond on Friday. All three had two touchdowns apiece.
"It was nice to get back being physical," Ross coach Kenyon Commins said referring to the first-round bye week. "We felt we played well in all phases of the game."
The Rams (6-1) have now won six straight. Monroe (3-5) plans on scheduling two more games to officially finish up their season, according to Hornets coach Bob Mullins.
"We're just not going to pick up our football and go home," Mullins said. "These kids deserve to play a full season, and we're going to do that.
"In the first quarter, we were in the game at 14-7, and we were feeling pretty good about that," Mullins added. "They're a good team. Whenever you give good teams a short field, it's a recipe for disaster and it becomes too complicated. Ross is a big, strong team, and they're a lot bigger than us. We had to play assignment ball to beat them. And you just have to tip the cap to a team like that."
Jaye Warren added a rushing score for Ross.
Collin Deaton connected with Konnor Loper on a 51-yard TD pass for Monroe, while Alex Pitsch had a rushing TD.
OTHER AREA POSTSEASON RESULTS:
Lakota West 31, Lakota East 14
New Miami 40, Fayetteville-Perry 25 — The Vikings (5-0) travel to Marion Local next Friday in Division VII.
Springfield Shawnee 34, Madison 0 — The Mohawks slipped to 4-4 after their Division V playoff loss on Saturday.
Badin forfeit win over Wapakoneta — The Rams (7-0) host Tippecanoe next Friday in Division III.
Edgewood forfeit win over Troy — The Cougars (5-3) travel to Winton Woods next Friday in Division II.