ST. CLAIR TWP. — The Edgewood High football team got a huge boost of momentum with its 38-35 overtime victory over Southwest Ohio Conference rival Harrison a week ago.
Cougars coach Scott Clemmons coined it to be a hopeful trendsetter. Edgewood hosts Columbus West tonight in a Division II playoff opener at Kumler Field with kickoff slated for 7 p.m.
"That win against Harrison was big," Clemmons said. "They're a big-time opponent to end the regular season with on a high note."
Clemmons said the fact that his players are getting ready for a playoff game is amazing all in itself, but he's even more thrilled his Cougars are heading into it healthy.
"We're still dealing with some things that are out of our control, and the kids have been great about it all with what's been going on during this time," Clemmons said. "We're doing what we have to do. We're practicing hard. It's all about gelling quick this season, and now we're entering Week 7 in the playoffs. I think we've been gelling well."
Tavionne Crosby, Anthony Scott and Landon Howell are "some of the guys who are healthy in the offensive backfield, and our O-line getting some games in is a big boost. Our guys are all flying around and ready."
The three-headed backfield has accounted for 8 touchdowns and nearly 1,000 yards on the ground. On the defensive side of the ball, Brick Barker leads the way with 35 tackles.
"The thing we preach is to get better in all three facets of the game," Clemmons said. "We've been able to get some production in the passing game, and our defense is looking to step it up.
"If we go out there and play like we know how to play," Clemmons added, "we should be OK."
Columbus West (0-2) is based out of the Columbus City League.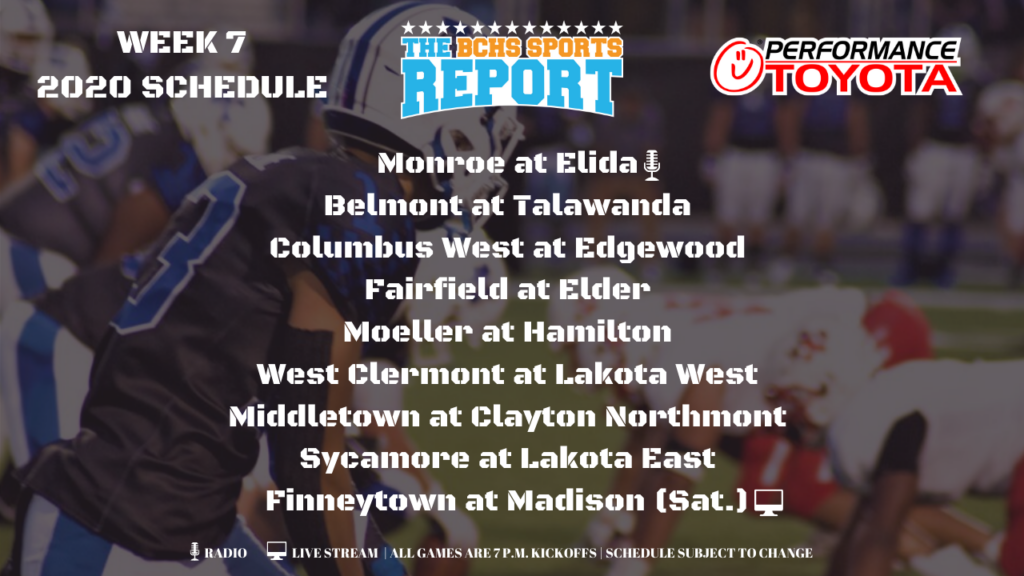 Other coverage area playoff contests:
DIVISION I, REGION 2
MIDDLETOWN AT CLAYTON NORTHMONT — The Middies (1-4) grabbed their first win of the season in impressive fashion last week, knocking off Walnut Hills 33-26. Kellen Davis threw four touchdown passes, including three to Elijah Rockhold. Josh Bryant notched a receiving score and a rushing score in Middletown's win. The Middies look to build some playoff momentum as they enter postseason play against the Thunderbolts (6-0), who won the Greater Western Ohio Conference, squeaking by Wayne 28-27 last week.
DIVISION I, REGION 4
SYCAMORE AT LAKOTA EAST — The Thunderhawks (3-3) have won three straight and seem to have caught a groove. Lakota East racked up 313 rushing yards in its 42-20 victory over Oak Hills to close out the regular season. A plethora of running backs got into the mix last Friday, while the Thunderhawk defense held the Highlanders in check. The Aviators (1-5) fell to Ironton 33-11 last week. Sycamore knocked off Lakota East 34-31 in the season opener.
FAIRFIELD AT ELDER — The Indians (1-5), who have lost four in a row, have relatively been in every game this season. Jaydan Mayes racked up 196 yards rushing and scored twice in Fairfield's 40-23 loss to Princeton last weekend. The Panthers (3-3) have won two out of their last three contests.
WEST CLERMONT AT LAKOTA WEST — The Firebirds (5-0) captured their first-ever Greater Miami Conference title with their win over Mason last weekend. Lakota West barrels into the postseason on all cylinders, touting the best defense in the area. The Firebirds have only allowed 4 points a game this season, including 3 shutouts. The Wolves (1-3) are looking to bounce back from a 42-0 loss to Anderson last week.
MOELLER AT HAMILTON — The Big Blue (3-3) have won three out of their last four games. Leading the GMC in rushing is Keyshawn Stephens, who has amassed 624 yards on the ground with five scores. Jordan Jones and Blake Hawkins lead the way for the Hamilton defense with 108 combined tackles. The Crusaders (1-5) have lost five in a row after beating Bishop Hartley in the season opener.
DIVISION II, REGION 8
BELMONT AT TALAWANDA — After starting the season 2-0, the Brave (2-4) are eyeing to shake off a four-game losing skid. Deondre Bothast-Revalee churns up the running game for Talawanda, while quarterback Braden Wright has the passing game under control. The Bison (1-2) are based out of the Southwest Ohio Public League.
DIVISION III, REGION 12
MONROE AT ELIDA — The Hornets (2-4) are coming off a big win over Southwestern Buckeye League rival Madison last week. Monroe coach Bob Mullins called it a "big-time momentum booster." Quarterback Collin Deaton and running back Elijah Jackson keep the offense moving along, while the Hornets' defense is aiming to build off its stellar performance against the Mohawks last week. The Bulldogs (4-2) are based out of the Western Buckeye League.
DIVISION V, REGION 20
FINNEYTOWN AT MADISON — The Mohawks (3-3) have won three out of their last four games. Madison lost to Monroe a week ago, and it looks to bounce back with its home playoff opener against the Wildcats. Finneytown (0-6) is based out of the Cincinnati Hills League.