FAIRFIELD — Butler County high school football is in its prime.
Week 6 will feature a Greater Miami Conference, cross-county battle between Fairfield and Lakota East — which is coined as The Report's Game of the Week.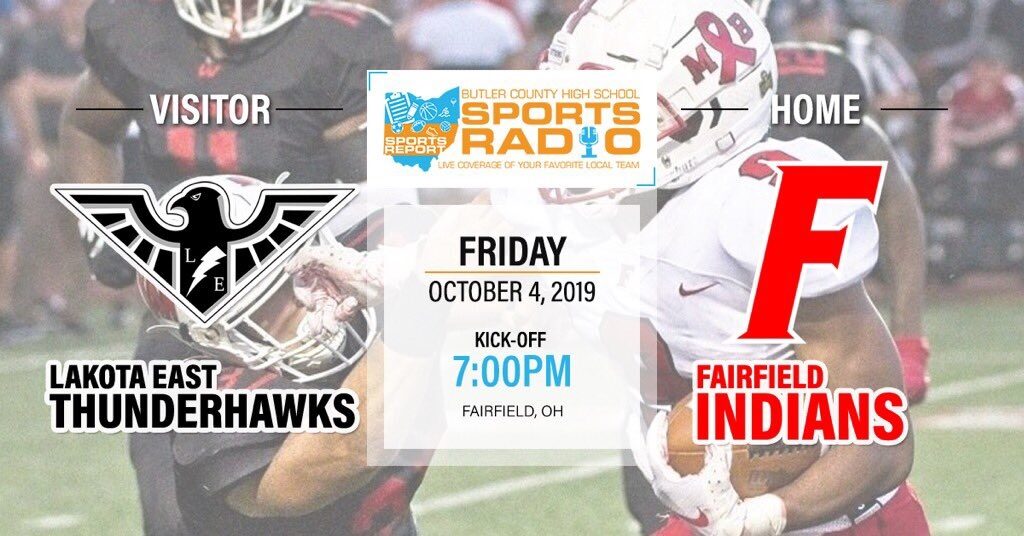 Fairfield (5-0, 3-0 GMC), which moved up a couple spots in the Division I state poll to No. 5, is clicking on all cylinders.
Pacing the Indians is none other than senior standout JuTahn McClain, who leads the GMC with 871 rushing yards and 10 touchdowns. Senior and dual-threat quarterback Sawiaha Ellis has tossed for 607 yards and rushed for another 224 yards and seven scores.
Fairfield has outscored its opponents by a league-best 163-60. Players to keep an eye out for on the defensive side of the ball for the Indians is senior linebacker Phoenix Porter, who has registered a team-leading 34 tackles, and junior defensive lineman Brandon Smith, who has logged 27 tackles.
Lakota East (3-2, 2-1 GMC) is coming off a 28-24 loss to Princeton. The Thunderhawks were up 21-7 heading into the half before giving up 21 fourth quarter points.
Lakota East senior running back Corey Dick rushed for 129 yards and a score in last week's loss. Senior linebacker Hayden King registered nine tackles against Princeton.
Other area games to keep an eye on: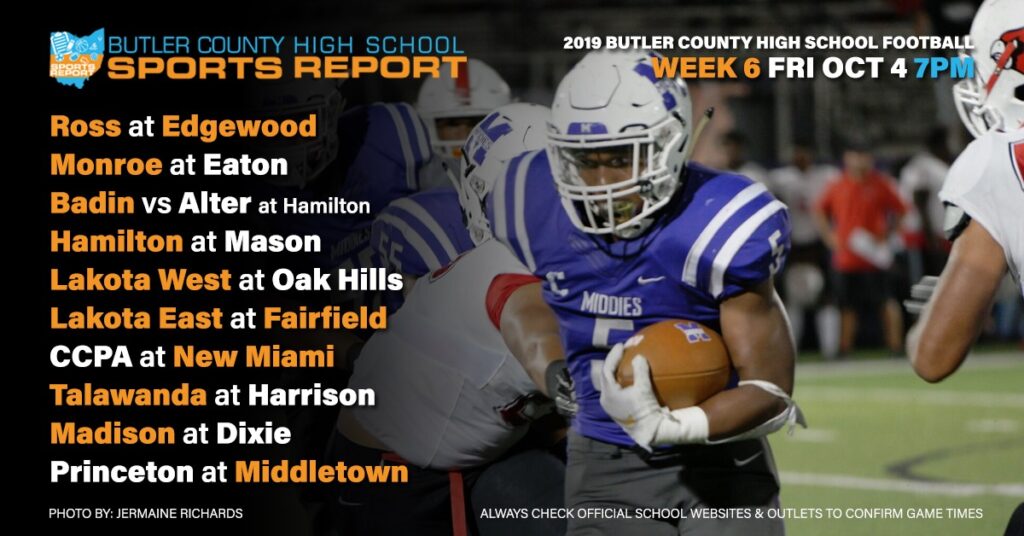 ROSS AT EDGEWOOD — The Cougars (2-3, 1-1) get a shot at redemption, after the Rams (4-1, 1-1) pulled off the upset a season ago. CJ Boze and Jackson Gifford have amassed for over 1,100 combined yards rushing and 15 scores for Ross. Lincoln Howell has 587 yards rushing and six touchdowns for Edgewood.
MONROE AT EATON — Hornets quarterback Collin Deaton rushed for 247 yards and three touchdowns in a 42-20 loss to Valley View. It was the best performance by Monroe (0-5, 0-2 SWBL) this season. The Eagles sit at 1-4, 1-1.
ALTER AT BADIN — The Rams (3-2) have won three in a row, while Alter sits at 4-1. Zach Switzer tossed for 200 yards and a pair of TD passes in Badin's win over Purcell Marian last week. The Knights head into this contest ranked 5th in the Division III state poll.
TALAWANDA AT HARRISON — The Wildcats (4-1, 2-0) have won three straight and are atop the Southwest Ohio Conference standings. Connor Kinnett has tossed for an astounding 1,418 yards and 10 TDs. The Brave (4-1, 0-1) are nursing their first loss of the season to Little Miami.
HAMILTON AT MASON — The Big Blue (3-2, 2-1 GMC) is coming off a 31-21 win over Oak Hills. Hamilton's Luke Mattia and Jayden Marshall lead the GMC with a combined 92 tackles. The Comets (2-3, 2-1) are led by the arm of quarterback Collin Brown, who has thrown for 703 yards and seven scores — which is second-best in the GMC.
LAKOTA WEST AT OAK HILLS — The Firebirds (3-2, 2-1 GMC) were tested by county rival Fairfield in a 33-7 loss a week ago. They'll look to rebound against the Highlanders, who sit at 0-5, 0-3 GMC.
PRINCETON AT MIDDLETOWN — The Middies (1-4, 0-2 GMC) have fallen victim to four straight after their 41-14 loss to Colerain a week ago. The Vikings are sitting at 3-2, 1-2 GMC.
CCPA AT NEW MIAMI — The Vikings (5-0, 2-0 MVC), ranked 9th in the Division VII state poll, are set to go up against their toughest opponent of the season. CCPA (4-1, 2-0 MVC) is led by dual-threat sophomore quarterback Mark Smith, who has thrown for 995 yards and 10 scores and rushed for an additional 462 yards and five scores. New Miami's smothering defense has held opponents to just 30 points on the season.
THURSDAY NIGHT RESULTS
MADISON 48, DIXIE 13 — The Mohawks (3-3, 2-1 SWBL) beat the Greyhounds (2-4, 0-3) on Thursday night.