SHARONVILLE — Down 20-10 heading into the second half and with not much going its way offensively in the first half, the Lakota West High football team needed to put points on the board during the opening drive of the third quarter.
What the Firebirds didn't need was fumbling the second-half kickoff.
With a short field and a 10-point lead, the Princeton Vikings took advantage of their early third quarter gift and marched 38 yards in 8 plays for a 27-10 advantage.
The Vikings weren't done adding to the turnover column though.
The Firebirds took possession after the fumble and two plays later quarterback Mitch Bolden was leveled before he could complete an option pitch, and Princeton safety Leroy Bowers scooped the ball up and sprinted untouched for 18 yards to give the Vikings a 34-10 lead midway through the third quarter.
It was a lead Princeton would not squander en route to a 41-35 victory.
"I'm disappointed," Lakota West coach Tom Bolden said. "We turned the ball over four times and gave up some big plays. It's just a bad recipe. Hats off to Princeton. They have a really good combination with the quarterback and the running back."
Princeton quarterback Dorian Durham threw for 228 yards and four touchdowns and running back Thomas Boyd ran for 117 yards and a touchdown.
"They played really well," Bolden said of Princeton. "It just comes down to not turning the ball over four times, and you can't give up big plays. At any level of football, that's as true as it goes."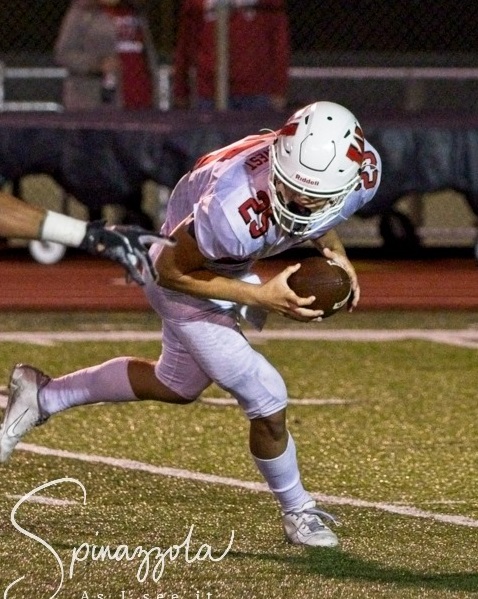 The West defense continually put the Vikings in long conversion attempts on third and fourth down, and the Vikings continually answered the call and converted.
"Kind of a wacky game," Princeton coach Mike Daniels said. "West played hard, their kids kept fighting, but our kids just fought a little harder and made a few more plays. I was proud of them. I wish we could have gotten a stop at the end so my heart rate wouldn't have gone up so much — my blood pressure."
Princeton sprinted out of the gate to claim an early 14-3 lead in the first quarter on a pair of touchdown passes from Durham to Jamar Mathews and DeAngelo Foster.
Lakota West answered the first Princeton touchdown with a drive to the Viking 22-yard line and promptly fumbled away the scoring opportunity, setting up the second of Durham's two first-quarter touchdown passes.
Just before halftime, Lakota West linebacker Daved Jones intercepted Durham and returned it for a 50-yard pick-6 to give West its first touchdown.
"I'm frustrated that we turned the ball over so much and gave up some big plays," Bolden said. "But we didn't quit. You know we'll get that fixed. We had a lot of really good bright spots, and we just have to keep moving forward."
The bright spots came in the fourth quarter, the only frame the Firebirds didn't turn the ball over and the only frame in which they outscored Princeton. West drew as close as the final 6-point margin with 22 seconds remaining, but was unable to recover an onside kick.
"The whole mission is the playoffs," Daniels said. "We haven't been to the playoffs since 2007. I'm proud of the kids persevering through."
Mitch Bolden threw for an uncharacteristic 142 yards on 15-of-30 passes and one touchdown for West. David Afari, who struggled early on, managed to come on strong late to chip in 96 yards on 10 carries for two touchdowns. Afari added four catches for 60 yards and another score.
Sterling Burkhalter added three catches for 103 yards and two touchdowns for the Vikings.
Both teams are eyeing Week 10 with playoff aspirations at the forefront. Lakota West drops to 6-3 overall and 5-2 in the GMC and hosts Middletown next week, while Princeton 6-3, 4-3 GMC) hosts Mason.
Lakota West 3 7 7 18 — 35
Princeton 14 6 14 7 — 41
First Quarter
PRI TD 08:19 Jamar Mathews 20 YD PASS FROM Dorian Durham (Michael Everson KICK)
PRI TD 04:19 DeAngelo Foster 27 YD PASS FROM Dorian Durham (Michael Everson KICK)
WES FG 00:40 Josh Laine 33 YD
Second Quarter
PRI TD 11:24 Thomas Boyd 25 YD RUN (Michael Everson KICK FAILED)
WES TD 02:14 Daved Jones 50 YD INT RETURN (Josh Laine KICK)
Third Quarter
PRI TD 08:03 Sterling Berkhalter 19 YD PASS FROM Dorian Durham (Michael Everson KICK)
PRI TD 07:18 Leroy Bowers 18 YD FUMBLE RECOVERY RETURN (Michael Everson KICK)
WES TD 02:53 David AFARI 20 YD PASS FROM Mitch Bolden (Josh Laine KICK)
Fourth Quarter
WES TD 08:44 David AFARI 42 YD RUN (Josh Laine KICK FAILED)
PRI TD 07:44 Sterling Berkhalter 74 YD PASS FROM Dorian Durham (Michael Everson KICK)
WES TD 04:16 David AFARI 13 YD RUN (PASS FAILED)
WES TD 00:22 Kurt Riesenberg 20 YD PASS FROM Mitch Bolden (Josh Laine KICK FAILED)