By Joel Sackenheim, BCHSSReport.com
After an exciting and turbulent Week 7, here's a look at the Butler County high school football teams and where they stack up in the playoff race, going into Week 8:
DIVISION I, Region 4
FAIRFIELD (7-0), ranked first — Fairfield has clinched a playoff berth. If Fairfield wins out, the Indians cannot finish any lower than third. St. X and Elder are the two teams that can catch them, if they also win out and can compile enough second-level points to overtake the Indians. St. Xavier would be ahead of Fairfield right now if they had 18.5 more second-level points. St. X plays La Salle (37.0 pts), while Fairfield plays Sycamore (25.0 pts). Next week, St. X plays St. Ignatius (18.5 pts), while Fairfield plays Oak Hills (0.0 pts). So if both teams win in Week 8, the margin will close, and St. X will most likely grab the No. 1 spot by the end of Week 9. Fairfield's best shot at the No. 1 seed still involves a win over Colerain in Week 10, but even with that, a little bit of help will be required. Indians fans: root against the out-of-state opponents on St. X's schedule. Those would be Brownsburg IN, Penn IN, Indianapolis Cathedral, Football North Canada, and Louisville St. X.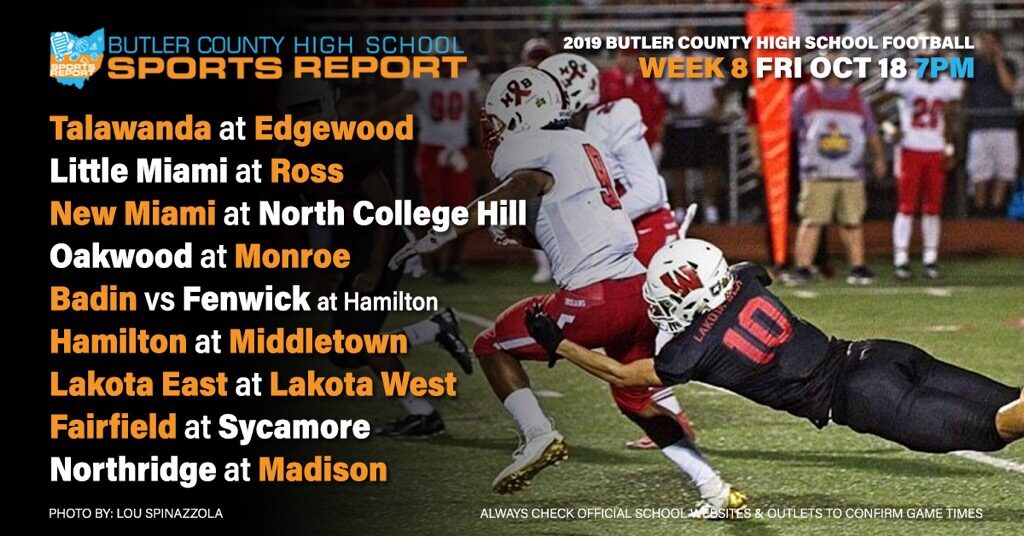 LAKOTA WEST (5-2), ranked fifth — The Firebirds control their own destiny for a playoff spot, but not for a home game. Three wins will guarantee them a spot that could be absolutely anywhere in the top 8. West currently would be fourth and ahead of Colerain if they had 10.0 more second-level points. The Firebirds play Lakota East (26.0 pts) this weekend, while Colerain plays Mason (19.5). So a wee bit of ground can be made up this weekend, and Lakota West can hurdle Colerain, even with a Cardinal win, if they can pair that with wins from Hamilton, Oak Hills, Centerville, and Kettering Fairmont. Lakota West's best shot at a home game still lies in combining three wins with a Fairfield victory over Colerain in Week 10.
LAKOTA EAST (4-3), ranked ninth — It's good news and bad news for the Thunderhawks. Lakota East has all the firepower they need to climb into the playoffs and still an outside chance at a home game. But the bad news, lots of firepower means tougher opponents. The points are there to be had; can they win and get them? The crosstown rivalry with Lakota West is worth 32.5 second-level points and will be enough points to shoot them into the neighborhood of sixth in the standings — if they can beat West. Then in Week Nine, it's Colerain (39.0 pts) and then Hamilton (19.0 pts) in Week 10. This won't be easy, but it's there for them. The most likely path to the playoffs is getting one of the two between the Colerain and the West games, and then pairing it with a win over Hamilton in Week 10. If East should lose to BOTH West and Colerain, then it's going to take a lot of outside help and scoreboard watching to try to squeeze out a No. 8 seed at the end.
HAMILTON (3-4), ranked 11th — Hamilton might very well need to win all of their last three games. The Big Blue play Middletown this weekend, which will only give them 6.5 second-level points if they win. In other words, this is not the weekend that can shoot Hamilton up the standings. But the good news for the Big Blue is that they trail No. 10 Mason by only 1.0 second-level point and they trail No. 9 Lakota East by 5.0 second-level points. Because Mason beat Hamilton, a Hamilton win over Middletown will give 6.5 points to the Comets, cancelling out Hamilton's 6.5 that they themselves would get from beating Middletown. To overtake Mason, Hamilton will need a Mason loss, a Hamilton win, and two wins from the following three teams: Fairfield, West Clermont, and Anderson. To overtake Lakota East, Hamilton needs a win, Lakota East loss, and two wins from the following three teams: Wayne, West Clermont, Anderson. Hamilton will most likely be still on the outside-looking-in at the end of the weekend, but a little chipping away will put themselves in better position in the last two weeks.
MIDDLETOWN (1-6) — The Middies host Hamilton on Friday for Senior Night. LISTEN LIVE
DIVISION II, Region 8
TALAWANDA (5-2), ranked 10th — Talawanda has the opposite problem compared to Lakota East the next two weeks. The Edgewood and Northwest games are very winnable for Talawanda, but neither is going to provide them the firepower they need to climb. Edgewood is worth 11.0 second-level points, and Northwest is worth 5.5. Meanwhile, ALL NINE teams ahead of Talawanda have opponents that are worth more points than Edgewood is to Talawanda. The same goes for the three teams directly behind Talawanda. Talawanda's best bet is to stop thinking about the home game and just focus on grabbing one of the last four spots. This means when No. 2 Turpin plays No. 8 Anderson, Talawanda might as well root for Turpin to stretch out their lead and cement the home game, bumping Anderson down in the process. Same goes for rooting for No. 4 Columbus St. Francis de Sales to knock off No. 11 St. Charles. No. 7 seed Winton Woods has a murderer's row of Elder and No. 3 La Salle in the next two weeks (followed by a BYE in Week 10). Those are lose-able games for Winton Woods, but if they win them, it makes it nearly impossible for Talawanda to catch them. It would really help Talawanda a lot if Ross could beat No. 12 Little Miami, both to keep the Panthers from hurdling Talawanda, as well as to keep those points alive for Talawanda to grab in Week Ten if they beat Ross. (Since Talawanda already lost to Little Miami earlier this year, a Little Miami win over Ross kills those points for Talawanda.) And while we're at it, No. 5 Canal Winchester knocking off No. 16 Franklin Heights would prevent Franklin Heights from obtaining 38.0 second-level points and jumping into Talawanda's rearview mirror, and it wouldn't be bad if 5-2 Marion-Franklin were to upset #6 Walnut Ridge either. Lots and lots of scoreboard watching ahead for the Brave young men from Oxford.
EDGEWOOD (2-5) — The Cougars host Talawanda on Friday.
DIVISION III, Region 12:
ROSS (6-1), ranked sixth — The Rams are 6-1, with a head-to-head win over Badin, and yet are still only 3.0 second-level points ahead of the other Rams. That's what happens when the teams you beat don't win games. Ross's first five vanquished opponents (Badin, Monroe, Western Brown, Mount Healthy, and Edgewood) all lost last weekend, and so Ross only added the 5.5 second-level points from beating Northwest into their column. Thus, Ross finds themselves the lowest-ranked of all the 6-1 teams in the region, with 5-2 St. Mary's Memorial ahead of them and 4-3 Badin nipping at their heels. But thankfully: an opportunity in Week 8. Ross will take on Little Miami, for a chance to grab 28.5 second-level points. Assuming none of the top four teams get upset, a win over Little Miami probably sees Ross pass St. Mary's Memorial and jump up to the No. 5 spot, chipping a little bit into No. 4 Trotwood-Madison's lead while they're at it. Ross will get an additional 5.5 points from Mount Healthy and Northwest playing each other and could grab an extra 5.0 points from Monroe, if the Hornets can get their first win of the year over 1-6 Oakwood. Every point counts in a region as competitive as this one.
BADIN (4-3), ranked seventh — Badin had an opportunity to put their name in for a No. 1 seed after beating Alter, but Badin's loss to C-J drops them back to where they were. All three of Badin's remaining games are against teams hovering around .500 and worth modest amounts of points. Fenwick's victory over Alter last weekend doesn't help or hurt the Rams — so long as Badin beats Fenwick this weekend. It simply means Badin had to wait an extra week to pick up those 5.5 points. Fenwick is worth 21.5 and will be a fierce opponent, as they sit at No. 10 and could leapfrog Badin with a win, grabbing a spot in the Top 8 and pushing Badin out. Like Ross, a Badin win most likely pushes the Rams past St. Mary's Memorial, who plays 2-5 Bath this weekend (11.0 pts). Two wins in the final three games, and Badin has to feel pretty good about its playoff chances. Win all three, and a home game is still possible — IF Badin gets a bit of help. That help has the greatest chance to come in the form of back-to-back Trotwood-Madison losses in Weeks Nine and Ten when the Rams (yes, Trotwood-Madison is also the Rams!) play 6-1 Springboro and 6-1 Springfield. Oh, and Ross would probably have to lose to either Little Miami this weekend or Talawanda in Week Ten for Badin to re-hurdle them.
MONROE (0-7) — The Hornets take on Oakwood on Friday.
DIVISION V, Region 20
MADISON (4-3), ranked 11th — This is it. Madison, after an up-and-down season, you're playing the 6-1 Northridge Polar Bears, and you need it. 28.0 second-level points come Madison's way with a win over the Polar Bears, which gives them the firepower to potentially climb as high as seventh, depending on what happens in the other games. No. 7 Greenon plays 0-7 Cedarville, so even though they are four spots ahead of the Mohawks, they might actually be the easiest to catch in the immediate timeframe. Likewise, No. 8 Mariemont is very catchable, as they play 2-5 Reading. The two important games for the Mohawks to scoreboard watch involve the two teams directly above them. No. 9 Madeira plays Deer Park (23.5 pts), and No. 10 Brookville plays Bellbrook (27.0 pts). Those are both tough games, and if Deer Park and Bellbrook both win, combined with a Madison win over Northridge, the Mohawks may well be looking at the No. 7 spot at the end of the weekend. Madeira and Brookville wins would make it that much tougher for Madison. The Mohawks play winless Monroe in Week 9, and so that puts all the more pressure on them to beat the Polar Bears this weekend. Madison MUST move up and climb into the picture this weekend, since they will not be able to move much next weekend. If they can do that, then the Week 10 game against 6-1 Waynesville should give the Mohawks all the firepower they need to eek out a playoff spot. A final thought: No. 8 Mariemont and No. 9 Madeira are both 5-2. They both play each other in Week 10. That means that one of them will definitely lose. That can work out in Madison's favor if they need one spot to open up. But it also means that one of them will definitely win. That could work out against Madison if they need two spots to open up.
DIVISION VII, Region 28
NEW MIAMI (6-0), ranked second — As expected, Marion Local's win over Versailles last week gave them the ammunition they needed to once again pass New Miami in this competitive fight for the No. 1 seed in region 28. New Miami controls their own destiny for a playoff berth; three wins will get them in and almost certainly get them a home game, once No. 3 Fort Loramie and No. 7 Mississinawa Valley play each other this weekend, and one of them gets stuck with a loss. New Miami's toughest remaining opponent comes this weekend in 5-2 North College Hill (20.0 pts). New Miami is roughly 9.5 second-level points behind Marion Local, so you might think that the see-sawing continues if New Miami wins. But Marion Local plays 6-1 Minster tonight (23.0 pts). That means New Miami would need about 10 results out of a possible 12 games to go their way to have a shot at being No. 1 again at the end of the weekend — not likely. Where New Miami needs to be careful is looking in their rearview mirror. No. 3 Fort Loramie (who was the No. 1 seed last year and knocked New Miami out 41-0 in the playoffs) is playing 5-2 Mississinawa Valley (19.0 pts). They are about the same distance between themselves and New Miami as New Miami is with Marion Local. The No. 2 seed is still safe IF New Miami beats North College Hill. If not, enter Fort Loramie into the discussion of top-2 seeds in the region.