By Joel Sackenheim, BCHSSReport.com
As we descend upon Week 7 of the high school football season, teams only have four more opportunities to gain as many Harbin points as possible. Here's a look at the Butler County teams and where they stack up in the playoff race:
FAIRFIELD (6-0), ranked 1st in Division I, Region 4: Fairfield took over the #1 spot in Division I, Region 4 with their win over Lakota East last weekend, combined with Elder's upset of previously #1 St. Xavier. Fairfield can expect to stay at #1 if they beat Princeton in Week Seven. St. X will have opportunities to close the gap in Weeks Eight and Nine, when they play La Salle and St. Ignatius. Fairfield is in good shape to get a home game, but if they want that #1 seed, it may very well all come down to their ability to beat Colerain in Week Ten. If Colerain wins the next three games, the Cardinals will be worth a whopping 52.0 second level points to Fairfield.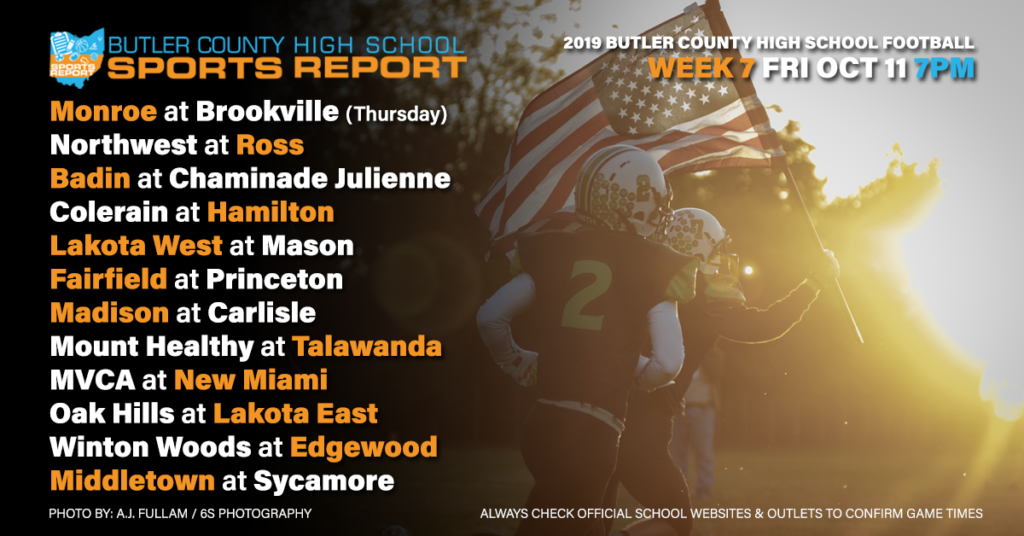 LAKOTA WEST (4-2), ranked 5th in Division I, Region 4: The Firebirds play Mason in Week Seven. A win for Lakota West probably keeps them right where they are at #5, barring any upsets. There is a significant gap in between the top 3 and Colerain at #4; if Lakota West wants to get up into the top 4 and snag a first-round home game, their best bet would be to win out and have Fairfield knock off Colerain in Week Ten. Interestingly enough, Colerain is the one GMC opponent that Lakota West will not get to play this year, courtesy of the schedule rotation. Because of this, both Colerain and Lakota West have an identical eight opponents in the conference schedule. If both finish 7-1 in the GMC with losses to Fairfield, then which one finishes higher than the other will be determined solely by who gets more wins between Centerville (who West beat) and Wayne (who Colerain beat). Centerville is 4-2, and Wayne is 1-5. Advantage West, IF Fairfield beats Colerain in Week Ten.
HAMILTON (3-3), ranked 10th in Division I, Region 4: Hamilton plays Colerain in Week Seven. They will be underdogs, but should they pull off the upset, they could climb up around the 4-5 lines, in the neighborhood of Colerain and Lakota West. Anderson keeps helping the Big Blue by providing second-level points each time they win, but if Hamilton loses to Colerain, they will probably have to beat Middletown and Sycamore in Weeks Eight and Nine to have a chance for a win-and-in scenario against Lakota East in Week Ten.
LAKOTA EAST (3-3), ranked 11th in Division I, Region 4: Oh, how close the Thunderhawks came to knocking off Fairfield last week! The 20-14 loss counts as a loss; no credit is given for margin-of-victory in the Harbin points. Had Lakota East won last weekend, they would be 5th, just ahead of Lakota West. Lakota East plays 0-6 Oak Hills in Week Seven. With zero wins, Oak Hills will provide zero second-level points to the Thunderhawks. That means expect almost no movement for Lakota East in the standings this week. The Thunderhawks may leapfrog Hamilton if the Big Blue loses to Colerain; the Thunderhawks may get hurdled by Lebanon if the Warriors beat Clayton Northmont. Lakota East's big challenges lie ahead, with Lakota West in Week Eight and Colerain in Week Nine. Win one of those two, and that Lakota East-Hamilton Week Ten matchup may become a play-in game yet.
MIDDLETOWN (1-5), ranked 16th in Division I, Region 4: Middletown has four middle-of-the-GMC-pack squads in their last four games. Sycamore, Hamilton, Mason, and Lakota West will all be worth a moderate amount of points. Middletown will need all of them if they want to think playoffs. 5-5 would still be tough to squeak in; Middletown's best bet would be to win those last four games, have those last four opponents win as much as possible during the other three weeks when they don't play Middletown, and get a couple of wins from 1-5 Western Hills along the way. Western Hills plays 1-5 Gamble Montessori in Week Seven, so that might at least give Middletown something this weekend.
TALAWANDA (4-2), ranked 11th in Division II, Region 8: A promising 4-0 start has now been dampened just a bit by back-to-back losses against Little Miami and Harrison. Division II, Region 8 is absolutely STACKED with quality teams–so much so that an undefeated team, 6-0 Walnut Ridge, is still 9th and currently out of the playoffs in the region. Mount Healthy is Talawanda's Week Seven opponent; it's 17.5 second-level points that Talawanda desperately needs. A lot of this is out of Talawanda's direct control; the two teams above them have challenging Week Seven matchups that are worth a lot of points. #9 Walnut Ridge plays Columbus South (32.0 second-level points); #10 Little Miami plays #4 Harrison (29.0 second-level points). If both of those teams win, then they will put greater distance between them and Talawanda, even if Talawanda beats the Owls. The one saving grace for the Brave is a Week Ten matchup with Ross that might be worth a healthy slew of points. Talawanda's going to need every point they can get. 8-2 just might be enough to squeeze out a spot, but they're going to need some help.
EDGEWOOD (2-4), ranked 20th in Division II, Region 8: The Cougars play #6 Winton Woods in Week Seven, but Winton Woods has just last back-to-back games against Lakewood St. Edward's and Christian Brothers of St. Louis, Missouri. That means that while the Warriors will still be every bit as challenging to Edgewood, they'll be worth 13.0 second-level points fewer to Edgewood than they otherwise would have been, should Edgewood pull off the upset. Edgewood still has firepower left on their schedule, with Little Miami and Talawanda also ahead, but they're going to need a TON of help if they finish 6-4, as there are so many teams that will need to be passed ahead of them.
BADIN (4-2), ranked 3rd in Division III, Region 12: The Alter win was HUGE. 21.5 second-level points went into Badin's column, and an additional 5.5 points will come Badin's way each time Alter wins a GCL Co-Ed game in the next four weeks (5.0 for the McNick game, as McNick is Division IV instead of Division III). Badin now gets to play #1 Chaminade-Julienne for a chance for 28.0 more second-level points. The sky's the limit for the Rams; if Badin wins out, it's likely a two-team race between them and Wapakoneta for the #1 seed. Badin's big chance to gain ground is the Week Seven matchup with C-J; Wapak's big chance will come in Week Ten when they play 5-1 Ottawa-Glandorf, quite possibly for a share of the Western Buckeye League title. A Badin win in Week Seven, and there will be a razor-thin margin between the Rams and Wapak for #1 and #2 for the time being; a Badin loss to C-J will dump them into a jumbled mess of teams that are just below them and trying to nip at their heels. Put Badin anywhere between 3rd and 8th if the Rams lose this weekend.
ROSS (5-1), ranked 6th in Division III, Region 12: There is very little margin right now between the 3rd and 8th spots in Division III, Region 12. Ross plays 1-5 Northwest, for a chance to gain a meager 5.5 second-level points in Week Seven. What is right now negatively affecting Ross is the lack of second-level points in the non-conference schedule. Badin continues to win and give Ross points each time they do, but 0-6 Monroe and 0-6 Western Brown have given Ross nothing at all. Ross's extra non-conference game in Week Nine is against 1-5 Thurgood Marshall, so there won't be many points coming from there either. Ross's entire playoff scenario will revolve around getting wins in Week Eight (Little Miami) and Week Ten (Talawanda). Win one, and Ross is probably in the playoffs. Win both, and a home game is still possible, pending the outcomes of the teams ahead of them. For now, one team to keep an eye on that has the firepower to catch Ross from behind is #8 Hughes. The Big Red plays 5-1 Taft this weekend, for a chance to gain 25.0 second-level points. Ross fans should root for Taft and bide their time until they can play Little Miami in Week Eight for a real chance to see how high they can climb up the board.
MONROE (0-6), ranked 26th in Division III, Region 12: Nobody is officially mathematically eliminated yet, but if Monroe loses to Brookville in Week Seven, they'll be in that territory.
MADISON (3-3), ranked 13th in Division V, Region 20: It's been an up-and-down season for the Mohawks, and their last four games are against alternating not-tough and tough opponents. Like Ross, Madison has two opportunities to inflict some damage on the field and climb up the board: Week Eight against 5-1 Northridge and Week Ten against 5-1 Waynesville. The Carlisle game in Week Seven will only give Madison 4.0 second-level points; they're mostly jogging in place. Madison might be able to climb a spot or two if the teams above them lose, but all the pressure is on Weeks Eight and Ten. Beat Northridge and Waynesville, and Madison is probably in the playoffs at 7-3. Split and finish 6-4, Madison is at least in the conversation at the finish line.
NEW MIAMI (5-0), ranked 1st in Division VII, Region 28: No, that's not a typo.  New Miami fans might claim they've attended six games this year and that the Vikings are 6-0, but the Week Two contest against the Landmark Eagles doesn't count.  Landmark is a club team that is not officially sanctioned by the OHSAA, and so it's treated as a bye week.  Thus, New Miami will be officially considered to play a nine-game schedule in the eyes of the Harbin ratings.  A two-team race has emerged for the #1 seed in Division VII, Region 28.  New Miami and Marion Local are fighting neck-and-neck.  Two weeks ago, New Miami sat at #1.  Then Marion Local gave 5-1 Anna its only loss of the season and hurdled the Vikings.  And then New Miami returned the favor by handing 4-2 Cincinnati College Prep their second loss of the year and reclaiming the #1 spot.  Look for more of the same this week.  New Miami plays 0-6 Miami Valley Christian Academy; they would actually be better off having a bye week, mathematically.  Meanwhile, Marion Local plays 3-3 Versailles for a chance to take the #1 spot again, as the see-saw goes back-and-forth.  If both New Miami and Marion Local win this weekend, New Miami can still stay at #1, but they're going to need roughly eight of the following ten teams to win: Gamble Montessori, Fayetteville, St. Bernard-Elmwood Place, Clark Montessori, Cincinnati College Prep, South Adams (IN), New Bremen, Coldwater, Fort Recovery, Minster.  Over the last four weeks, Marion Local's schedule has more firepower on it than New Miami's, so if both teams win out, Marion Local should be the #1 seed.  Marion Local will be favored in Weeks Seven-Nine; it may come down to how the Flyers do in Week Ten against fellow powerhouse Coldwater.